Marissa Nadler's "Drive" recounts the struggle and self-doubt that comes with trying to scrape up a living as a musician, what with the long hours spent on the road and minor recognition from those people who do bother to show up at your small gigs. When it came time to make a video for the song, the Boston-based singer-songwriter enlisted Galaxie 500 bassist Naomi Yang to direct, and the two bonded over their shared experience. Yang then combined footage from French artist Bernard Faucon with shots of Nadler looking as though she's mourning both her past, present, and future — gazing at her possessions, a mirror, and the sea.
Yang shared some thoughts via statement:
As a musician I immediately connected to the emotional content of this song — especially as it starts with the very powerful first verse chronicling a discouraging night on the road: "If you ain't made it now/ You're never going to make it/ Seventeen people in the dark tonight."
The video tells the story of Marissa facing her own ambition — as well as her disappointments — but ultimately of her desire to reach people through her music. It's presented as a series of metaphors, or a surreal dream, but one in which Marissa is an active participant in her future (not a passive witness) as she explores her feelings about making music.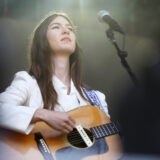 Running through the song is the refrain "Nothing like the way it feels to drive," which made me think of the French artist Bernard Faucon, whose recent work is shot entirely from the front seat of a car as he travels all over the world. Bernard graciously allowed me to use excerpts of his footage — as he put it, "Yes, you can use my roads, they fit so well with Marissa's song…"
Watch the video above and pick up Nadler's album July via Sacred Bones.