This was originally published in April of 2010.
On Wednesday, April 8, 1994, the body of Nirvana frontman Kurt Cobain was discovered at his mansion outside Seattle, Washington. The coroner's report claimed he had killed himself three days earlier. As an anniversary memorial, we are publishing this gallery of our favorite Cobain images from the archives of SPIN magazine.
The above photo comes from our April 1995 issue, in which we honored the 10th anniversary of his death by asking musicians such as Iggy Pop and David Bowie to tell stories about Kurt. This intimate shot of the artist with his newborn daughter, Frances Bean, appeared courtesy of Courtney Love.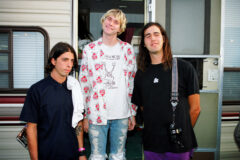 Remembering Kurt:
• What Nevermind Means to Me: Eddie Vedder, Wayne Coyne, Dave Grohl and more share their personal histories with Nirvana's landmark album.
• Eight Myths About Nevermind: Cobain biographer Charles R. Cross answers two decades of burning questions.
• Courtney Love: Where Kurt Cobain Would Be Today: "We'd probably live on the Upper West fuckin' Side now and have three fuckin' kids."
• What If Kurt Cobain Didn't Die? by Chuck Klosterman: Klosterman's theory about what the rock god's future could have held.
• Heaven Can't Wait: SPIN's January 1992 Nirvana cover story
• Smashing Their Heads on the Punk Rock: SPIN's October 1993 Nirvana cover story