Kurt Cobain in Photos: A SPIN Scrapbook
This was originally published in April of 2010.
On Wednesday, April 8, 1994, the body of Nirvana frontman Kurt Cobain was discovered at his mansion outside Seattle, Washington. The coroner's report claimed he had killed himself three days earlier. As an anniversary memorial, we are publishing this gallery of our favorite Cobain images from the archives of SPIN magazine.
The above photo comes from our April 1995 issue, in which we honored the 10th anniversary of his death by asking musicians such as Iggy Pop and David Bowie to tell stories about Kurt. This intimate shot of the artist with his newborn daughter, Frances Bean, appeared courtesy of Courtney Love.
Remembering Kurt:
• What Nevermind Means to Me: Eddie Vedder, Wayne Coyne, Dave Grohl and more share their personal histories with Nirvana's landmark album.
• Eight Myths About Nevermind: Cobain biographer Charles R. Cross answers two decades of burning questions.
• Courtney Love: Where Kurt Cobain Would Be Today: "We'd probably live on the Upper West fuckin' Side now and have three fuckin' kids."
• What If Kurt Cobain Didn't Die? by Chuck Klosterman: Klosterman's theory about what the rock god's future could have held.
• Heaven Can't Wait: SPIN's January 1992 Nirvana cover story
• Smashing Their Heads on the Punk Rock: SPIN's October 1993 Nirvana cover story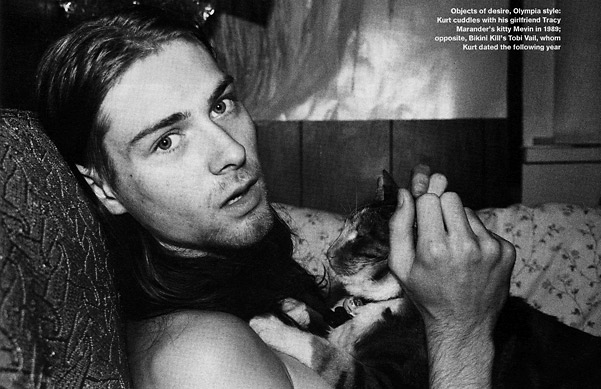 Cobain snuggles with then-girlfriend Tracy Marander's cat in 1989, in her Olympia, Washington, home. This pic was featured in our October 2001 issue, which looked back on the influence of Nirvana's chart-topping album Nevermind 10 years after its release.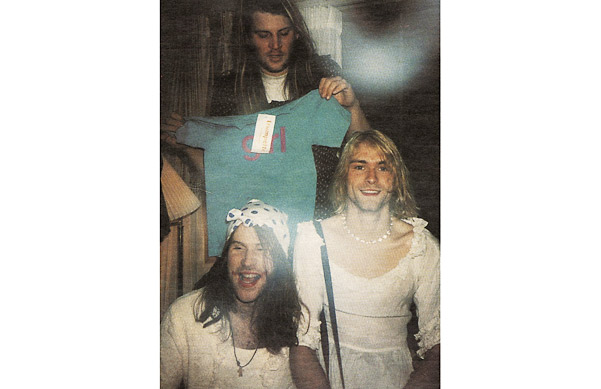 Cobain plays dress-up with Screaming Trees frontman Mark Lanegan (bottom left) and longtime friend Dylan Carlson (standing), who fronts the band Earth. This shot was featured in our April '95 issue.
In our December 1992 issue, at the end of Nirvana's breakout year, Kurt's longtime friend and Sub Pop cofounder Jonathan Poneman sat down with Cobain and wife Courtney Love for a chat about various topics, including the couple's daughter, Frances Bean.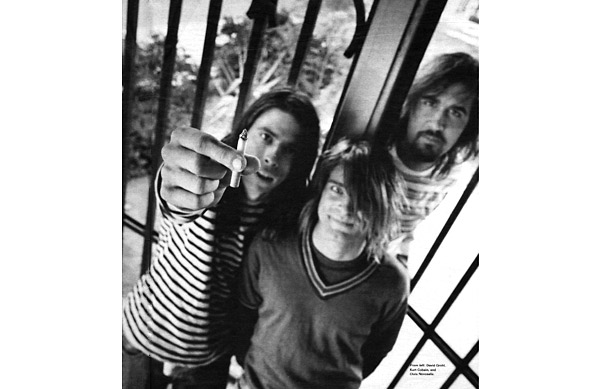 In SPIN's January 1992 issue, Lauren Spencer profiled Nirvana as the music video for the lead single "Smells Like Teen Spirit" ruled MTV. Here drummer Dave Grohl offers up a smoke as Cobain and bassist Krist Novoselic pose for the camera.
5. Coming Down to Earth
5/20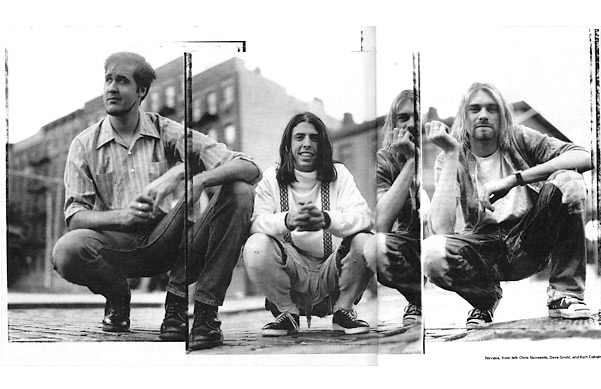 In SPIN's October '93 issue, just six months before Cobain's death, writer Darcey Steinke sat down with the singer to discuss his life, music, and the fame surrounding Nirvana: "I miss being able to blend in with people," he said. "It's just been lately that I could even handle being recognized."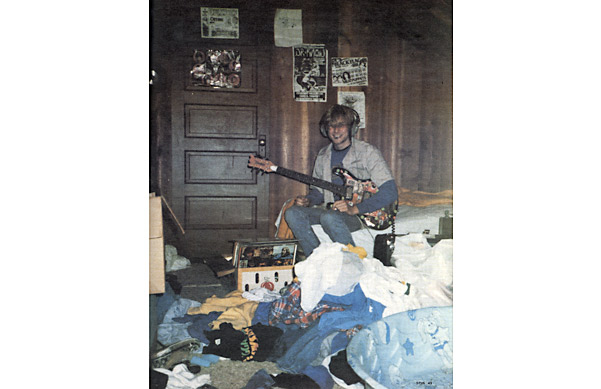 This shot, from our April '95 issue, shows a 15-year-old Cobain refining his craft.
7. "Come as You Are"
7/20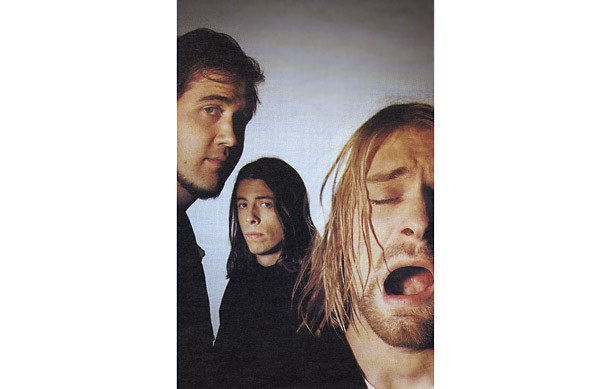 Nirvana mug for SPIN's October '93 issue, which checked in with Cobain and band about their growing success.
8. Men in the Mirror
8/20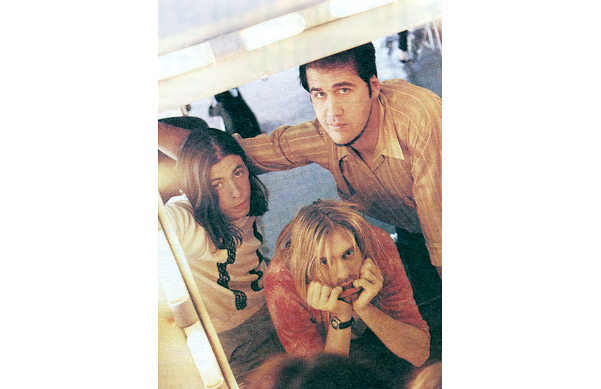 Nirvana pose during a photo shoot for SPIN's October '93 issue.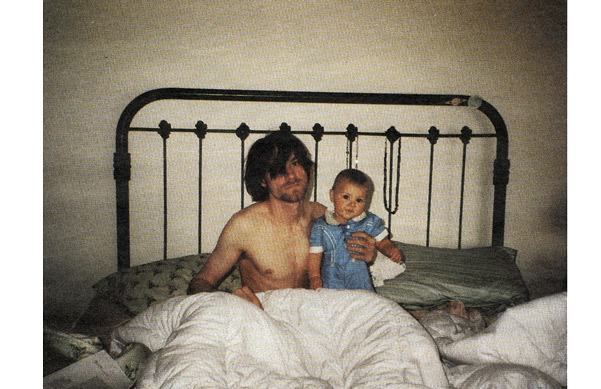 This shot from Courtney Love's personal collection, featured in our April '95 issue, shows Cobain lounging in bed with daughter Frances Bean.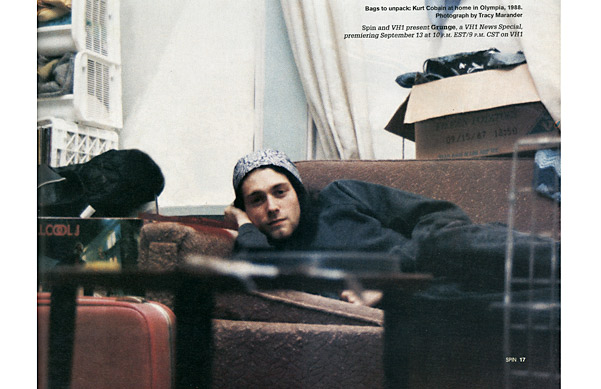 This pic — which shows Cobain in 1988 in his Olympia, Washington, apartment — appeared in our October 2001 issue.
11. Grunge Royal Family
11/20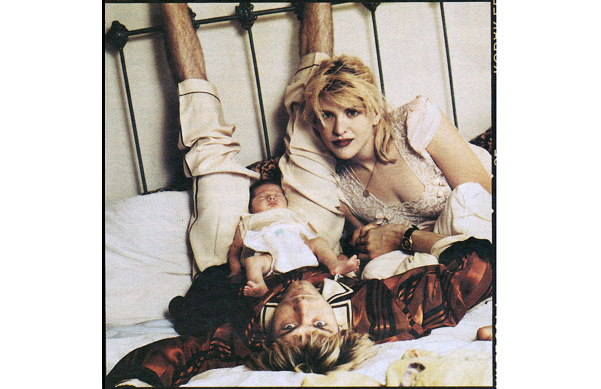 In SPIN's December '92 issue, Nirvana were hailed as Artists of the Year. Nevermind had sold millions and knocked Michael Jackson from the top of the charts, "Teen Spirit" had become the year's bona fide hit, and "grunge" had turned the music world upside down.
12. Non-Heart-Shaped Box
12/20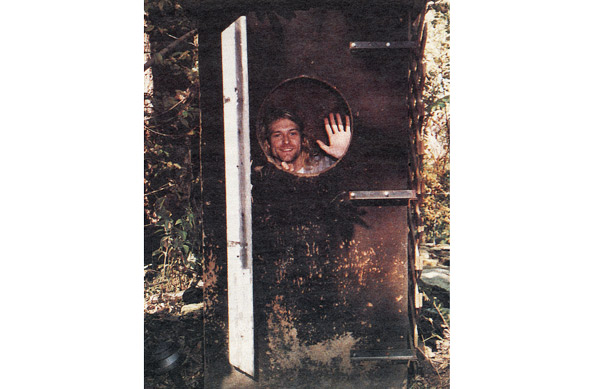 Cobain seeks the therapeutic benefits of William S. Burroughs' Orgone Box during a visit to the Beat writer's Lawrence, Kansas, home in 1993. This shot, courtesy of Courtney Love, was featured in our April '95 issue.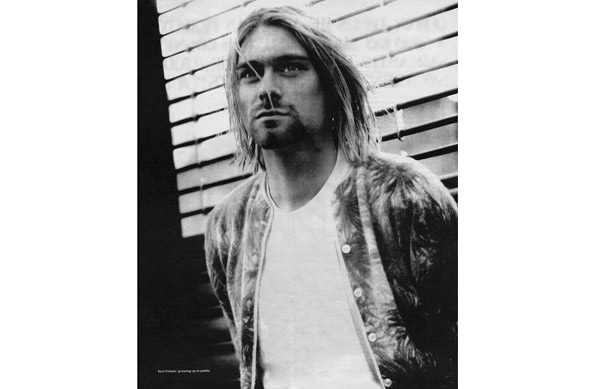 As Chris Norris wrote in our April 2004 issue, Cobain "still haunts us like no other rock star."
14. Nirvana, In Utero
14/20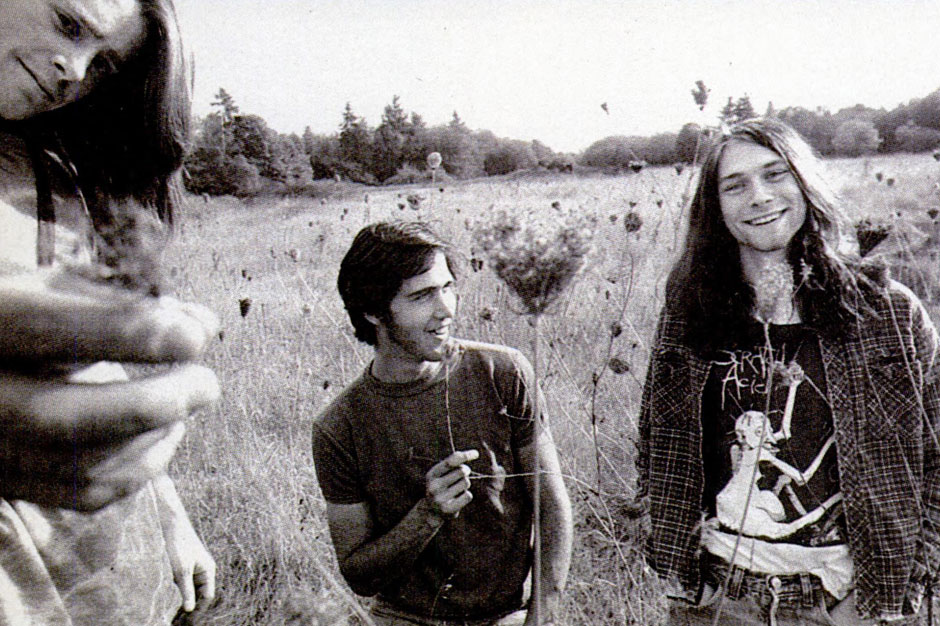 This photo, taken circa 1989, catches Cobain and Novoselic in the days before Dave Grohl, alongside Bleach-era drummer Chad Channing.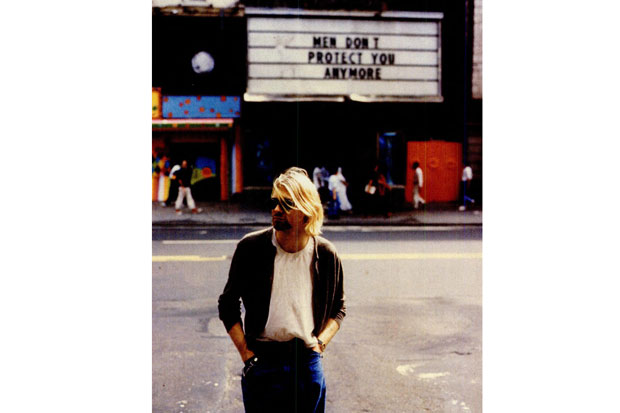 Cobain poses on the streets of New York City in 1993.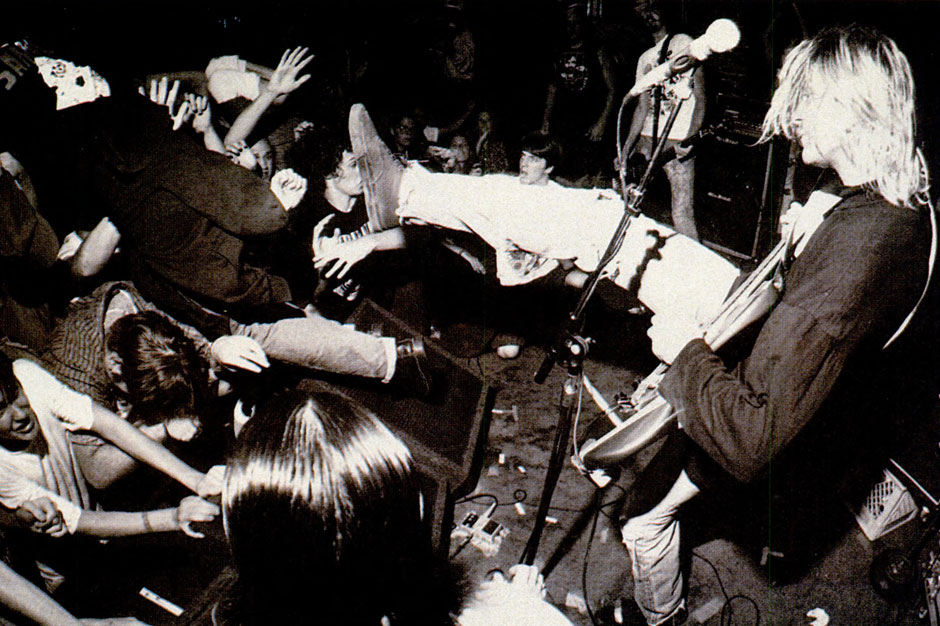 This live shot appeared in SPIN's June 1994 issue, in which Gina Arnold wrote, "We'll never know how many lives [Cobain's] music has actually saved and will continue to save, but I bet you anything it's more than a few."
17. Out of the Blue
17/20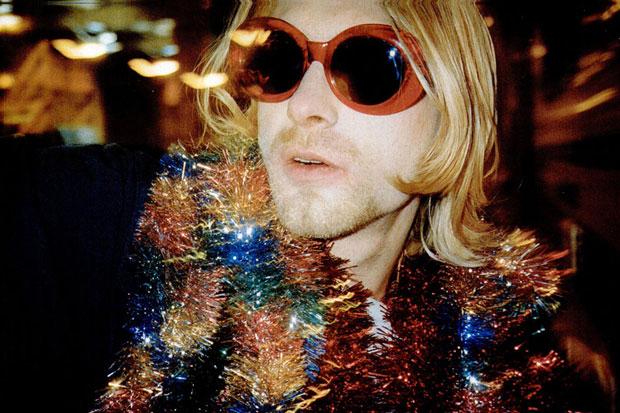 Here's Cobain in his Ciao! Manhattan phase, circa 1993. This photo showed up in the April 2004 issue of SPIN.
18. Radio Friendly Unit Shifters
18/20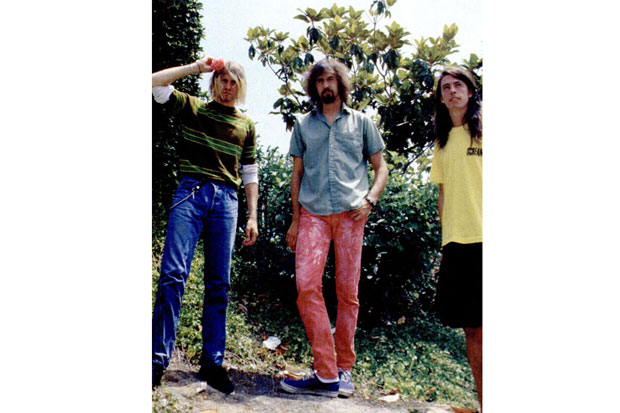 Nirvana at the "Smells Like Teen Spirit" video shoot, 1991.
19. The Final Encore
19/20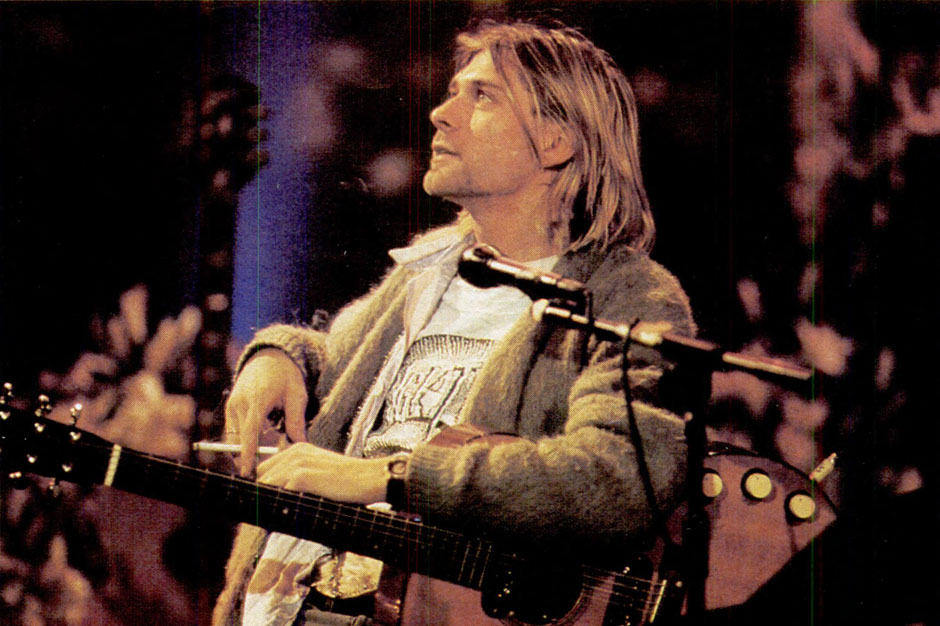 This 1993 photo finds Cobain at the taping of Nirvana's legendary MTV Unplugged performance.
20. Kurt and Courtney
20/20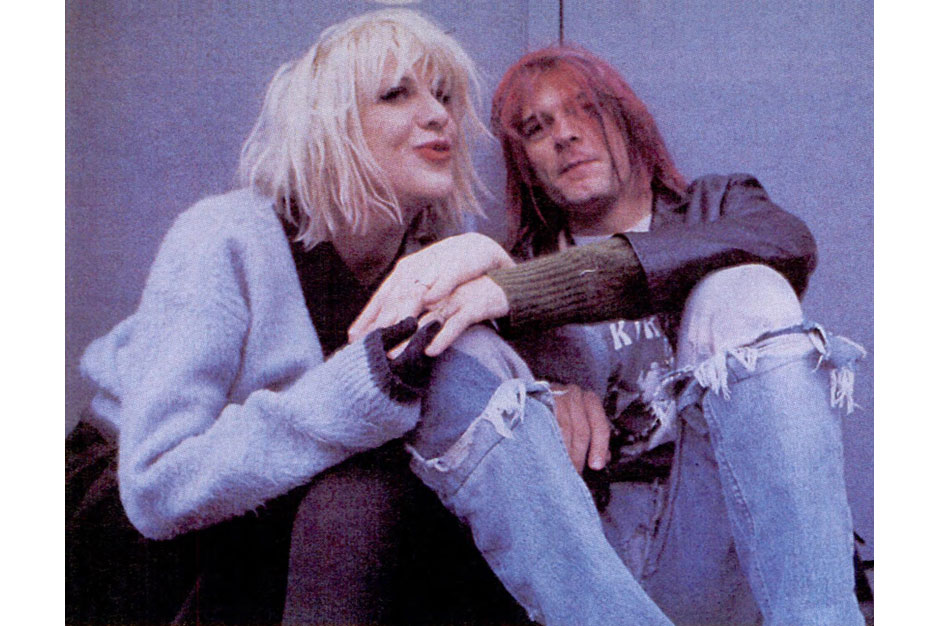 And here we have Cobain and Love in 1992.