Well, here's something star-studded and confusing. The Tribeca Film Festival is underway in New York City, but if you aren't familiar with its ins and outs, you may not be aware of the spinoff ceremony that's generated what you see above. The Tribeca Disruptive Innovation Awards "celebrates those whose ideas have broken the mold to create significant impact" and no one could reasonably argue that Kanye West and Rick Rubin don't fit into that category. But while those two appear in this acceptance video directed by none other than Mark Romanek (One Hours Photo, Johnny Cash's "Hurt"), they aren't the honorees. That, um, honor goes to the Roland TR-808 Rhythm Composer, also known as the drum machine that forever changed the sound of rap.
As Rubin says (via subtitle) in the gonzo piece above, "It continues to be responsible for new music some thirty years after its release… and discontinuation." Of course, all you'll hear is what sounds like ancient Japanese dubbed over his voice. Here's a little backstory from TDIA Chief Curator Craig Hatkoff:
Two years ago Rick, who was not able to attend to receive his award as a major disruptive force in the music business, instead made an outrageously smart video-acceptance speech— a brilliantly crafted homage to the Academy Award winning "The Artist"—complete with a done-to-perfection, scratchily authentic look and feel. In the subtitles, Rick states in terse, Hemingway style that, quite simply, he has always been disruptive. It was so smart and funny it brought the house down.
So this year, in lieu of appearing at the awards, Rick and Kanye worked with another disruptive genius—film and music video legend Mark Romanek—to come up with an even more ingenious 808 acceptance speech. It was hard to figure out exactly who to thank for bringing the 808 its immortality 30 years after it has been discontinued, but I think we nailed it with our selection of these honorees.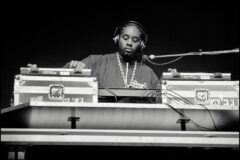 While I am sure these three disruptors will win more Disruptive Innovation awards in the future, it might be more fun to have them just keep sending us these kickass video acceptances. They might have even cracked the code on how to make award shows more exciting for everyone. (Are you listening out there?)