Aside from knowing that Kanye West postponed an Australian tour to work on his album, most of the details surrounding the project have been unsubstantiated. Rumors abound that Rick Rubin and Q-Tip are on board as producers, and Yeezy himself once said that the LP will probably be eight tracks long. Now, though, we know one producer who's definitely involved — England's Evian Christ, whose grimy fingerprints can be heard all over Yeezus ("I'm in It," in particular).
"I've got to get home and write an Otis Redding–style beat for him," he told a self-titled magazine reporter in mid-profile. "He e-mailed last night. He wants something that sounds a bit like Otis Redding, a bit like Mobb Deep."
That's about as deep into the new album as Christ, a.k.a. Jonathan Leary, goes, though he does speak on West's general approach to the studio, and the phone-call that led to their initial collaboration. Out of the blue, an engineer called him up, saying, "Kanye's working on something. We need rap beats. The blueprint is really experimental. A lot of distortion. Think Nine Inch Nails and contemporary electronics. You've got two days."
He sent in a few ideas and heard nothing for a week, until a message came in saying that Kanye wanted to keep all of them. Then, after more radio silence, he received an email at 2 a.m.: "Kanye wants you to come to Paris immediately. There's a flight at 7 a.m. We need you to get on that. We'll sort everything out, don't worry about it." Well, okay then.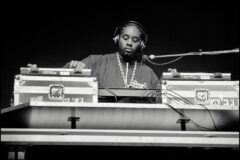 Christ, whose recent Waterfall EP is simply terrifying, clearly relishes working with West, as opposed to artists who almost always opt for "the Pharrell hook that's produced by Dr. Luke." He went on: "Kanye is the one dude who's like, 'This is not experimental enough. This is too poppy. Make something else.' The other guys are like, 'We don't get it.' Kanye is a dream to work with. No one else gives you that level of creative freedom. When he wants you to work to a blueprint, the blueprint is: 'Don't make a rap beat. Anything but a rap beat.'"
Excited yet?