Dave Grohl has been a little distracted from his main project of late. There was little old Grammy win for the Sirvana— erm, Paul McCartney, Krist Novoselic, Pat Smear, and Grohl Sound City team-up "Cut Me Some Slack." And we're not sure if you noticed, but Nirvana was inducted into the Rock and Roll Hall of Fame about a week ago, with a little assistance from Joan Jett, Kim Gordon, St. Vincent, and Lorde. But now we've got some Foo Fighters news.
Mega-producer and Garbage man Butch Vig spoke to Kerrang (via NME) and said the band's made significant progress on their eighth album: "We've been recording at some different locations, but we're almost halfway done with the recording and it's going well. It sounds different — we've thrown a few things into the mix, in the recording process, that are going to give the record a different sound and a different feel. It's been a challenge, but it's also been exciting."
The last update on Grohl's group's return came in January — ahead of their career-spanning Super Bowl performance — when the Foos Instagrammed a shot of some new studio master tapes along with the words, "It's Fucking ON." In August, the drumma-turnt-sanga spoke to SPIN about the in-progress LP, and teased a yet-to-be-revealed "little secret" he thinks will set the new one apart from the pack.
"I have this idea that I don't think anyone's done before, and we're going to try it," said Grohl. "We don't really want to give away our little secret yet, but it's happening. And we're pretty psyched about it. It's much more of an involved process than just going in to make a record down the street, because we've done that before. And everybody does that. So at this point, maybe let's challenge ourselves to do something that's more than just sitting down and making a record so you can go out and sell a bunch of T-shirts."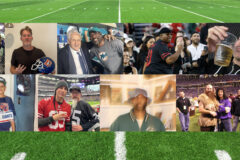 Vig, of course, leant his production prowess to Nirvana's Nevermind.