The Breeders recently wrapped up a tour reuniting the lineup behind 1993's alternative-rock classic Last Splash, but they're not done making new music. In fact, they've been recording new songs, which would represent the band's first fresh material since 2009's excellent, autumnal Fate to Fatal EP — and their first album since 2008's loose, varied Mountain Battles (which itself followed a seven-year gap between LPs). "We're doing some recording in the basement," Deal told Stereogum.
The band in the basement is the same one that hit the road last year, consisting of Deal and her sister Kelley along with Josephine Wiggs and Jim Macpherson. "We're down in the basement recording and the songs are sounding good," Kim said. "And honestly, I don't know what else to do. This is what I like to do. I like to record and play songs. I don't think there's much of an industry for it these days, but that's just what I do, you know?"
The Breeders' recording together comes after Kim Deal's recent solo series of singles. That includes "The Root," for which she chatted with SPIN, plus "Walking With a Killer" and "Are You Mine?", among other tracks. And of course, Deal's former band, Pixies, are getting set to release their own first album in forever, Indie Cindy.
More Breeders in the SPIN archives: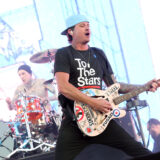 Splashdown! The Breeders' Cannonball-like Re-entry (May 2013 cover story)
Our original 1993 review of Last Splash
Ordinary People: The Breeders on the Bus and Back Home (March 1994 profile)
Kim Deal: The Breeders Leader Gets Pissed (July 1995 cover story)