And here you thought Big Freedia was already blowing up. The champion of New Orlean's frenetic, twerk-friendly style of hip-hop known as bounce music is set to release a new album titled Just Be Free on June 17 via Queen Diva Music (you can pre-order it on iTunes) and first single "Explode" is every bit the rowdy blast its title implies. "Release your wiggle," Freedia commands amid insistent, rattling beats.
Producers on the new LP include her longtime associate BlaqNMilD and Oakland, California's Thomas McElroy, whose credits range from Raphael Saadiq to Madonna. Freedia said of the album to Rolling Stone, which premiered this song, "So much of my music is appreciated live, but I think these tracks are one you can listen to at a late night twerk party or an afternoon barbecue and enjoy!"
Until that happy day, revisit Freedia's twerking world record and criticism of Miley Cyrus' twerk technique, watch her ass-tastic "Feelin' Myself" video, and keep an eye out for the return of Fuse reality show Big Freedia: Queen of Bounce in June.
Listen to "Explode" below, or scroll down for the LP track list.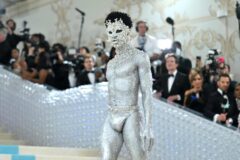 Big Freedia's Just Be Free track list:
1. "Turn Da Beat Up"
2. "Dangerous"
3. "N.O. Bounce"
4. "Jump On It"
5. "Lift Dat Leg Up"
6. "Ol' Lady"
7. "Where My Queens At"
8. "Explode"
9. "Y'Tootsay"
10. "Mo Azz"
Jump into the ring: