They were wrong, so we drowned. They were right, so we got a new Antemasque song. The new project — which brings together former the Mars Volta members Omar Rodríguez-López, Cedric Bixler-Zavala, and Dave Elitch, plus (as a guest, not a member) Red Hot Chili Peppers and Atoms for Peace bass master Flea — has already shared three songs over several days: the wiry "4AM," the agile "People Forget," and the frenetic prog-punk of "Hangin' in the Lurch." Now they're releasing another one, "Drown All Your Witches," which you can preview in the video above.
The track comes as Antemasque announce their self-titled album, which will be out July 15 (more details below). "Drown All Your Witches" sets Cedric Bixler-Zavala forceful roar over subdued acoustic guitars, with moonlit synths that bring to mind resurgent '70s psych-folkie Rodriguez's "Sugar Man." The video, which shows the band members recording in the studio, set behind the triangular Antemasque logo, is interrupted by playful banter — "all the McDonalds," for instance.
Starting at 12:01 a.m. EST on April 16, the first 10,000 fans to purchase the other three songs (for $4) via Rodríguez-López's self-run label and production house, nadie, will also get "Drown All Your Witches," which is exclusive to this offer; they'll also get a code to download Antemasque's self-titled album on July 1, two weeks early. Fans who've already bought the songs can pick three songs from Rodríguez-López's other bands, the Mars Volta and Le Butcherettes, and also get the album download code. There are a couple of other buying options; more information will also be available at Antemasque's Facebook page today. (The tracks will still be available on iTunes, but the free allbum offer is available only through nadie.)
In a statement, Rodríguez-López's nadie label confirmed that the reason this looks spontaneous is because that really is the case. "We were planning to release just one track last week, '4AM,' but we ended up releasing the other two songs, 'Hangin' in the Lurch' and 'People Forget,' because of the amazing response from our fans," the statement reads. "The fan response is the reason we have decided to forgo the traditional route of signing with a label and releasing music on their schedule in favor of releasing tracks and material in response to demand from our fans."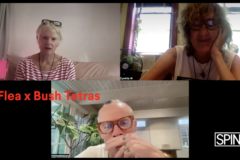 nadie continued: "If the whole thing looked unplanned, that's because it was. The anticipation of what the reaction from fans and critics would be was very real for us with every new song we put out." See, sometimes a trial by ordeal can have a positive outcome.