The Men are Brooklyn's hardest-working punk band. They are also Brooklyn's hardest-working noise group, and Brooklyn's hardest-working Crazy Horse tribute act. If you find this confusing, perhaps it's best to simply think of them in potable terms. "If you're in a beer-of-the-month club, you get a whole different thing each time," says singer/guitarist Nick Chiericozzi, one of the band's three frontmen. "And I think records are really cool like that. I wanna be a part of something that can deliver something totally different each time."
We are live from Union Pool, a North Brooklyn bar and modestly sized venue known for eclectic, often raucous performances, with bathrooms that also have a reputation for eclectic, often raucous performances — there's usually a security guard on the weekend to keep things from getting too out of hand. The members of the Men are gathered here on a chilly February afternoon to discuss their new album, Tomorrow's Hits; it's just past noon and too early for a proper drink, which is a shame, as the record is dripping with saloon-ready piano strolls, cheap whiskey swagger, and Stones-y bursts of horns.
Indeed, that brew has been in flux from the very beginning. Chiericozzi moved from Wisconsin 13 years ago, and eventually found himself playing with drummer and New York native Mark Perro in two separate groups, Fucking Hell and Everyone. After those bands dissolved in the late 'aughts, the duo recorded their first demo as the Men. "I think we were both looking for something different," Perro says. "Something a little more urgent."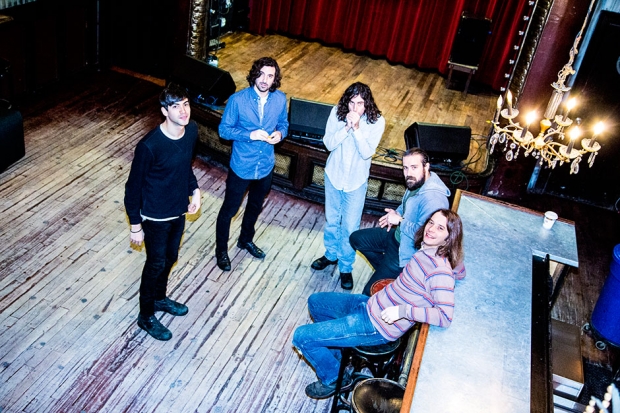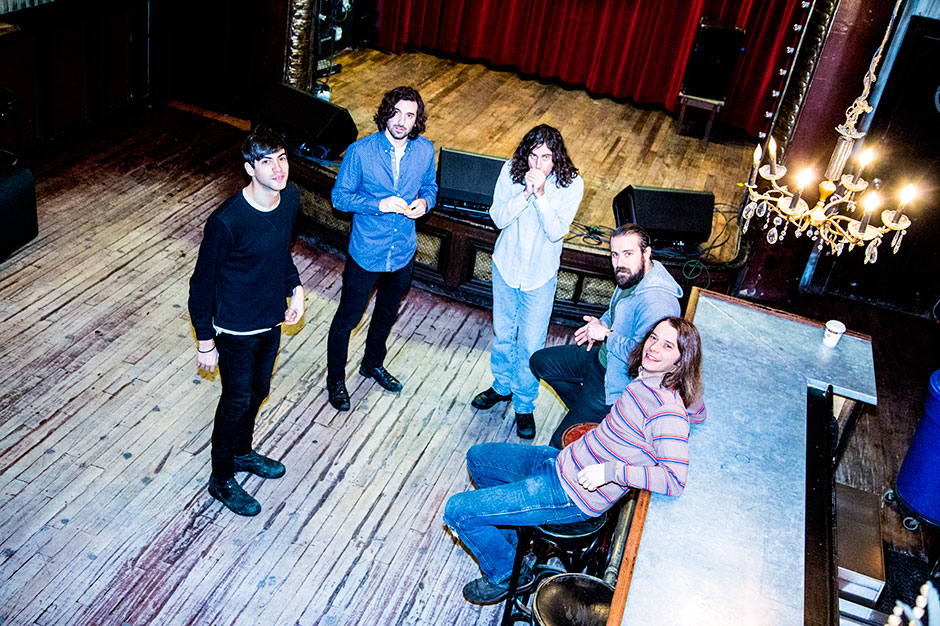 They were eventually joined by former bassist and Fucking Hell member Chris Hansell, as well as drummer Rich Samis, rounding out a lineup that would issue a series of cassettes and downloads that eventually culminated in their self-released 2010 debut, Immaculada, and 2011's Leave Home, their first for the goth-centric but defiantly eclectic Brooklyn label Sacred Bones. Those albums were consecutive gut-punches, featuring intimidating vocals, blood-curdling feedback, and the sort of pummeling rhythms that earn a band plenty of Jesus Lizard comparisons. The Men were soon hailed as the new kings of Brooklyn sludge rock, the sort of noise that would taste best alongside Pabst Blue Ribbon and a shot of something disconcertingly cheap.
Which meant that quite a few jaws dropped when the follow-up, 2012's Open Your Heart, featured actual melodies amid the feedback, not to mention tightly wound songwriting that nodded to fuzz-pop forebearers like the Buzzcocks and Hüsker Dü, an offering that paired best with a crisp cider. But by the time it dropped, the Men were already on to the next thing, frequently swapping instruments for 2013's folksier, more classic-rock-minded New Moon, by which time engineer Ben Greenberg had stepped in to replace Hansell, with lap-steel expert Kevin Faulkner joining full-time as well.
"It's definitely interesting to watch any band transform like that," says Sacred Bones manager Taylor Brode. "I think with them, it just feels really organic. It just feels like they just write whatever record they are feeling like. I think that they never wanted to specifically be a hardcore band or a shoegaze band or an experimental band or anything like that. It was just what they were into at the time."
Which brings us to the genesis of Tomorrow's Hits, wherein the band set up camp in Perro's bedroom ("It's a big room for a Brooklyn apartment," he insists; Greenberg estimates it was about "28 by 20") and began hashing out new songs, using practice amplifiers and shoving T-shirts into Samis' drums out of deference to the neighbors. "I live under a subway train," Perro explains. "We all practice during the day, while everyone's at work. And it's just a pretty loud block to begin with, so it doesn't really matter."
After enough material was amassed, the band recorded live in the studio at Williamsburg's Strange Weather, usually nailing the songs after one or two takes in, by the band's consensus, the most hi-fidelity place they've ever worked. The result is their most polished-sounding collection yet, but not so much so that anyone should get too worried, as overall it's also a bit spikier than its predecessor: If New Moon had the earthy tones of a Leinenkugel, Tomorrow's Hits has a bit more hops to it, heavy with the fingerprints of the Rolling Stones and Bob Dylan's work with the Band, but too unhinged and immediate to be mistaken for Yesterday's Hits. Call it soul music from a rapidly changing neighborhood that could use as much as soul as it can get.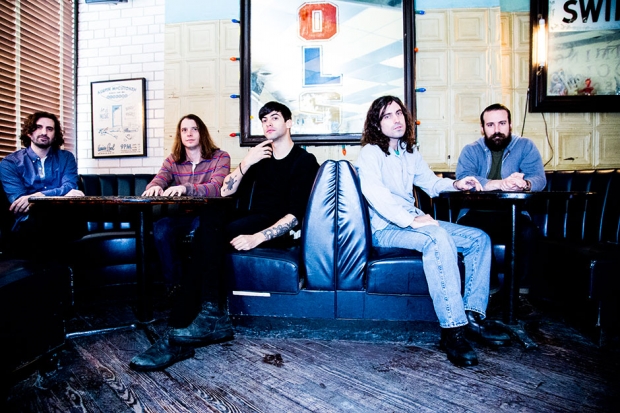 Of course, some early fans might not appreciate all this, but a band can't move from eliciting Big Black comparisons to getting described as "pastoral" without ruffling some studded leather jackets. "Some people take it so personally," Perro says. "They get into your band, and you represent something to them, whatever that is. And then if you change, you've betrayed them. Especially in any sort of punk world, there's a very heavy emphasis on owning stuff. If you can't control it, you don't own it anymore."
But no one has ever owned the Men but the Men. "We've always been an independent entity," he continues. "We were always down with that stuff. A lot of where we came from was with punk bands and punk shows. And I don't regret any of those days, but we never were, 'We're punks, we're flying the flag of punk.' We were just doing our thing. We're down with everybody, we're down with everything. But the punk world, they kind of reject that idea. I mean, what are we supposed to do? So we have a record that people like, and then you make the same album, just hoping that people will still like you? That can't be the reason you make music, just hoping that people like you."
The Men have become famous for going full Animal Collective on tour, playing sets of mostly new material that their audience hasn't heard before. But for the first time since the band formed, they've actually taken a bit of a breather lately: Instead of writing new material, they've been focused on relearning some of their older songs with new arrangements that fit the new lineup. That will probably change soon, but let's not get ahead of ourselves. "We've always been a band that focused on what was happening a year ahead, or the next record, or the next batch of songs," Perro says. "We've always had the record in the can. I think now we're just trying to focus on what's actually happening right now." So enjoy the beer of the month while it's cold.