If history has taught us anything, it's that nipples and the Super Bowl don't mix well. Ten years after Janet Jackson stole the halftime show with her infamous "wardrobe malfunction," the Red Hot Chili Peppers joined Bruno Mars during the Big Game to provide some old-guard, rock'n'roll star-power and play the skins to Mars' shirts. And, just like Janet before them, Anthony Kiedis and Flea enraged Americans by flashing their areolas on live, national television.
Deadspin reports that the Federal Communications Commission received 53 complaints pertaining to Super Bowl XLVIII, several of which were focused on the excess of flesh.
"THIS PERSON NAMED ANTHONY KIEDIS WAS NAKED TO THE WASTE [sic], THRUSTING HIS PELVIS, SAYING 'WHAT HE GOT HE GOT TO GIVE IT PUT IT IN YOU,'" reads one caps-lock complaint. "HE IS CLEARLY TALKING ABOUT HIS PENIS. I AM SHOCKED AND OFFENDED THAT THE FCC WOULD ALLOW THIS FILTH, FIRST JANET JACKSON TALKING ABOUT BREASTESSES, THEN PAUL MCCARTNEY TALKING ABOUT MARIJUANA, THEN BRUNO MARS TALKING ABOUT MY PENIS, THEN ANTHONY KIEDIS TALKING ABOUT HIS PENIS."
Other viewers took exception with the double-standard that makes it okay for Kiedis and Flea to show their nipples on air, but indecent for Jackson to do the same. (Consider it a play on the ol' tit-for-tat argument.) "The halftime show had a gratuitous display of nudity and the nipples of more than one adult were were displayed on Broadcast TV," goes one grievance. "If Janet Jackson can't show a nipple, then neither should they."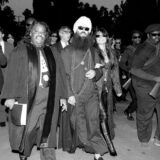 Read those gems and more (other complaints deal with cable outages, over-sexualized commercials, and Bill O'Reilly being "dis-respective" of Barack Obama during a pre-game interview) below, via Deadspin.