Last week, a behind-the-scenes music technology company called The Echo Nest took on a higher profile when it shared a handful of state-by-state maps. Whether each state's most distinctive music, each state's most popular music, or each state's most neglected music, the Massachusetts-based company's maps based on activity from 250,000 music listeners were all Internet hits. Then along came the so-called guacpocalypse, but whatever.
Now, The Echo Nest's maps turn out to have been prelude to a bigger step into the public eye. Spotify announced today (March 6) that it's buying The Echo Nest for an undisclosed price, in a deal billed as one that will improve the music-streaming provider's "music discovery expertise." As TechCrunch points out, the acquisition gives Spotify ownership of the tech that powers its competitors' services, which could confer an obvious possible advantage.
In a statement, Spotify CEO Daniel Ek said the deal will help his company create "the best music intelligence platform on the planet." And Spotify said buying The Echo Nest will also help strengthen its relationships with "brands and partners." As for existing The Echo Nest clients like Rdio, Rhapsody, Deezer, Vevo, iHeartRadio, MTV, Twitter, and XBox Music, the company says they'll still have access to The Echo Nest's music-recommendation tools — for now.
Over the long run, the deal could potentially take some rival music-streaming services off the map. Spotify told The Verge it will honor all The Echo Nest's existing contracts, including with competitors, but the company's emailed statement left unclear what will happen after those agreements expire. What's more, The Wall Street Journal reported last November that Spotify had raised $250 million in financing to help it expand its business.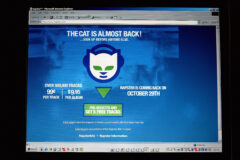 Spotify and The Echo Nest aren't the only companies in the music-streaming space making deals. The Tribune Co., which owns The Chicago Tribune and Los Angeles Times, said in February it had completed a $170 million takeover of Sony's Gracenote music-recognition service. And earlier this week, relative new kid on the streaming block Beats Music said it was buying Topspin Media, which allows music acts to sell their merch and albums straight to fans.
In other streaming news, Pandora announced today it plans to stop releasing its monthly listening hours. The company said it will issue those audience numbers for the last time in June, covering activity in the month of May. In a statement, Pandora said advertisers no longer need those numbers. TheStreet.com questions whether the move is actually aimed at investors who might get nervous about slowing growth in listener hours. Rock'n'roll will never die.
Once again, here's all SPIN's previous maps-on-maps-on-maps coverage, and while you're at it, revisit a 2011 Boston Phoenix feature on The Echo Nest:
This Map Shows Each State's Most Popular Music Not Popular Anywhere Else
The Actual Map of Each State's Favorite Artists Is Kind of a Bummer
R. Kelly Dominates Map of States' Most Ignored Artists