More than 4300 people came through the 2014 edition of SPIN's long-running Stubb's throwdown, a pan-genre display of some of our favorite artists working today: Against Me!, Cloud Nothings, ScHoolboy Q, Warpaint, Future Islands, Temples, the Orwells, Radkey, and a stellar headlining set from Future, who brought out both B.O.B and the legendary Bun B. It was awesome. SPIN at Stubb's was sponsored in part by Nokia, Esurance, Crispin Cider, and Tito's Handmade Vodka.
See our full photo gallery from the show here.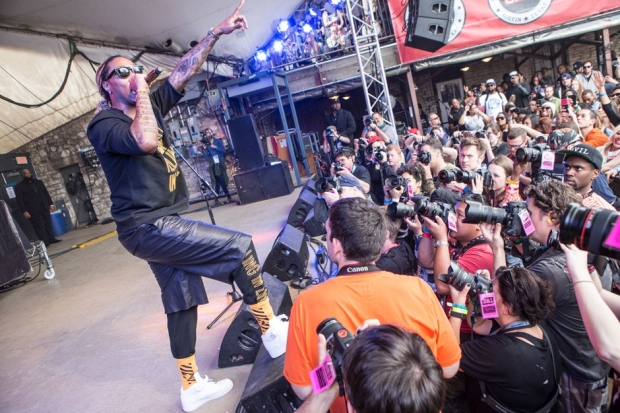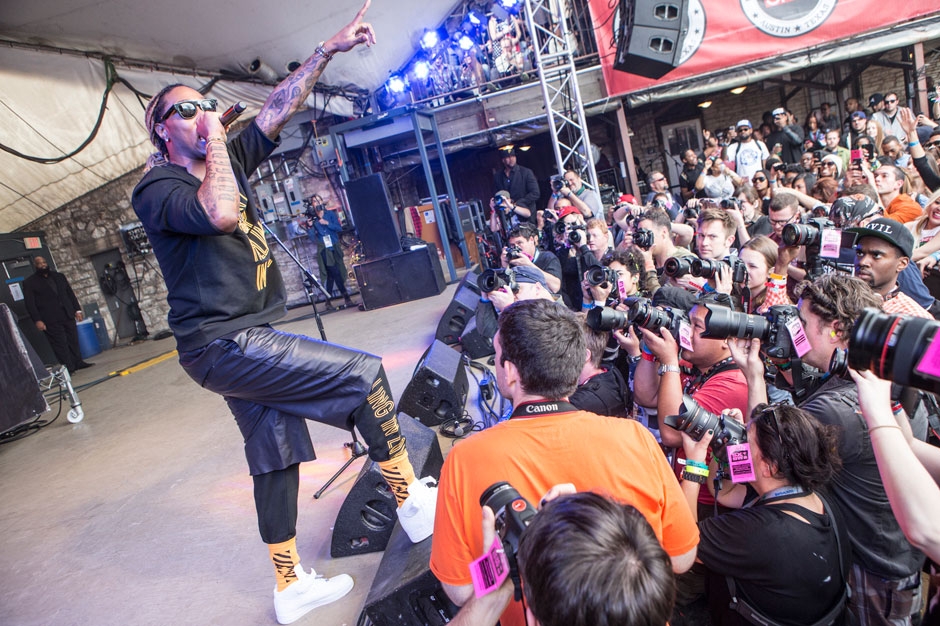 Future
Future, without really trying to, has the ability to be the most charming man in a room. Just ask Ciara. And when he bounded out on the Stubb's stage on Saturday afternoon wearing his ubiquitous sunglasses and a black Opening Ceremony sweatshirt with the phrase "CAN'T HELP FALLING IN LOVE" etched down the front, he already had an early start. The Atlanta rapper's next few months are booked: His sophomore album, Honest, is due out on April 22, and his child with fiance Ciara is due some time this spring. But the 30-year-old came out with the familiar: He opened with "Racks," his 2011 collab with YC, and moved into snippets of "Love Me" and "Tony Montana"; he also performed a modified version of his excellent "Drunk In Love" cover, and a track he said didn't make the album, but that had us all doing the pullup dance in a dazed glee. (I've seen no purer output of collective joy in Austin than what we saw from this crowd during eight or so bars of the "Bugatti" hook.) For "Honest," the song's producer Metro Boomin bounded out onstage; B.o.B joined them to perform "Ready" and finally out came Bun B, who performed "Draped Up" with stately composure. Future beamed throughout, and whipped off his sunglasses for "Honest." Melancholic wailing and all, it was, of course, very charming. EMMA CARMICHAEL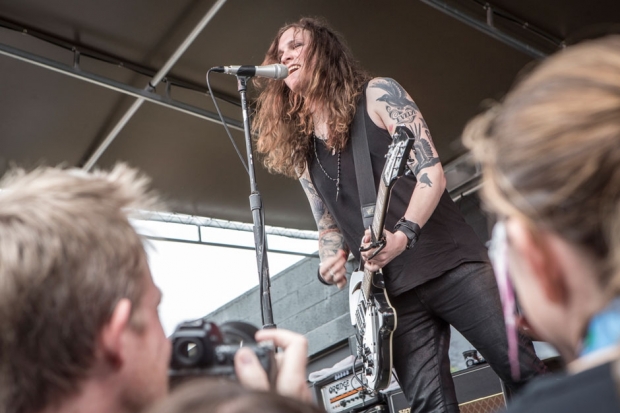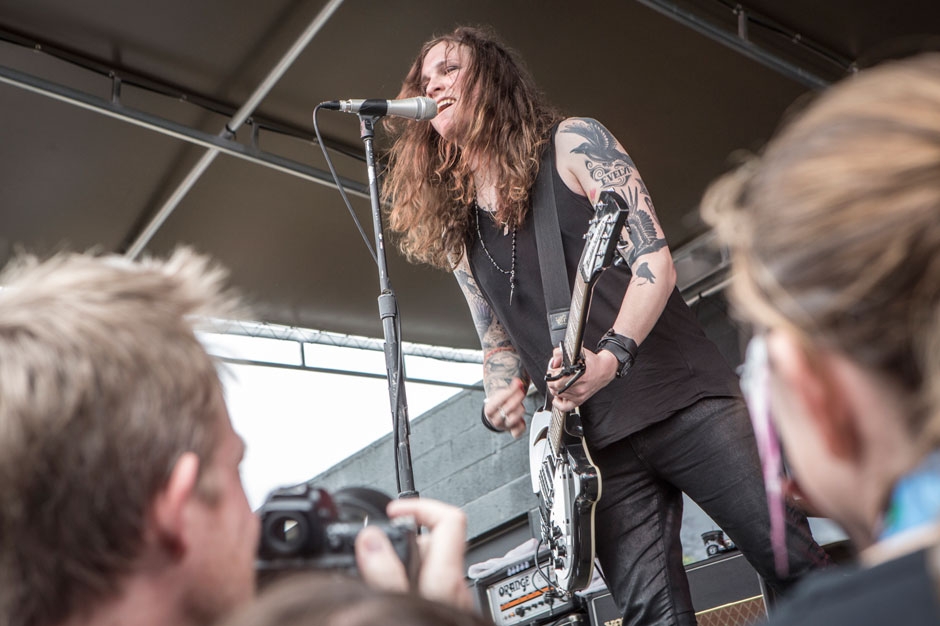 Against Me!
I would like to thank Against Me! for making me cry. Came out of nowhere, like an emo thief in the night, when the Florida punk behemoths ripped into the wistfully bare "I Was a Teenage Anarchist" from 2010's essential White Crosses. SXSW is an extremely fun time, spring-break for creative professionals, but it's also an intensely manufactured lifestyle experience of brand marketing, and your principles start to slip. But then there's Against Me!, an important band who seem to be both extraordinarily professional and hearteningly virtuous, led by a person you still hope to believe in, and they are absolutely tremendous live, flawless even. So when frontwoman Laura Jane Grace confronts you with this: "Do you remember when you were young and you wanted to set the world on fire?"—yeah, a couple of tears. But it's OK. Isn't the point of all this to remember how to feel? CAMILLE DODERO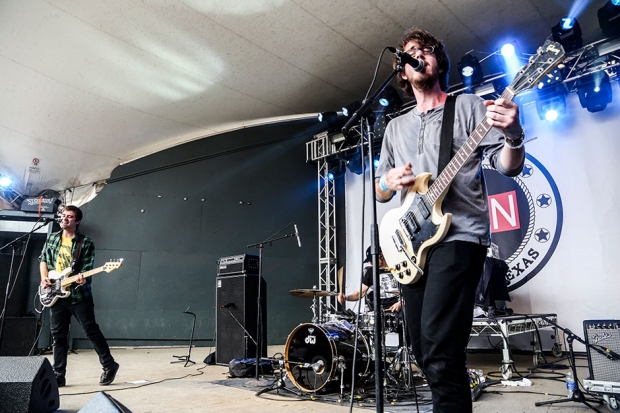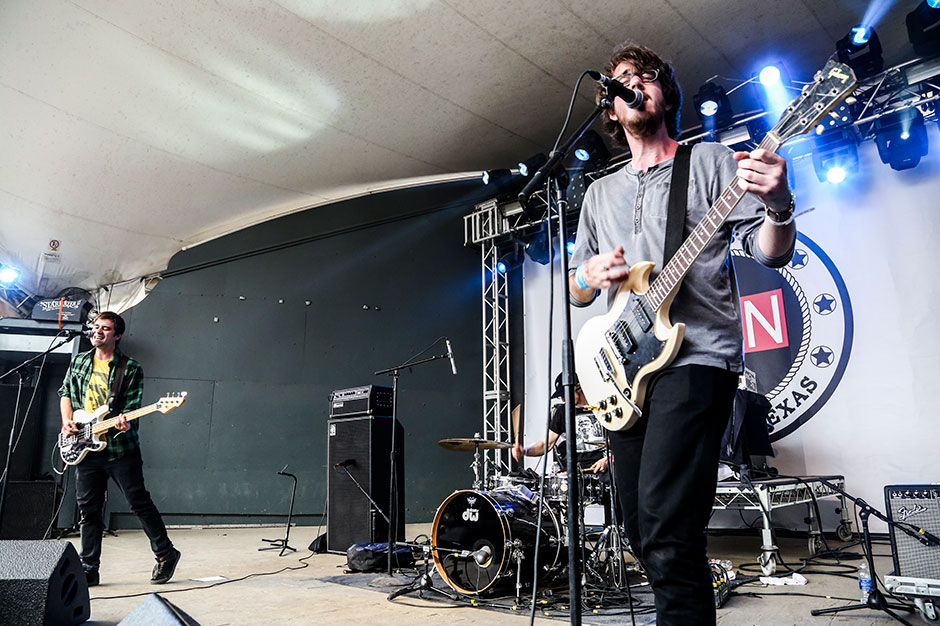 Cloud Nothings
There's no denying that opening for Future is an almost comically odd endeavor for an indie rock band from Cleveland. But despite their modest setup, Cloud Nothings filled the mainstage with a riotous set that showcased new tracks from their forthcoming Here And Nowhere Else. "I'm not, I'm not you / You're a part of me, you're a part of me," screamed frontman Dylan Baldi to the crowd, who in turn eagerly turned Baldi's lovelorn anthem "I'm Not Part of Me" into a call-and-response cry live. The new album is the loudest, noisiest, and most emotionally energetic release the band has to date, and yesterday the band pushed all their formerly introspective wanderings outwards, leaving the stage covered in sweat and with the crowd demanding an encore. PUJA PATEL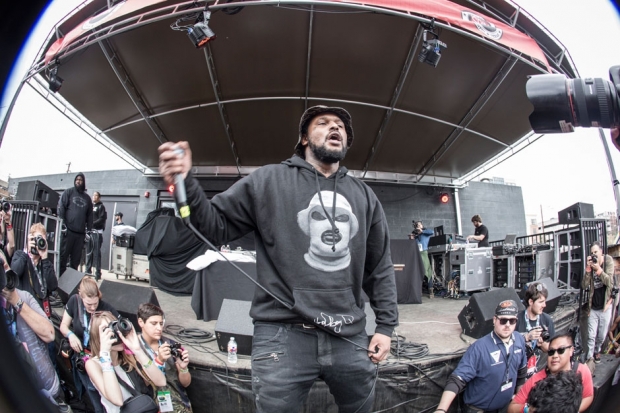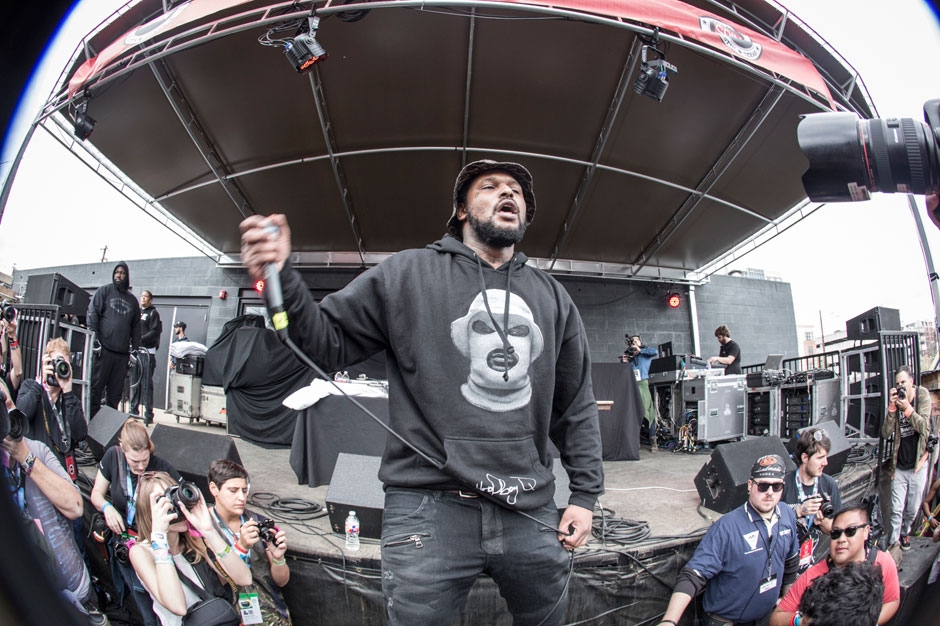 ScHoolboy Q
It was near 70 degrees in Austin yesterday, and ScHoolboy Q still wore a sweatshirt with his face on it and a bucket hat. He seemed comfortable as ever, but the heat and dust had slowed down the crowd a bit at that point, and Q wasn't having it, "All the real ScHoolboy fans come up to the front!" he demanded, and jumped into "Man of the Year." He performed "Collard Greens," splitting duty on Kendrick Lamar's verse with the crowd, and "Hands on the Wheel." After his mic died, he shrugged, smiling, and jumped into the crowd, who gamely kept him afloat for about eight seconds. E.C.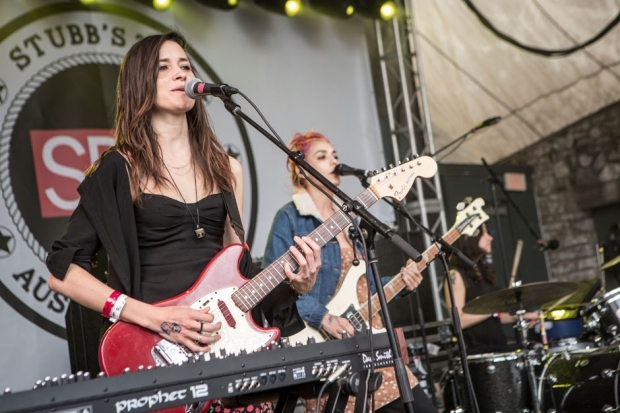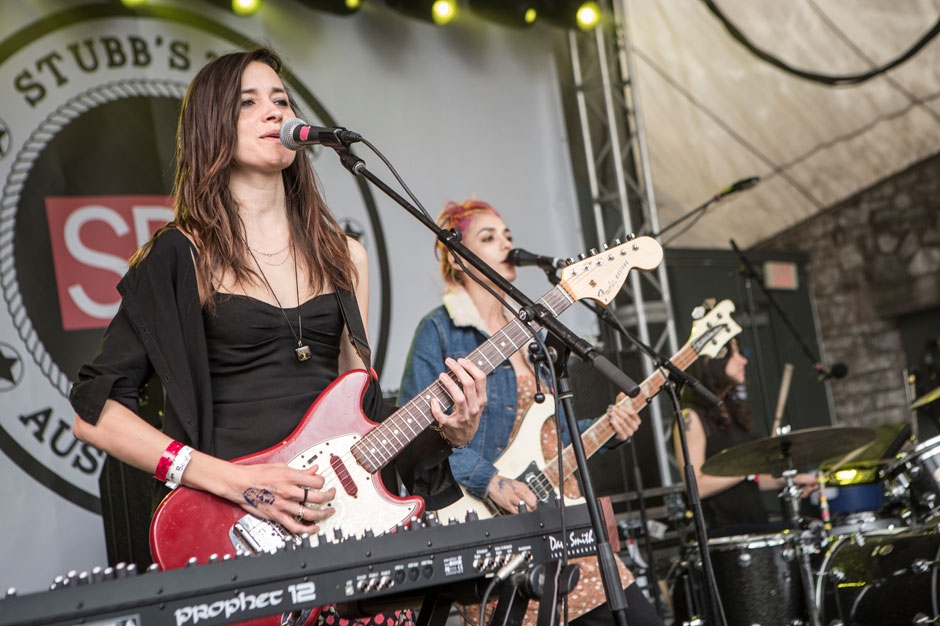 Warpaint
The girls of Warpaint have always relied heavily on ambience with their glossy brand of dream-pop. Melancholic guitars and ghostly croons are key to their music; it's a comfortable fog that settles into even the more overtly joyous moments. However, when you put the L.A. quartet on stage, the group are more interested in making their fans groove alongside them. Yesterday, after wooing the crowd into a sun-kissed daze with "Love Is To Die," the band broke out "Disco // Very," a track off of their new self-titled release that helped ease their fans out of their heady atmospheric stylings and back into the reality of their packed, beer-soaked surroundings. P.P.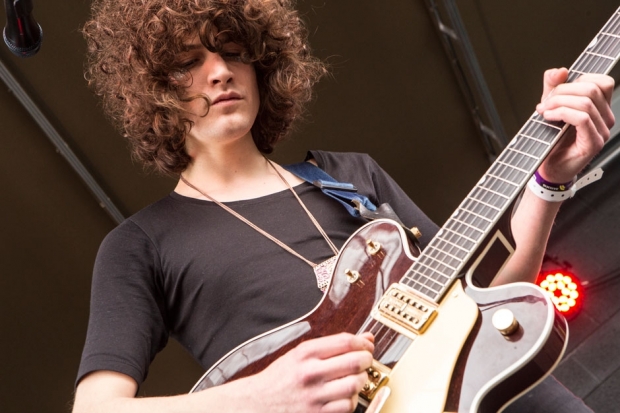 Temples
Loud music that lands softly is one thing (see: Yo La Tengo), but loud music that lands softly while pulverizing you is an altogether niftier trick – and one that the young psychedelic band Temples pretty much has down to a science. The afternoon's set found the deadpan British quartet showing off a set focused on songs from their new album "Sun Structure" that are as concisely era-specific as their impressive vintage outfits. Loud as they were, Temples' first few songs had an almost soft touch, like ocean waves gently crashing into the beach. But the intensity gradually ramped up with each succeeding song, with guitar dynamics ranging from chiming hooks to buzzsaw roars. By the end, end James Edward Bagshaw and Adam Smith's guitars had gone from crashing to crushing. DAVID MENCONI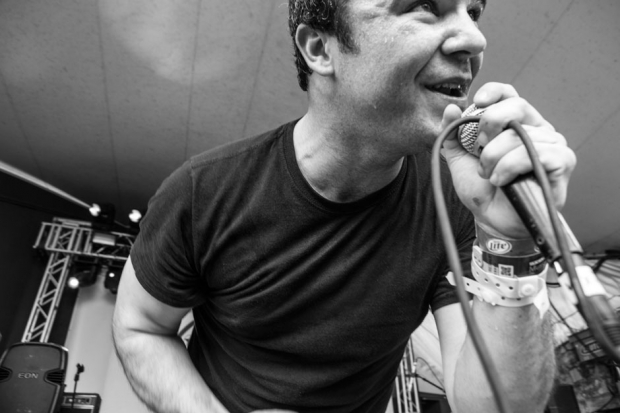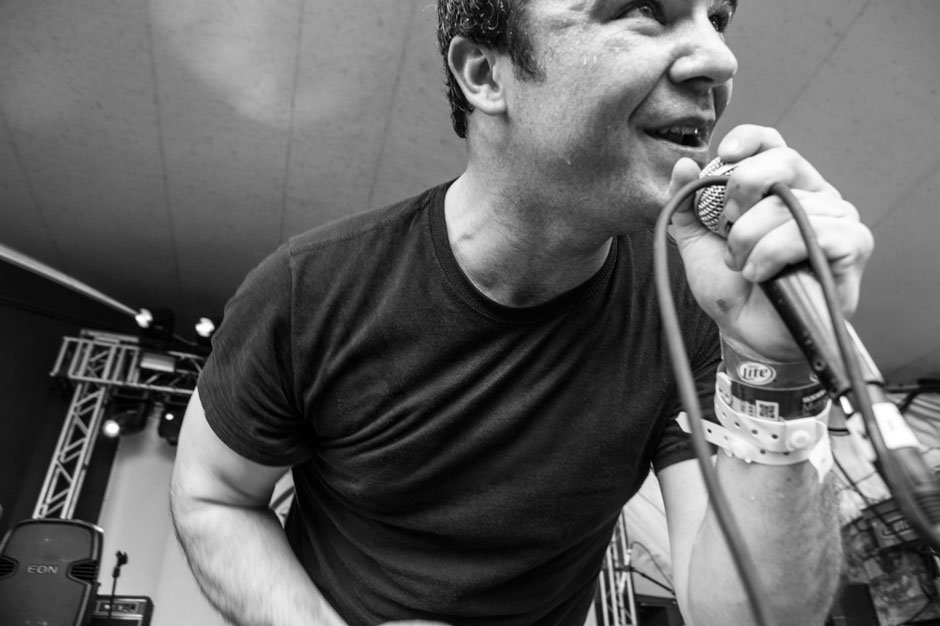 Future Islands
Future Islands' front-spectacle Samuel T. Herring is the kind of guy who jump-kicks first thing in the morning. No, really, he told us. "I woke up this morning in my hotel and my friend Dan said, 'How do you feel? I started punching shit and doing high kicks," he announced proudly. "That's how I feel." Even though the SPIN Stubb's party was SXSW performance #7 for Letterman's new favorite band, their 1 p.m. set reflected Herring's new-day exuberance, from the chest-pounding avowals of Singles opener, "Seasons (Waiting on You)," to the synth-plinking sexy-time of "Doves." Only Obama wears mom jeans better. C.D.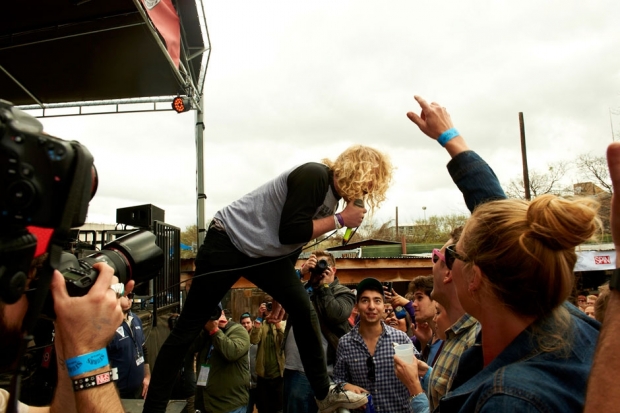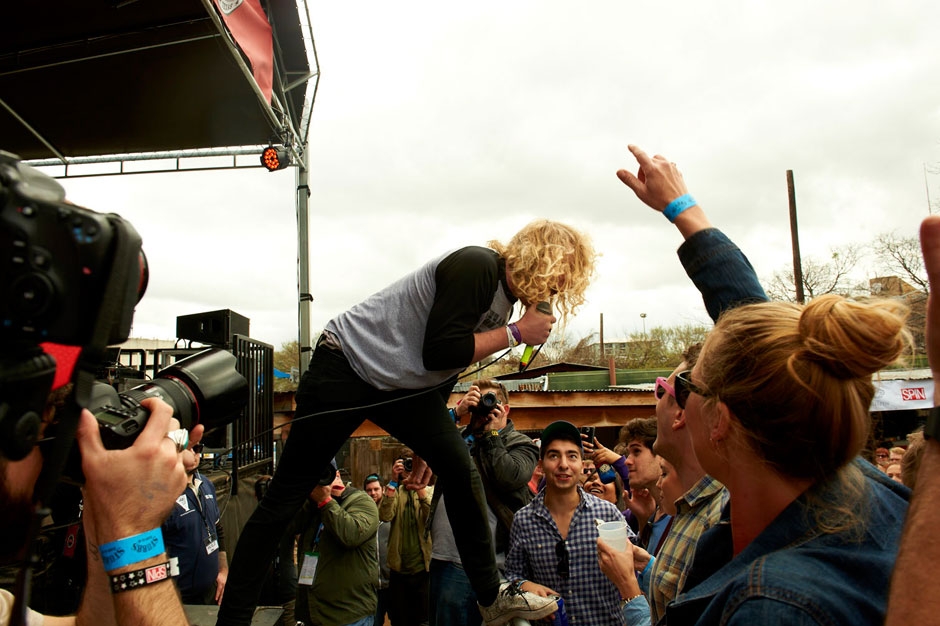 The Orwells
The Orwells are a Chicago band of twin brothers, two cousins and a friend since middle school. Their set was tight and boisterous though it lacked their more famouse onstage antics, like the time singer Mario Cuomo wandered all over the set when the band played David Letterman earlier this year, even settling down in one of the guest chairs next to the host's desk for a moment (to Letterman's delight). Maybe it was just too early in the day. JEM ASWAD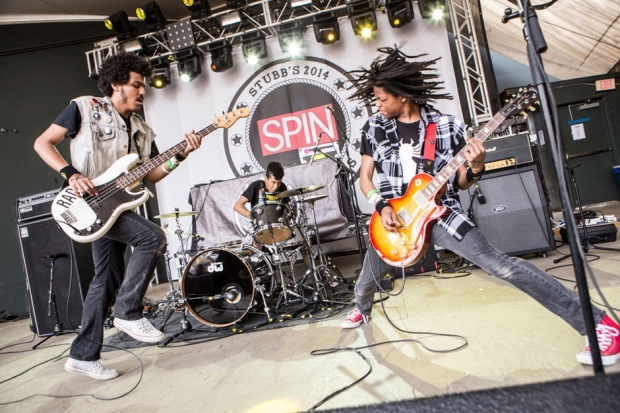 Radkey
Radkey are three brothers from Missouri who made the most of their opening slot, with a blast of punky energy and onstage camaraderie that made them a perfect band to kickstart the afternoon. The sound is, as SPIN wrote last October, "a relentless barrage of power chords, scrappy guitar solos, double-time snares, and whoa-oh-oh-oh choruses, topped off with vocals that often come uncannily close to Glenn Danzig's bellowed croon." Their youth — we haven't checked lately, but last Fall they were between 15 and 20 — sometimes shows in the songwriting, but it's early days and there's nowhere to go but up. J.A.