A couple of people who know a thing or two about getting arrested for musical performances have come to the aid of protesters who were jailed for just that. But this time the recently freed members of Pussy Riot aren't writing Ukraine op-eds, demonstrating outside Moscow courthouses, or being whipped by Russian militiamen near the Winter Olympics in Sochi.
Nope, Maria "Masha" Alyokhina and Nadezhda "Nadia" Tolokonnikova's latest cause is right in the American heartland. The pair appear at the end of a new video by the Voice Project that calls on Wisconsin Attorney General J.B. Van Hollen to scrap the prosecution of protest singers arrested at the state capitol in Madison.
"Use music to change the world in the direction you want it to change," Tolokonikova says, in subtitled Russian, in the mini-documentary above. "Because music touches people and makes them act."
The "Solidary Singers" began their protests in 2011 as part of the demonstrations over legislation that took away state employee unions' collective bargaining rights. According to Madison.com, more than 400 of these singers still have citations against them.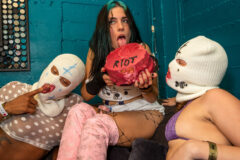 The video was shot before Alyokhina and Tolokonnikova were recently attacked at a Russian McDonald's.
"Please accept our sincere wishes for a complete recovery," Wisconsin protester Michael Kissick said in a statement. "We acknowledge and appreciate your courage and fortitude. Solidarity!" Though it may pain supporters of other Big Ten sports programs to say it: On, Wisconsin.