A Pussy Riot member has harsh words for Russia over the ongoing Ukraine crisis. Maria "Masha" Alyokhina, who with Nadezhda "Nadia" Tolokonnikova was freed last December after a musical protest by their riot grrrl-informed activist group got them 21 months in Russian prison, published an article March 2 in The New Republic. In it, through a translator, she compares the troops marching in Ukraine's Crimea region today to the Soviet Union-led invasion of Czechoslavkia in 1968, which reversed the freedoms of that year's Prague Spring.
Alyokhina's piece further argues against apathy, which she contends will keep leading to a nation that not only fails to learn from its errors, but celebrates them. "Those who have accepted the verdict to live their lives in passive oblivion will repeat history and its mistakes," she wrote. "In this way, standing at the brink of war under banners of a struggle for peace, Russia is repeating 1968."
She went on to criticize what she describes as Russian President Vladimir Putin's tactic of "divide and rule." She wrote: "The difference between Russia and a penal colony is that in a penal colony your sentence is decided upon by the state, but in Russia we should decide how long we will live like this. Otherwise, the world will watch as the Kremlin will increasingly resembles a prison watch tower, which, on behalf of the Russian Federation, will issue commands, commands to send in the troops."
Again, you can check out the full article over at TNR. Alyokhina and Tolokonnikova were among hundreds arrested on February 24 as they protested the prison sentences handed out to anti-Putin demonstrators. During the Winter Olympics in Sochi, Russia, the two were also arrested, as well as whipped by Russian Cossack militiamen and assailed with raw chicken. In between, they managed to put out a new protest video and song.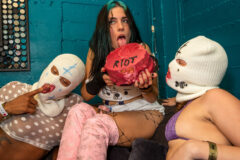 Since the Pussy Riot members' prison release, which they derided as a pre-Olympic publicity stunt, the pair have also participated in a Brooklyn Amnesty International concert, faced off with Stephen Colbert, and met with officials such as New York City Mayor Bill de Blasio and the U.S. ambassador to the United Nations, Samantha Power.
It could be worth noting that the Prague Spring inspired a wealth of literature and music — as another winter trudges to an end, the world's eyes are locked nervously and hopefully on Kiev.