Migos Involved in Miami Highway Shootout
Atlanta crew's bullet-riddled van confiscated by police
SPIN profile subjects Migos were involved in a highway shootout in Miami Thursday night. As TMZ reports, the Atlanta trio and their personnel were traveling in a van after a nightclub appearance when a second vehicle pulled up alongside and people inside began shooting. Migos' manager claims someone in his camp fired back, saying. "There was at least 40 rounds being blasted on those niggas."
WSVN Miami/Fort Lauderdale quoted authorities as saying a member of Migos' entourage had been shot in the leg and dropped off at the Jackson Memorial Hospital. The group's manager says their driver took them in to the hospital assuming someone had been injured, but that everyone on board was safe. Florida Highway Patrol trooper Joe Sanchez elaborated further:
"They were supposed to be performing at Cafe Iguanas in Broward and apparently for whatever reason there was an altercation or disagreement with management and they didn't perform, so as they were driving southbound on I-95, according to the witnesses in the van, a dark vehicle pulled along side them and opened fire," the officer said. "A member of the group was in possession of his personal handgun and he returned fire."
Migos member Offset claimed responsibility for the return fire, on Twitter:
A NIGGA CAME THRU DA CUT… BUT DA NIGGA MISSED DOE…. FA FA FA FA YA OFFSET GET LO….FA FA FA FA BUT OFFSET BUSSIN BACK DOE LOL HAHA

— OFFSET (@OffsetYRN) March 28, 2014
Troubled Chicago rapper Chief Keef was involved in a shooting in Illinois on March 26. Migos have threatened him before in song. At this time, though, there's no reason to assume the two incidents are connected.
TMZ shared the following photo of Migos' van which has been confiscated: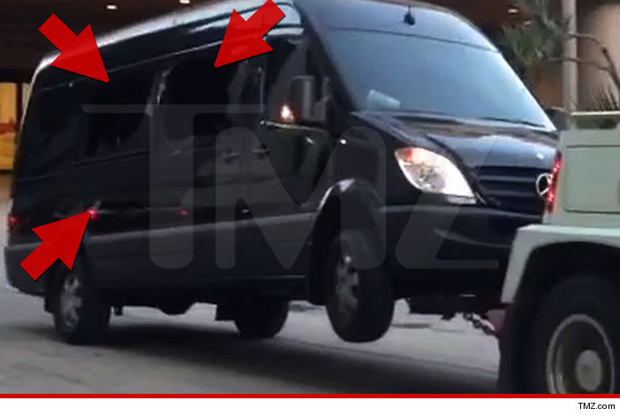 For their part, Migos shared the following photo Friday morning:
Tried To Hit Me Up In Traffic??…. But I Had To Work My Magic ‼️

— #YRN TakeOff™ (@1YoungTakeoff) March 28, 2014