"Contemporize," man.
That word, which appeared fewer than 100,000 times in a Google search as of this post, holds the fate of a new, posthumous Michael Jackson album. Xscape, a set of eight new "contemporized" Jackson songs with Timbaland as lead producer, will arrive on May 13 via Epic Records, the label announced today.
The news makes good on Timbaland's hints last year he'd be overseeing a new project credited to the King of Pop. The collection also features production from Rodney Jerkins, Stargate, Jerome "Jroc" Harmon, and John McClain. A full track-list isn't yet available, but the title song is the only one updated by the producer who originally recorded it with Jackson, in this case Jerkins — who also co-wrote the track.
"Contemporizing" is Epic Records boss L.A. Reid's word for the process applied to the album. The man executive-produced Xscape, selecting the recordings to give to the producers. According to a press release, they then "retooled the production to add a fresh, contemporary sound that retains Jackson's essence and integrity." Epic will also put out a deluxe edition that includes the original versions.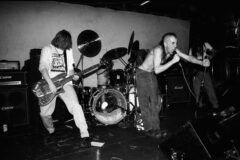 Reid, in a statement, praised Jackson's contributions to music. "Michael left behind some musical performances that we take great pride in presenting through the vision of music producers that he either worked directly with or expressed strong desire to work with," he said. "We are extremely proud and honored to present this music to the world."
Pre-order standard and deluxe editions of Xscape via iTunes beginning April 1. More details will be on the way via the official Jackson website. Jackson's last studio album was 2001's Invincible.
In the meantime, listen to Jackson's flat-out amazing a cappella demo for "Beat It" over at NPR's Tumblr.