Black Lips, with their bracing garage-punk and publicity stunts, have the capacity to frustrate and thrill in equal measure. For every excellent album of brattily wounded catchiness (see 2007's Good Bad Not Evil), there's an irritating live show to content with. And didn't you just know their "Boys in the Wood" video would be NSFW à la Harmony Korine? Now, a week after the release of Underneath the Rainbow, one of the Atlanta band's frontmen is making headlines for his inartful criticisms of Lorde, Drake, and Macklemore.
In an interview for The A.V. Club's "HateSong" series, Cole Alexander slammed Lorde's widely popular "Royals." His criticism, summarized in polite English, boils down to a fair contention SPIN's Brandon Soderberg made last year: That "Lorde's critique of born-with-this wealth quickly devolved into a crude and offensive stereotyping of hip-hop culture," and, therefore, is "clueless" and possibly "accidentally racist." Perhaps unfortunately, Alexander didn't make his critique in polite English.
"Most of the people that are rapping about Maybachs and diamonds come from really 'torn-up towns,'" he said, referring to a Lorde lyric. "I'm going on assumptions, but I feel like a lot of these guys are from Compton or these fucking ghettos like Memphis, and their parts of town are way more torn up than hers. That's a mere assumption from seeing her in interviews and stuff, but I feel like they come from worse parts and they aspire to get Maybachs and diamonds because they come from ratchet-ass 'hoods where they have no hope. I think it's a bit righteous of her."
In response to a follow-up question noting that "Drake didn't exactly come out of hard times either," Alexander said of the Nothing Was the Same star, "He seems kind of fake to me." But wait, there's more: "I like my rappers more ghetto and ratchet sounding. Personally, I like more melodramatic, ignorant rap where they're talking about violence and anger and it's just evil. I don't like when it's too conscious, I don't like it when it's too smart."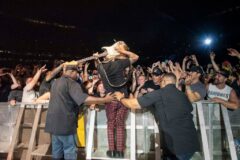 He continued: "To me, it's just like a gangster movie. In a gangster movie, you don't want to see polite guys; you want to see them do horrible shit. It's a movie, it's entertainment, and, at the end of the day, music is entertainment. It might reflect what has happened, but a lot of times it's an art form of telling stories."
Alexander further targeted Macklemore & Ryan Lewis' thoroughly criticized "Thrift Shop," again in racially tinged terms. He takes issue with the lyric "that's a cold-ass honky," contending that "honky" is "a racist word" and Macklemore "put a racist term into a black person's mouth and had it thrown back at him to satiate his white guilt. That's the way I look at it."
Alexander has since clarified his remarks with Atlanta alt-weekly Creative Loafing, saying, "I didn't realize my detractors held the stereotype that rap is simply a black thing. That ignorance is just a black thing. I never got that memo. There are plenty of white rappers on the scene singing dumb shit and I love it."
He continued: "Really, trap is just my preference in hip-hop. I don't completely dislike conscious rap. We had the GZA from the Wu-Tang lay a verse on one of our tracks ["Drop I Hold"]. He is, in my book, one of the greatest lyrically conscious rappers of our time. I don't think he would fuck with us if he felt I was racist. Also, those interviews aren't verbatim, but I was trying to explain that I come from an upper middle class neighborhood. So I'm not some artist claiming I have had some crazy struggle. Having said that, from Kindergarten through high school, my public school had the M-to-M program which shipped in inner city black kids, so my school was roughly 50/50 black-white. I used to get my ass kicked by kids from tougher neighborhoods than mine. So I, by no means, was raised up in some sheltered white environment. I also like my rock dumb and evil as well. Just my opinion."
Your move, comments sections of the world.