SPIN has been busy at South By Southwest, organizing Wednesday's showcase at the House of Vans at the Mohawk and today's event at Stubb's, but we've caught a lot of great music along the way. Here's the best of what we've seen at SXSW so far.
Method Man and Redman: Stubb's (Tuesday)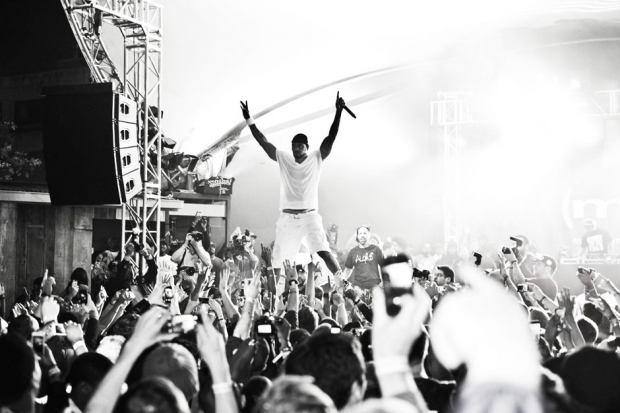 No better way to unwind from the fuckfaces in your life (OK, my life) than partake in Redman's demand for a chant that would be delivered loud enough for ODB to hear, during Tuesday night's huge Def Jam 30th anniversary showcase at Stubb's: "Put your middle fingers back up if you ain't paid your phone bill, you beat a court case, you got rid of your boyfriend or girlfriend this week, you ain't paid your parking tickets, your test results came back negative—put your middle fingers high to the sky and let me hear you say, 'Fuck you Redman!'"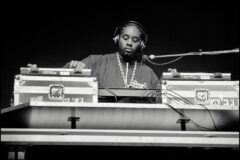 Fuck you Redman, cried the Gonorrhea-free.
"That's what I like," Redman continued. "Now, let me hear you say, 'Fuck you Method Man.'"
Fuck you, Method Man, shouted the AT&T debtors.
Method Man fired back: "Fuck you!
Redman: "Fuck you!"
Method: "Fuck yoooo!"
Redman: "Fuck you!"
[Repeat x 8]
Fuck you.
CAMILLE DODERO
Dum Dum Girls: SPIN/House of Vans at the Mohawk (Wednesday)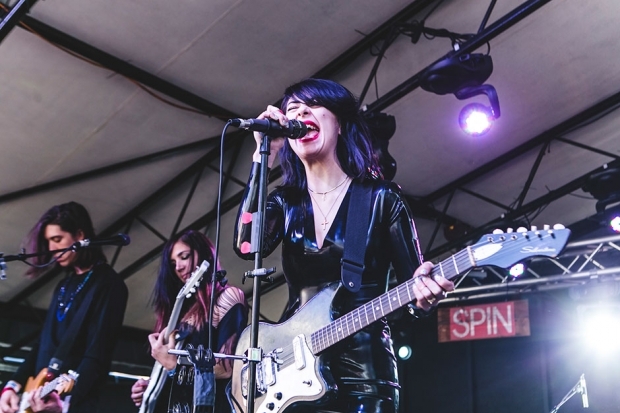 The entirely black-clad quintet brought a heavy dose of reverb, Spector-esque melody, and mascara to this sunny afternoon showcase. Dum Dum Girls have come a long way since their last time around, with a revamped lineup and a male (!) guitarist adding subtle but robust fills to the group's resolutely straightforward girl-group rock, which in this set focused heavily on the band's two most recent albums. Frontwoman Dee Dee — resplendent in a tight latex dress — is gradually coming into her own as a performer, engaging the audience and, surprise, even smiling once, although she quickly turned her back to the audience when she did. JEM ASWAD
Jay Z and Kanye West: Austin Music Hall (Wednesday)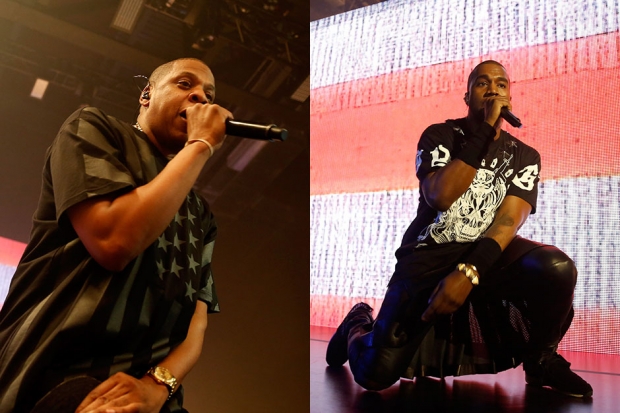 To the hundreds if not thousands who, despite their best efforts, couldn't get into the double-header on Wednesday night — you had to have the right phone with the right app, wait in the right line at the right time for a long time, then retrieve an Ajunti Dagger without spilling any water, or something — I'm sorry to report that it was probably even better than you imagined. (Read our full report from the show here.) GARRETT KAMPS
Lydia Loveless: SPIN/House of Vans at the Mohawk (Wednesday)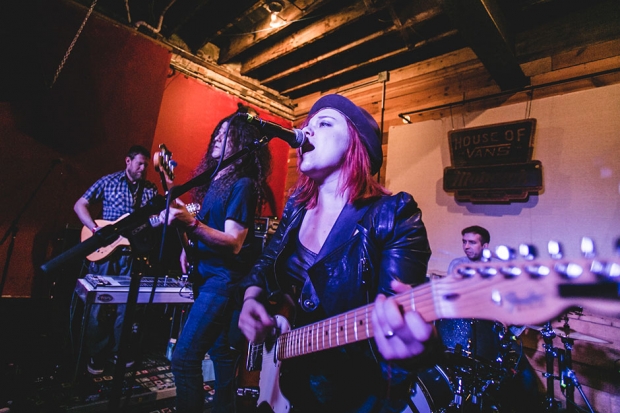 This memorably monikered 23-year-old's latest LP, Somewhere Else, is an impressively organic fusion of country and rock, but it doesn't prepare you for the punch she and her band — dubbed the Full Montys, at least at this show — pack in a live setting. Anchored by a kick-ass drummer and a long-haired, head-banging bassist (who doubles as Mr. Loveless), the band features two versatile guitarists: one on stinging lead, another doubling on pedal steel and electric 12-string. But the real power comes from Loveless' precociously mature singing: It was early in the afternoon, but she nursed a can of Lone Star and belted out her wry, powerful songs about jilted lovers and, in one case, "a really sad song about oral sex."J.A.
Perfect Pussy: Stubb's (Wednesday)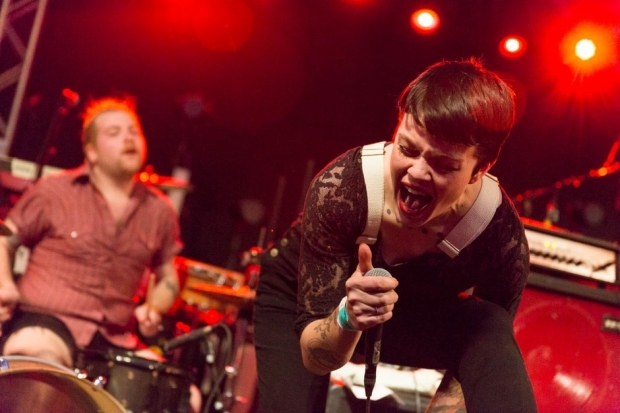 "We're Perfect Pussy and we're terrified," is how frontwoman Meredith Graves introduced her hardcore band at Stubb's on Wednesday night. By minute two of their 20-minute squall of a set for NPR's official SXSW showcase, the graying strain of Terry Gross stans around me were the ones terrified. Graves dedicated one song to the parents of guitarist Ray McAndrews, who'd come to see their child in a safer space than, say, a bridge, telling her bandmate-in-laws, "I'm so very proud of your son." Soon after, the Syracuse five-piece exploded into "Song About How My Best Friend Blew My Boyfriend the Day After We Broke Up'" (a/k/a "I"), a phenomenal noise burst with the lyrics, "Her eyes fell low and heavy with shame and cum," and a four-man mosh pit erupted down in front. Hope that whomever booked Perfect Pussy to open NPR's showcase doesn't get fired. C.D.
Pusha T: SPIN/House of Vans (Wednesday)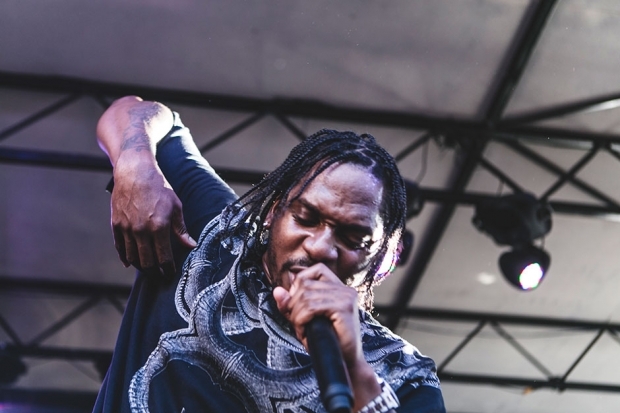 When Pusha T raps about his current state of mind ("This is my time / This is my hour") on his sauntering, bass-infected "King Push," there's no doubting that his lyrics are as much of a self-assuring mantra as they are rap-game braggadocio. He's getting older, and on this day the rapper lets us know that he's been doing this for nearly 40 years. (A slight exaggeration considering the man is only 36 years-old.) At every turn of his career, from the Clipse to linking up with G.O.O.D music, the Pusha's the guy who gets in where he can and then holds it the fuck down. His set on Wednesday covered his range; crazy-eyed and charismatic, he powered through the self-affirming title track from My Name Is My Name, hype verses from Kanye's "Runaway" and Chief Keef's "Don't Like," and throwbacks to the Clipse.
But the show didn't end there. When Pusha closed out the show with "Grindin'," a cheer erupted from the crowd that announced the arrival of celebrity fans in the audience. Odd Future's Tyler, the Creator and Earl Sweatshirt peered down from the VIP section of the venue to rap the radio-anthem's words alongside one of their favorite rappers, who shouted them out from stage. Tyler later tweeted about the experience: "the joy you get when an artist you like performs a song you love. pusha did grindin and i almost died." PUJA PATEL
St. Vincent: Stubb's (Wednesday)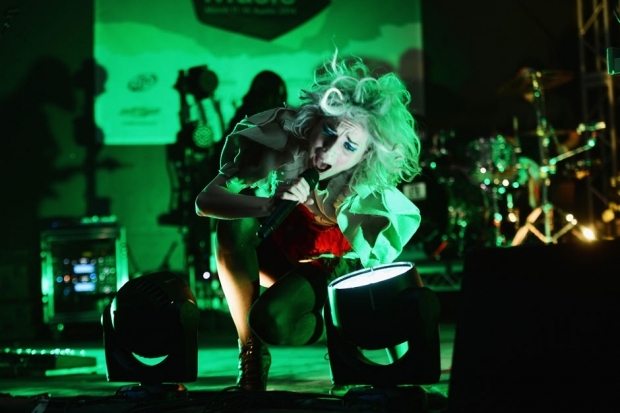 The word during the day was that the lure of Damon Albarn would quickly pack this sprawling venue on Wednesday night, but judging by the rapturous response to (and exits after) St. Vincent's hourlong set, she was the draw. Annie Clark's vision has become more focused as each album has gotten (paradoxically) more accessible and more strange, and she's connected with the kind of audience that has both sexes annoyingly screaming "WE LOVE YOU ANNIE!" between every song. She's earned it: With a set centered around her self-titled and self-assured fourth LP, there's lots of anthemic ballads, crazed guitar solos, and a surprising amount of theatrical self-abuse: She throws herself down on the stage, lays upside-down, and does a lot of robotic movement. It sounds infuriatingly self-indulgent and often it is, but she pulls it off. J.A.
BANKS: Hype Hotel (Thursday)
BANKS is an L.A.-based singer-songwriter whose weirdness is her saving grace. While her electronic-based songs usually have stretches of conventionality, you'll have a song with jazz chords and a shuffling rhythm followed by one with thundering beats, chest-rattling bass and giant, gothic vocal samples. The music mirrors her unexpectedly physical stage moves. She skulks around the stage, fluid and graceful one moment, lurching and awkward the next, her long, side-parted hair covering half her face. Likewise, her vocals will abruptly drop down or leap into an ultra-high trill. She's also got good taste in covers: On this night she played Timbaland's greatest gift to the world, Aaliyah's "Are You That Somebody," and the night before, she took on Lauryn Hill's "Ex Factor." Her debut album is due on Harvest in the summer but you can hear the EP that started it all — featuring production by Shlohmo, Sohn, Jamie Woon and others — here. J.A.
Nicky Da B: Empire Garage (Thursday)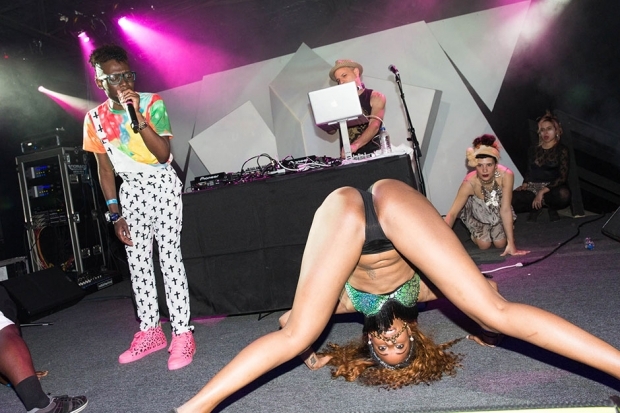 "If you lookin' for your boyfriend / Bitch, he right here," yelled Nicky Da B to the jiggling rears of his upside-down backup dancers. The booty-wobbling, Diplo-fueled meme that followed the bounce star's "Express Yourself" release might have propelled the twerk movement to mainstream festival appeal, but on Thursday night, Nicky Da B showed that no one can match his New Orleans hometown swag. Decked in cross-printed leggings and bright pink leopard-print sneakers, the MC and his DJ Rusty Lazer conducted a pair of dancers through a riotous set of EDM-synth-propelled bounce, including his new, hater-stomping rally "Hooka." P.P.