We are sleep-deprived. Everything we own is dirty. And we have not seen a vegetable for days. But SPIN's SXSW team also witnessed a bewildering amount of performances, from Future's bonkers headlining set at our Stubb's party to Tyler, the Creator nearly inciting a riot at the Scoot Inn. Here's the best of what we saw on Saturday, March 15, the 2014 festival's final date.
Erykah Badu: Fader Fort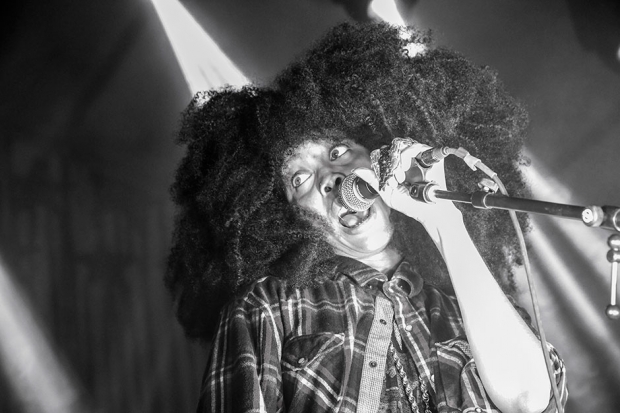 When a group of musicians with shirts that read 'The Cannabinoids' began setting up on stage, the secret was out. (The Cannabinoids are Erykah Badu's weed-exalting, PLUR-demanding backing band.) Before long and hidden under a smoke-machined fueled fog and her massive hair, Erykah appeared, opening her set with "On & On." "You come to Texas, you come with some shit!" said the soul singer at the break. "Or you can stay at your fucking house!" she laughed, launching into a comical delivery of the hook to "Deep in the Heart of Texas." That was enough to end it, to be honest. But she continued on to deliver her smoky, lovelorn anthem "Love of My Life" and "The Healer" in only the way the QUEEN could. PUJA PATEL
Protomartyr: Red 7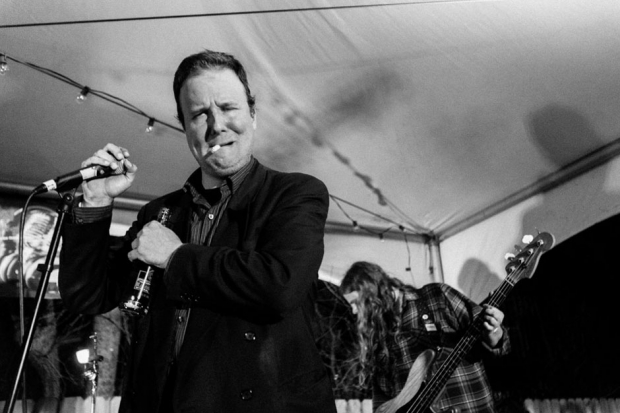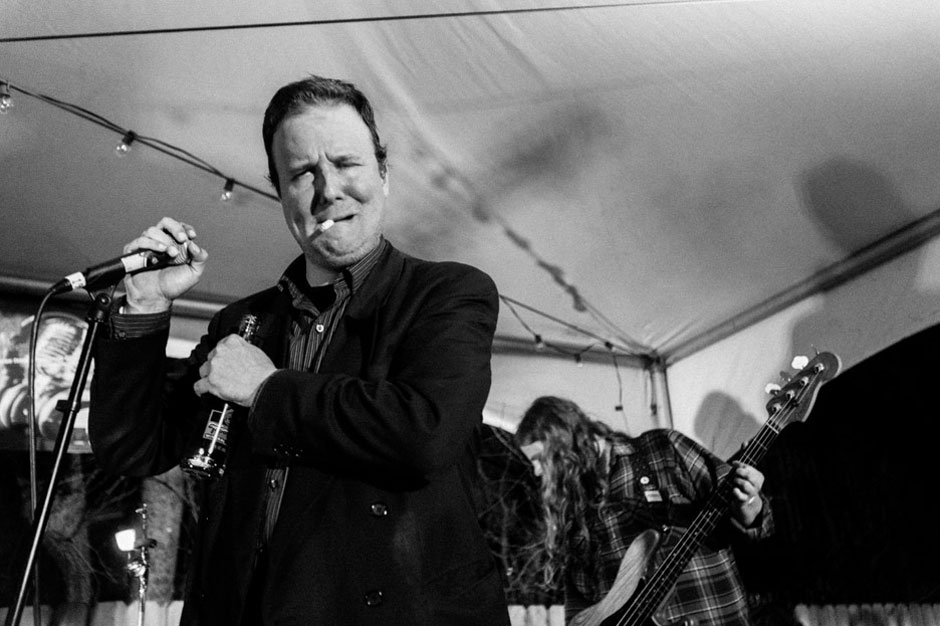 Protomartyr are a band from Detroit who look and sound like they'd be from Detroit — gritty, no-frills, unpretty, hard-driving — but there's a melodic undertow to their songs that's mixed with a dark, creepy post-punk roar (like on the wonderfully titled "Scum, Rise!"). That kind of subtlety, which imbues the quartet's forthcoming LP, Under Color of Official Right, does not come across as clearly in a live setting: The band renders the songs even more powerfully than on record, but singer Joe Casey's stage persona often veers into a dead-on impersonation of a crazy guy in the bus station walking around talking to himself. It's as unpredictable and entertaining as the band's music. JEM ASWAD
The Coathangers: Hotel Vegas.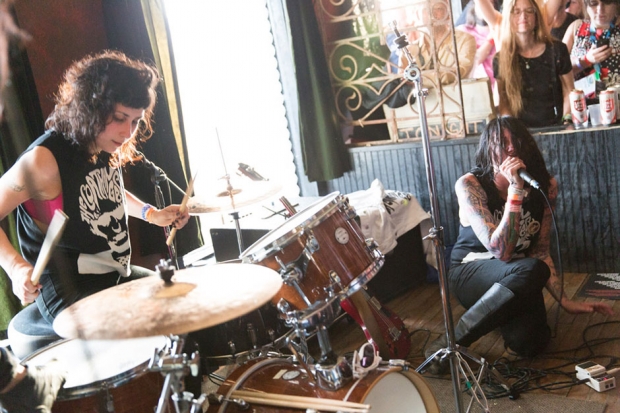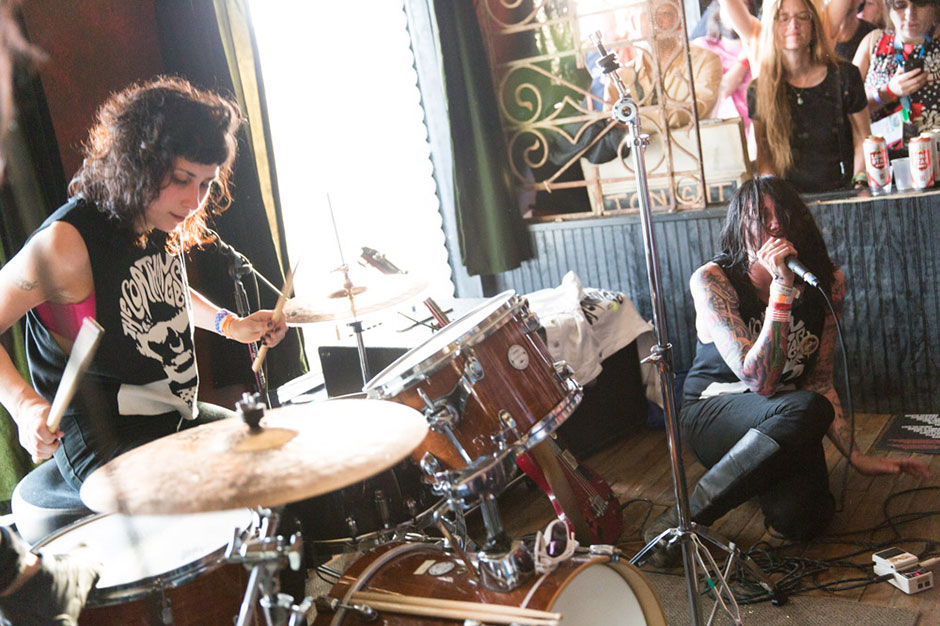 Give the Coathangers all the prizes. Since 2007, this Atlanta band has gone from a life-affirmingly sloppy grrrl four-piece to a fantastically riotous punk trio who're legitimately great live. Drummer Rusty Coathanger (a/k/a Stephanie Luke) sings a lot more now, and her voice is so deeply raspy, one obstructed-view observer behind me initially thought she was a dude. Nope, she's just a boss, and her band's show at the third-annual Burgermania ballyhoo was rawer than road rash. Rotating on instruments, the three bashed through songs on their forthcoming Suck My Shirt, out this Tuesday on Suicide Squeeze, including scuzz-groove jam "Adderall." This was the Coathangers last show of the festival, and as part of their grand finale, Crook Kid Coathanger (a/k/a Julia Kugel) screamed lead vocals on "Nestle in my Boobies" and Rusty rolled into the crowd, where the girls in the front stopped pogoing long enough to take turns slapping her ass. CAMILLE DODERO
The Wytches: Cheer Up Charlie's Inside.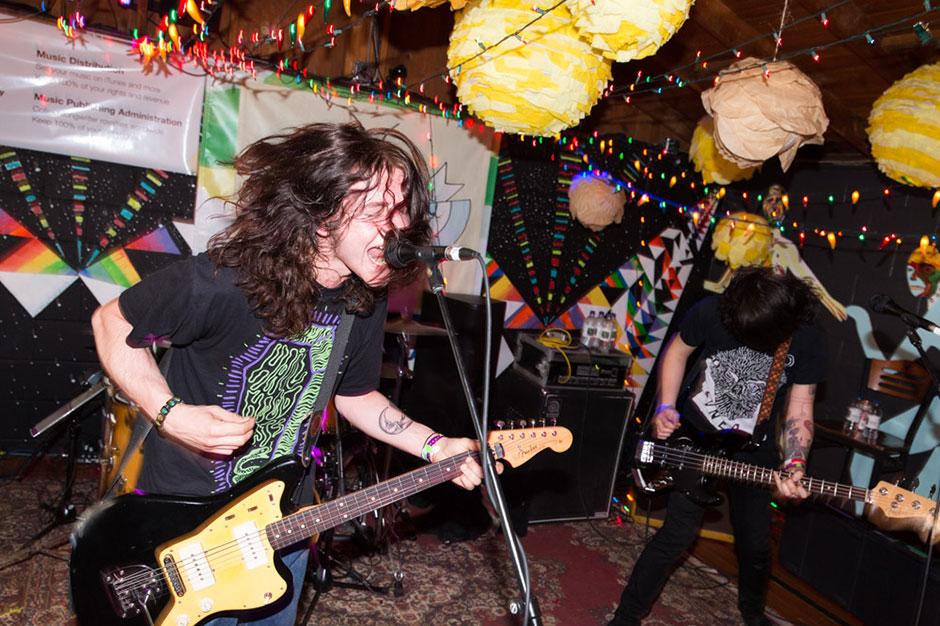 Owing to the cozy confines of this slightly-bigger-than-your-uncle's-rec-room venue and its half-foot-high stage, the only visual impression most of us could get of this reverb-laden British trio was three bobbing heads of dark hair. Frankly, even with a clear sightline, that would have been the main impression. The young group has a loud, scrawny, classic power-trio sound with driving riffs and nasal, snarled vocals. At their best, the band recalls the gnarlier moments of '60s garage-punk a la the Nuggets compilation, and they've got the power and stage presence to pull it off. One track is way too love-buzzed for its own good — but their debut LP, due in May on Partisan, should make a splash. J.A.
Drenge: Latitude 30. Drenge are a pair of British brothers in their early 20s who specialize in a blistering, hard-driving rock sound that somewhere between Nirvana and the White Stripes (albeit without the memorable melodies). While their self-titled debut is a bit on the repetitive side, live it all makes sense: frontman Eoin Loveless creates the most pulverizing guitar sound I heard in a week filled with pulverizing guitars, something approaching a harmonized motorcycle. And when he and his brother locked in (which was often), the floor was filled with headbanging, pogoing, jack-knifing bodies, nearly all of them male. Although Eoin is merely an average singer, together they've got a stadium-sized sound and it probably won't be long before they're dominating the European summer-festival circuit. J.A.