We're not modest. The best thing we saw on Friday was our own long-running showcase at Stubb's, which featured Against Me!, Cloud Nothings, ScHoolboy Q, Warpaint, Future Islands, Temples, the Orwells, Radkey, and a stellar headlining set from Future (who brought out both B.o.B and the legendary Bun B). Here's the rest of best things that SPIN's SXSW team caught on Friday.
Trash Talk: Beerland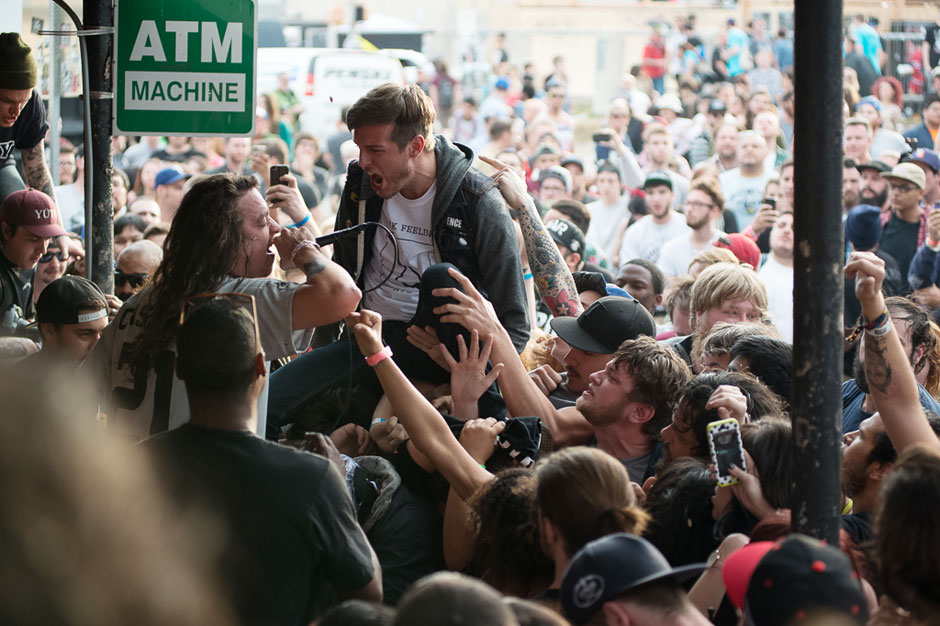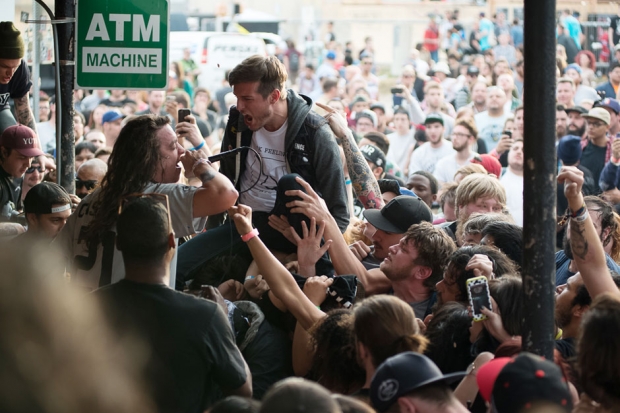 Minutes elapsed before the cops broke up this impromptu Trash Talk madness, staged on the outdoor street-side patio of Beerland Friday at 6:30 p.m. after the hardcore band's Thursday performances were cancelled: 12. Number of times daredevil punks jumped off the Beerland roof, onto a roiling throng of circle-pitting madness that coagulated the Red River block adjacent to 6th Street: 3. Number of visible police who broke up the chaos: 4. Approximate number of times kids shouted at the stone-faced cops "one more song": 1000. Number of one more songs: zero. Number of times you should see Trash Talk, if only for the spectacle? An infinite set. CAMILLE DODERO
Le1f: Majestic Music Hall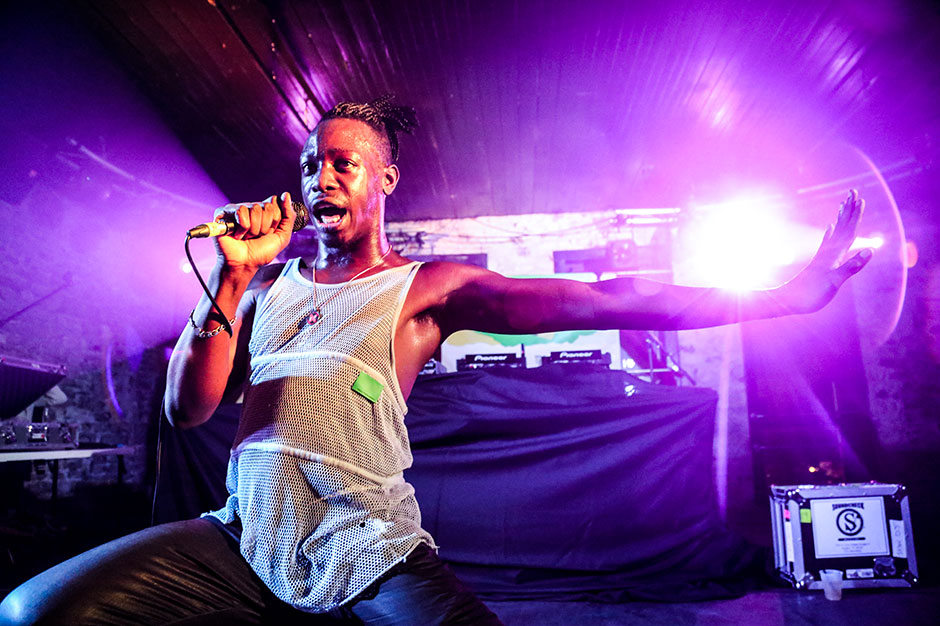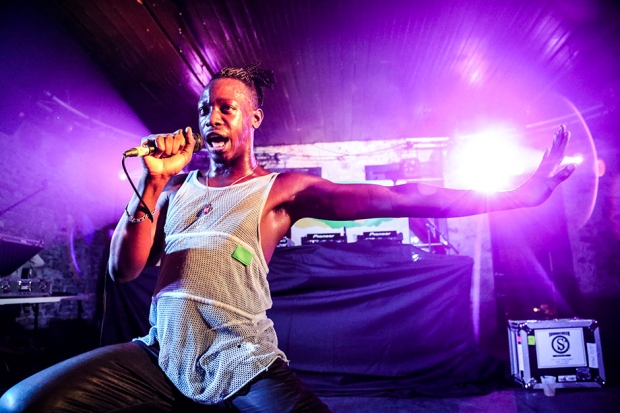 While Le1f performed "Wut" on first national TV appearance on Letterman Thursday, the Brooklyn-based MC's live show is best suited for the club. In general, his self-confident wit almost immediately brings to mind something that could have very well fallen to Hypnotize Mind's roster; he has tracks that, when performed live, harken back to something that could have been laid out for Three Six Mafia and La Chat. At the Majestic, he wiped the sweat pouring down his face — a result of his vogue dance moves and camera-happy posing — as he ran through a set of purple-tinted, bass-addled raps. But really, his strongest asset is the same thing that has kept him in the underground's spotlight for years: his ability to make his audiences have fun, but showing how much fun he's having too. The radiates his swag outwards and he's immediately ranked out of the rookie status others may assign him. By the time that Le1f got around to "Wut" and "Damn Son," even those who didn't know the words to his tracks want to get to body-rolling and booty-dropping with their poutiest face on. Because as Le1f proved, feeling yourself is half of the battle. PUJA PATEL
Hurray for the Riff Raff: The Gatsby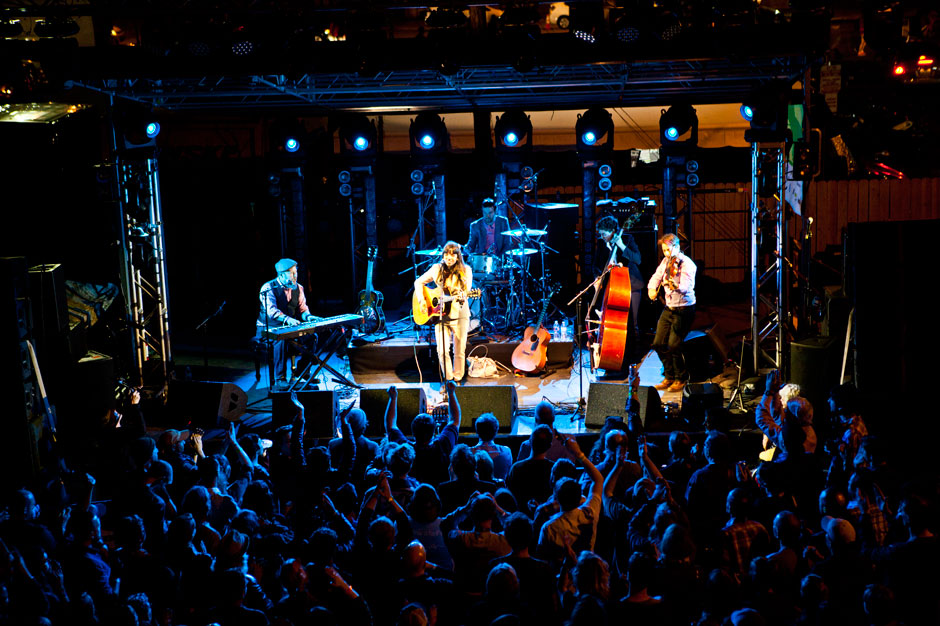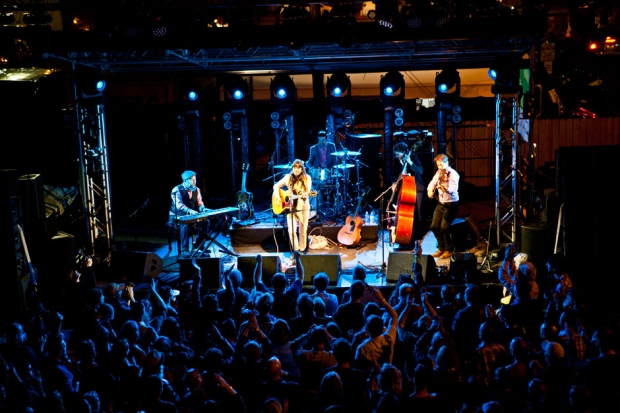 In the middle of Hurray for the Riff Raff's 45-minute set at Gatsby, singer/songwriter Alynda Lee Segarra said how honored she was to be sharing a stage with legends Wanda Jackson and Lucinda Williams. And if you throw a heaping tablespoon of New Orleans and Emmylou Harris into that formidable equation, you've got a fair approximation of this group's sound on its latest LP Small Town Heroes, which featured heavily in this set. Raised in the Bronx but a New Orleans resident since her teens, Segarra's story reads, as SPIN said in naming the band one of our 5 Best New Artists for last month, "like a Mark Twain novel," (actually more like a Treme plot line), as she "found herself playing the washboard alongside a group of local musicians called the Dead Man's Street Orchestra before picking up the banjo and deciding to write songs herself." She has embraced her adopted hometown fully: With a fulltime violinist and a bassist who only plays standup, it's a Cajun-country template, but what truly makes them special is her songs and singing, which show the obvious influence of the above as well as some Gram Parsons — she was even wearing a Guilded Palace-esque white suit with a glittery heart on the back. But they also show a blossoming talent forging her own path. JEM ASWAD
Kelis: Hype Hotel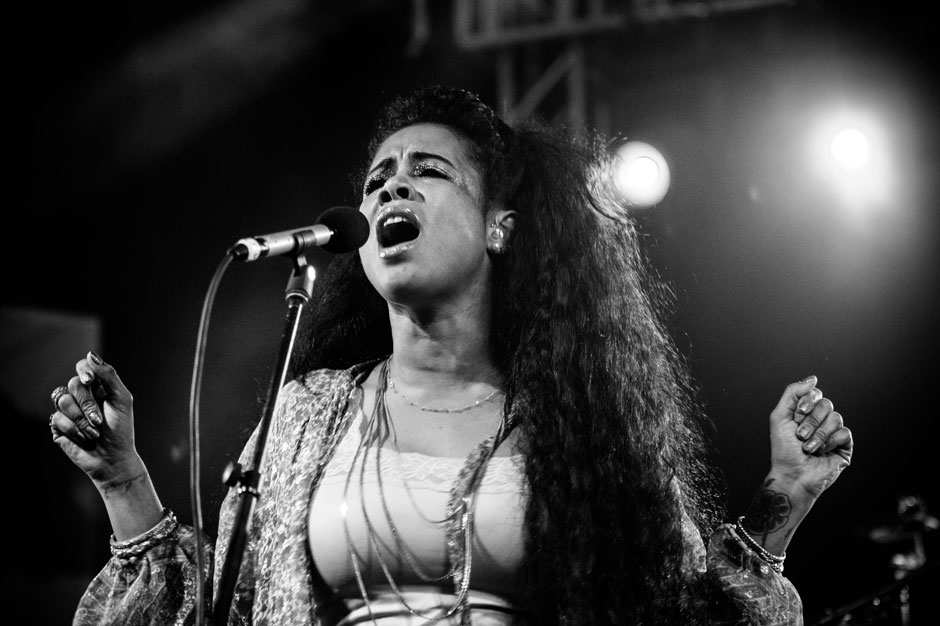 With a solid new Dave Sitek-produced album called Food as well as an actual food truck to promote, Kelis has been working SXSW hard all week. She's spared no expense in an effort to recreate the album's sleek R&B sound, backed by a crack dozen-piece band that delivers the goods professionally if not always passionately. With that caveat, it's a stellar show, leaning very heavily on the new album and deep cuts from her past albums, with an almost grudgingly fast one-two punch of "Milkshake" and "Got Yo Money" late in the set that brought out the inevitable field of phones in the crowd. And no, she did not play "Bossy," despite Beyonce's recent poaching of the word. J.A.
Whores.: the Dirty Dog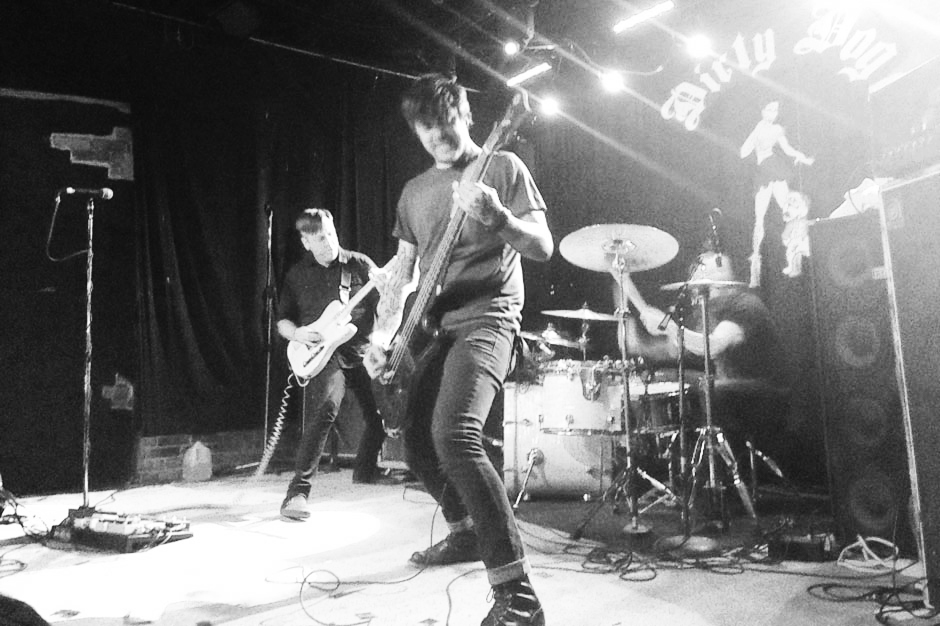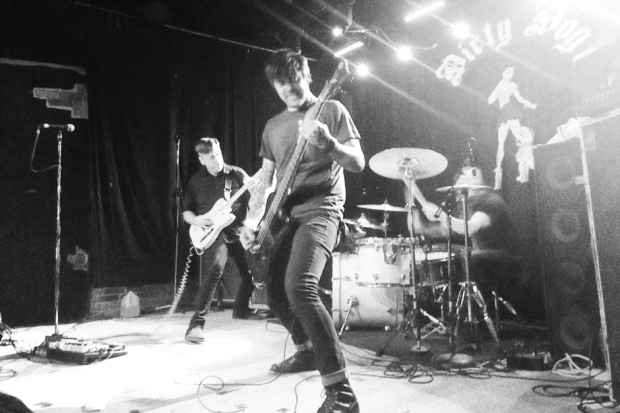 When you name your band Whores. — with a period at the end, just to be even more irritating — compromise is obviously not part of the equation. And this bruising sorta-metal Atlanta trio delivers a visceral, pummeling sound that's as big on tension and dynamics as physicality. The most obvious pre decent is Helmet's studied but bruce-force power groove: singer/guitarist Christian Lembach shoots out shards of eardrum-rattling riffs and drummer Travis Owen delivers intricate yet still blunt rhythms. But the band's hardly-secret weapon is bassist Jake Schultz, who stomps all over the stage like a biker trying to crush a snake while throttling his bass, which has so much low end that it sounds like a sinking ship hitting the ocean floor (on this night he was also so badass he had a chain-wallet in one back pocket and a bandana in the other). As Rob Halford might say, they're a very dangrous metal band. J.A.