A city in Poland has saluted the late Jeff Hanneman by naming a traffic circle after the Slayer guitarist. As metal fan forum Lambgoat notes, a roundabout in Jaworzno, Poland will be called "Jeff Hanneman's Circle Pit" for a full year. The tribute comes at the demand of ART-COM Ltd., a company that, aside from being run by Slayer worshippers, also won an auction to rename the traffic circle and become its "symbolic owner" for 12 months; the auction was part of Poland's annual Grand Finale charity event, organized by the nonprofit Grand Orchestra of Christmas Charity.
Hanneman passed away in May 2013 at the age of 49, succumbing to alcohol-related cirrhosis of the liver. The dedication in Poland carries some extra heft given the timing: Hanneman would have turned 50 on January 31, and on Janaury 26, the Recording Academy snubbed the thrash metal icon during the Grammys' annual "In Memoriam" tribute. (For what it's worth, SPIN included Hanneman in its most recent In Memoriam package.)
Find the full text and photos of the sign below (the images also feature the owners of ART-COM, via Polish news outlet TVN24). And revisit Hanneman's younger days with SPIN's photo gallery Metal Babes: Rare Photos of Slayer and Metallica from the Early Days of Thrash.
Jeff Hanneman's Circle Pit
unforgettable Slayer guitarist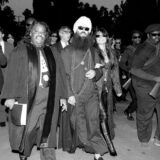 During the XXII Final of The Great Orchestra of Christmas Charity, the President of Jaworzno put up for auction the traffic circle in the city centre, which was later auctioned by ART-COM Ltd. The company could give the name to the traffic circle and became its 'symbolic' owner for the period of one year. The money gathered during the XXII Final of The Great Orchestra of Christmas Charity was allocated for the purchase of specialized equipment for children's emergency medicine and deserving health care of seniors.