Roomrunner Reboot for a Dynamic New EP
The Baltimore free-agent quartet turn down the feedback on their upcoming, five-track offering
"I'm not going to lie — at first, I was kind of weirded out by these songs," Roomrunner drummer Bret Lanahan says, lounging on a couch in Baltimore recording studio the Magpie Cage. "They're a lot prettier."
"It's still very much us," frontman Denny Bowen says of this fresh material, which will fuel an upcoming, currently untitled new EP. "It's just a different us. There's a dynamic range to us now. It's not just full-on, rip-your-skin-off-type bullshit."
To date, feedback-juiced noise-rock has been Roomrunner's forté, as heard on the group's gut-punch of a debut album, Ideal Cities, which arrived in May 2013 via Fan Death Records. But this fall, the foursome — Lanahan, Bowen, guitarist Jeff Byers, and bassist/producer/engineer Dan Frome — retooled their creative process. Bowen, who assembled the lion's share of Ideal Cities largely on his own, no longer serves as the band's sole songwriter.
"Now I feel like I have options," he says. "Whereas before, I felt like I had to commit everything to a demo and then present it, and then — only then — we can start playing it as a band. Now I can just come to the band with a riff and be like, 'I don't have anything besides this riff, let's see where it goes.'"
"After having people on board that you trust and that you're friends with, why not make it something that's more collaborative?" Bowen adds. "It's been more rewarding and more of a relief. Trusting people with your art doesn't mean that you're letting go of it — it's just giving it new life."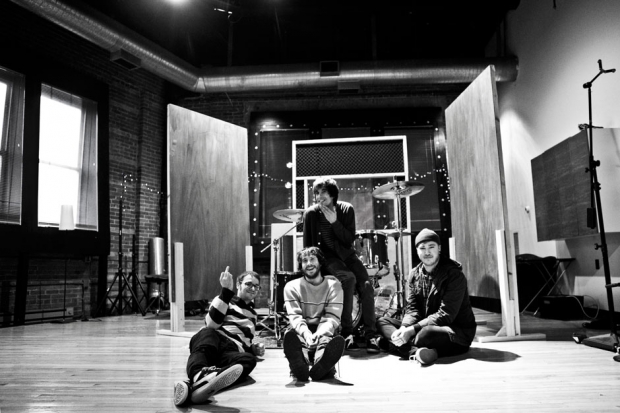 To help steer their newly established democracy, Roomrunner tapped producer J. Robbins, the proprietor of the Magpie Cage whose enviable resumé includes work with the Dismemberment Plan and the Promise Ring, in addition to time served in Jawbox and Burning Airplanes.
The idea to team-up with Robbins came about in September, when Roomrunner held a State of the Union-like sit-down following a summer hiatus. "I need something tangible in front of me in order to do it," Lanahan says. "When we didn't have any goals, I started second-guessing."
"Stuff started slowing down, too," Bowen says, remembering the inactivity that followed Ideal Cities. "We weren't getting offers for shows, the emails stopped coming. It's like, first you get the Google Alert for your band and it's like, 'Cool, there are all these people writing about you!' And then you get Google Alerts like, 'Dining Room Runner Needed.'"
"I think we were all a little bit bummed out," Lanahan says.
But now, Roomrunner have a slate of tour dates up ahead (find details below) and this five-track EP in the can, ready for a record label to pick it up. The band has shopped the short-player around, but have yet to finalize release and distribution details. "You're talking to a free agent right now," Bowen jokes.
As for the "prettier" tag, Lanahan admits that he was wrong to be hesitant about Roomrunner embracing melody and easing up on the feedback. "I didn't realize it at first," he says, "but this is the total obvious next step."
Roomrunner tour dates:
February 16 – Brooklyn, NY @ Death By Audio
February 17 – Boston, NY @ Charlie's Kitchen
February 18 – Montreal, QC @ Drones Club
February 19 – Ottawa, ON @ TBA
February 20 – Toronto, ON @ Rancho Relaxo
February 21 – Detroit, MI @ The New Way Bar
February 22 – Champaign, IL @ Error Records
February 23 – St. Louis, MO @ CBGB's
February 24 – Nashville, TN @ Owl Farm
February 25 – Atlanta, GA @ 529
February 26 – Charlotte, NC @ Snug Harbor
February 27 – Richmond, VA @ Strange Matter
February 28 – Harford County, MD @ Stem Graphics
March 1 – Philadelphia, PA @ Golden Tea House