Well, the boxing match between DMX and George Zimmerman isn't happening, but the drum-off between the Red Hot Chili Peppers' Chad Smith and Will Ferrell is just heating up. Last week, Smith challenged his real-life lookalike, Ferrell, to a drumming contest via a video posted on Funny or Die's Instagram.
"Drum battle, me and you," Smith said in the clip. "I've seen your skills — you don't got 'em." Now, as Rolling Stone points out, Ferrell has accepted the challenge, sharing the following message on Reddit while Smith hosted an Ask Me Anything (AMA) session:
"Hi, Chad. Will Ferrell here. I saw your video and I graciously accept your invitation to a drum battle. If we can raise $300,000 for Cancer For College I will face off with you in the greatest drum vs. cowbell showdown the world has ever seen. We can do it on stage at a Red Hot Chili Peppers concert or in front of a mutually convenient public library. Your call. Also, would you rather fight a hundred duck sized ducks or one horse sized horse?"
Smith threw shade at Ferrell earlier in the AMA, writing, "I have to comment that I think Mr. Ferrell is a delusional imposter. It seems to me that he has gone off his meds and he needs to seek professional help because I am obviously more talented and handsome than he is. You know, his cowbell work is well-documented, but his drumset skills are nominal based on Step Brothers the film. Other than wiping his testicles on the drums, which of course I give high marks to."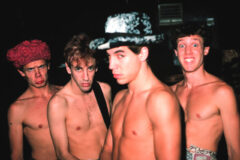 The faux-rivalry between Smith and Ferrell kicked off last week, when Ferrell participated in his own Reddit AMA. "It has been acknowledged many times that myself and Chad Smith, drummer for the Red Hot Chili Peppers, share a resemblance to each other," Ferrell wrote. "A lot of people think that it's me playing for the Red Hot Chili Peppers. But that would be an insult to Chad Smith. The truth of the matter is there is no Will Ferrell. Only Chad Smith."
Stay tuned for more details on the drum-off as they emerge.