Blaqstarr, "Hands Up, Thumbs Down"
In which a hearty, batshit Baltimore club track that's more than a decade old and got sampled by M.I.A. on 2007's "World Town" is cleaned up and declared "unreleased," and thus starts popping up on all of the blogs that never touched this freaky stuff back in the day. Then again, all of the Bmore manipulations flying through the post-anything world of dance have yet to match this aggro-zen simplicity: fractured acid squelches, scary-as-hell slurred vocals grunting and screaming, and a constant percussive thud that marches to the front of the track for a hypnotic breakdown. From a free EP titled The Blaq-Files EP (2002-06).
Cam'ron & A-Trak, "Humphrey"
There must be a rap-nerd memo swirling around out there that tells y'all what kind of nostalgia's now acceptable, because man oh man, this sort of mid-2000s crack-rap fervor (Clipse reunion, but not really! Freeway and Girl Talk are working together!) that gets up and going every few weeks doesn't seem to inspire the same derision as Golden Era resurrection attempts or Memphis buck-music cassette-hiss approximations. Or, I guess what I'm trying to say here is, make sure you realize how hard your college-dorm-memory pleasure zones are being purposefully massaged and manipulated when A-Trak and Party Supplies lace up a shuffling soul beat like this one, and Cam'ron deigns to actually show up and give a shit and does that about-to-cry, has-a-stuffed-nose asshole voice that made Purple Haze such a heartening collection of dada hedonism.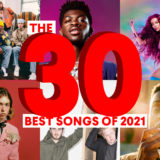 Cashy, "Wrong Way"
Not sure who this Cashy fella is, really. His new EP, Platinum Plus, appeared over at the always-dependable Steady Bloggin' website (rap-weirdness scourers of the highest caliber), and it's possible — given his trap-squawk delivery, Miami origins (presumably, somehow Spaceghostpurrp is involved or connected), and very on-point late-'90s Pen and Pixel-style cover (lots of gold and white tigers) — that this is all some elaborate joke to trick dudes like me into riding for it. But there's a very A$AP Ferg-ian quality to this for sure, which means his entire persona feels fascinating and self-destructively contrived, but hey, this kind of unhinged rapping is pretty damn rare these days. The beat from Purp Dogg is on some Edgar Froese's Epsilon in Malaysian Pale-type shit, and Cashy's adlibs are André 3000 meets Mr. Bill.
Isaiah Rashad, "Heavenly Father"
Black Hippy's newest addition pretty much turns the first two verses of this Cilvia Demo highlight into one extended hook, singing away the pain of a dad who wasn't there while indulging suicidal thoughts and self-injury: "I been asking questions, 'Where the lord?' /
 And they don't give me answers, just a check / And they don't know my issues as a child /
Because I was busy cutting on myself / And hanging from the playground wasn't wrong / 
Until you got a rope on your neck / And I been losing more than just my mind / Gathering what's left of self-respect /
And Daddy, why you call me while you drunk? / And why you never love me when I need it?" The final verse bends backward into Kendrick Lamar "Buried Alive (Interlude)"-like spoken word. Wow, just wow.
//www.youtube.com/embed/-R8LeCcSY3k
Two-9, "Everything"
Over a mean-mugging Mike Will Made It production — all goth-synth strings and bleary-eyed glitches — New ATLien group Two-9 snarls, chants, double-times, swallows its own hook ("E'rythang, e'rythang"), and rhymes the name of designer Alexander Wang with um, "wang." Very, very Kanye-like! Nevertheless, it's strange how fast hip-hop moves, and the filter-trap tricks of Will here feel strangely, immediately retro ("Everything" is indeed, a remixed and remastered version of a cut from the #MikeWillBeenTrill mixtape from late last year), thanks to Miley Cyrus and rap radio's scorched earth policy of sucking the excitement out of a sound as quickly as possible. Still, this is a clever track to stick back out there, sharing some scary wild-out qualities with Young Thug's 808 Mafia-produced "Danny Glover," which is looking to be the street hit of 2014.