If Russian President Vladimir Putin freed Pussy Riot as a publicity stunt, it might not be working out as he'd planned. When Nadezhda "Nadia" Tolokonnikova and Maria "Masha" Alyokhina got out of prison last December, after serving 21 months for a punk-themed anti-Putin protest, they derided the amnesty as a stunt to clean up Russia's image ahead of the Winter Olympics in Sochi. Now, the AP has frankly infuriating news footage (below) that shows Russian Cossacks attacking Tolokonnikova, Alyokhina, and others with whips and pepper spray — at a public plaza in Sochi, roughly 20 miles from the Olympic Park.
According to The Washington Post, the recently imprisoned Pussy Riot members, along with two other women and one man, were about to shoot a video for their new protest song, "Putin Will Teach You to Love the Motherland." The video shows the Cossacks whipping the group members and forcibly removing their ski masks. Tolokonnikova and Alyokhina tweeted about the incident, posting photos of themselves in the hospital as well as of a man with a bloody face and a woman with a reddened chest. Whatever Pussy Riot's planned video was supposed to be, it's hard to imagine it sparking a bigger response than this AP clip.
All this comes after Tolokonnikova and Alyokhina were briefly detained in Sochi earlier this week for what officials characterized as a hotel-wide questioning about a theft where the two activists and conceptual artists were staying. Though forced to brush off criticisms from other Pussy Riot members, the pair has been busy since getting out of prison, participating in a Brooklyn Amnesty International concert, converting Stephen Colbert, and meeting with officials such as New York City Mayor Bill de Blasio and the U.S. ambassador to the United Nations, Samantha Power.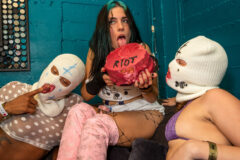 About 800 Cossacks have been serving as a kind of volunteer police force during the Sochi Olympics, according to the Post. Their forefathers guarded the Russian borders on horseback during the time of the czars — the Russian writer Isaac Babel's great short story collection Red Cavalry is essential reading on the subject (oh, sure, Tolstoy's novel The Cossacks is probably good, too). Modern-day Cossacks reportedly tend toward social conservatism and intense backing of the Russian Orthodox Church, and last year The New York Times noted they'd become something of a "mascot" for Putin. On a much lighter note, Cossacks recently chased the Bloodhound Gang out of Russia after one of the band's members put the national flag through the crotch of his pants.
Given that Tolokonnikova and Alyokhina (and fellow Pussy Riot-er Yekaterina Samutsevitch) were originally jailed for a protest at a Moscow cathedral, and that they've taken a strong stance in favor of gay rights, it's hardly surprising the Cossacks would oppose them. What's distressing is that a group so closely aligned with Russia's leader would feel free to crack down on democratic protest while the whole world is watching.