A jazz experimentalist in her teens and a pop star in her twenties, Neneh Cherry has enjoyed a career unlike any other singer of her generation. After playing with jazz punks Rip Rig + Panic in the early '80s, her "Buffalo Stance," from 1989's solo shot Raw Like Sushi, became an international hit. She returned to the jazz zone in 2011 with The Cherry Thing, in collaboration with a wild Norwegian-Swedish trio named after a tune by the legendary trumpeter-composer Don Cherry, her stepfather.
Now, on Blank Project, a new collaboration with the electropercussive British duo Rocket Number Nine (plus Four Tet's Kieran Hebden, handling production), she musically mourns her mother, Moki Cherry, who died in 2009. Co-written with Neneh's husband, Cameron "Boogie Bear" McVey, it's a stark, bracing, and emotionally vulnerable album that straddles the jazz, pop, and electronic worlds rather brilliantly. We caught up with Cherry, 49, during a recent visit to New York, a city she used to call home.
What's life like these days?
I kind of do a commute thing between London and Stockholm. Me and Cameron, my husband and work friend, set up house in Stockholm about seven years ago. We took our two younger kids, who are actually pretty old, 17 and 24. My oldest is 30, and she stayed in London because she'd already had a kid by then. We've always been nomadic, and I've always moved around.
I haven't lived in Sweden since I was a teenager. We lived in southern Sweden, about two hours north of Copenhagen, where my family's home base has been since 1970. Our parents bought a schoolhouse in preparation for self-sufficient living. They wanted to create a place to do all the things they believed in. It's still there. Me and my brother Eagle-Eye inherited it when my mother died four years ago. Don died 17 years ago. It's beautiful, but like my mother always said, it's nowhere. It's in the woods, pretty old school. We moved there when I was like six and a half. That part of Sweden was always very poor. Don taught at Dartmouth, so we always came back to New York, where his peers were, like Ornette Coleman. In 1977, we moved into a permanent place, a loft in Long Island City. Talking Heads and Ernie Brooks of the Modern Lovers lived in the same building.
You blend memories of New York City and of your late mother in Blank Project's opener, "Across the Water."
That song is about growing up, coming to New York, and losing my mother. It's dedicated to her and my daughters. I always found very strong images for my songwriting in New York. Yesterday I was sitting on the train and thinking about the presence of everybody in New York. What's sometimes really overwhelming in Sweden is the uniformity. People kind of disappear by all looking the same and wearing the same clothes. There are a lot of great individuals, but it can become a very blank and bleak picture. "Across the Water" is a tribute to a feeling I always have when I come here.
How did you process your mother's death?
The death of my mother was very profound. When Don died, he'd been sick for a while. But my mother, from one day to the next, just went. The first year after she died, I was in a complete state of shock, traumatized. I was flailing around in a black hole, tumbling around in this place where I was constantly catastrophizing.
After all the fear I had of losing other people I loved after my mother went, I came back to appreciating how precious the time is, how precious my daughters are. I'm very conscious of all the things in me I got from her. I can see her in myself, in the mirror, in a way I couldn't before. And I fought my mother harder than I fought anyone.
Was recording with the Thing after your mother's death very cathartic for you?
Yes. We just went into a studio in Acton and blew it out. We did one take each of three tracks. We started with Martina Topley-Bird's "Too Tough to Die," then the Nico track "Drop Your Troubles and Dreams," which we didn't put on the album, and then MF Doom's "Accordion." I developed a massive migraine when it was done. [Laughs.] The power and release of it was like my body was full of toxins, and I'd had a really good massage. I felt thrilled, and beautiful, in the sense of, "OK, the next phase of my life is starting." There are stepping stones, thresholds, or arrows in your life. So it was like being in the future but celebrating my heritage, which was Rip Rig + Panic.
Blank Project sounds very stripped down. What does the title mean?
We put so much importance on the meaning of things, and the title contradicts that. No matter how much I think I know, I don't know shit. [Laughs.] The album represents where we are now, what I've been through, where I'm going — but exactly what that means, I don't really know. [Laughs.]
How did it come together?
Kieran [Hebden] had been working with Tom and Ben Page of Rocket Number Nine. We met, liked each other immediately, and felt connected. We gave them some vocal stems, without music, so they could do their thing without being influenced by the original music. We rehearsed four songs, did a gig together, and that kind of tied the knot. There's a kind of beautiful Neanderthal simplicity to what they do. Basically, Tom plays live drums and some electronics. Ben has various synths, keys, and stuff. They sound like four, or two, or ten people depending on what they're doing. Me and Cam kept feeding them songs without giving them any idea of what our music sounded like. It was a fairly raw approach. We eventually pinned Kieran down. He'd worked with Mats Gustafsson of the Thing, and I'd been pursuing him.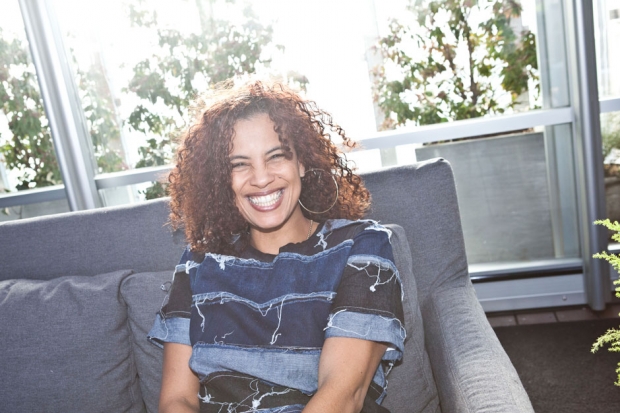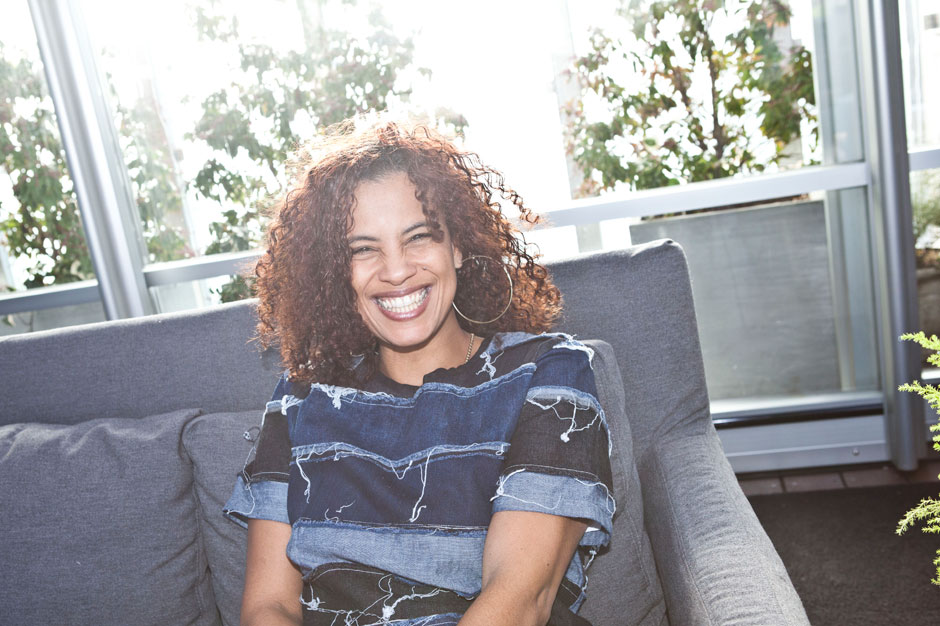 Is Kieran more of an add-on or a take-away producer?
He's more of a take-away kind of dude. Unless he's making a dance record, or a record for himself, he wants to capture what's there. Ben, Tom, and I thought he'd end up adding layers, but he just took stuff away. The sound he created was very Kieran. We had a lot of little compartments in the studio, which was a converted church in Woodstock. We could see each other, and it was live. Kieran would get the sound of each track, and we would play it through a couple of times. We would record maybe two takes, and one of those would be definitive. Quite a lot of stuff went down vocally that I wanted to change, but I trusted him. And now that I've digested it all, he's right. Those imperfections are what make it. When we left, I was like, "Is that really it?" I felt a little exposed, a bit scared. And I didn't listen to the record for a month.
Before you joined Rip Rig +Panic, you were in the Slits for about five minutes, right?
Yeah, but it was an amazing five minutes, though very much at the end. I sing a bit on Return of the Giant Slits, maybe. I was more like a little sister, a family member. I think Ari [Up] was very determined I should be in there. They were really cool about that.
How did you get into Rip Rig + Panic?
I was dazed and confused and 16 when I met those people. I was very inspired by what my parents were doing, but you don't really look at it like that when you're a kid, so I was rebelling. Then I met these people who were into the music I'd grown up with, which was kind of funny. Don and Moki were very much into the idea of the self, the individual. Don was very often trying to unlearn musicians he was working with. Schooling and practice are important, but there's also a place for innocence. You don't need to play with 50 notes. Slow down and feel it. There was a thing of being spontaneous and being able to take risks.
Of course, in Rip Rig + Panic, they were playing 100 notes.
[Laughs.] Or utter chaos. And the whole punk thing was very important.
Are you still in touch with [RR+P drummer and first husband] Bruce Smith?
I saw him after he played with the Pop Group at All Tomorrow's Parties in London in November.
He's apparently a very successful New York realtor, yet he still manages to drum for the Pop Group and Public Image.
He's probably more successful than I know. Enough respect to him. He's a fantastic musician. He needed to make money, so he got a job. We all know a lot of musicians who would rather starve than go out and get a job, but he took his creativity and learned how to do something. I think he was like, "Screw it." He's had another child in another relationship. He needed to fend for himself. He needed the satisfaction of doing. And lo and behold, he's bloody good at it!
Good for him.
And good for the Pop Group!
How did Rip Rig + Panic turn into Float Up CP?
Gareth Sager, Mark Springer, Sean Oliver, and Bruce Smith started Rip Rig + Panic after the Pop Group dissolved. Rip Rig + Panic was kind of a collective, a living organism of people who used to come and go. Sometimes we were five, sometimes we were ten. It was a floating organism, and it worked. Sometimes it hit something, took off, and was amazing; sometimes it was chaos that just fell apart into a heap.
We got to a place where everybody felt it was time to harness the energy. Gareth, who wrote the songs I sang, Bruce, and Sean really wanted to do something a bit more formatted, with a different pop sensibility. It was never going to be properly pop, but maybe a bit more accessible. There were more songs on the last Rip Rig album, so it was a natural progression. Bruce was already doing other things, like drumming for Linton Kwesi Johnson, Sean was writing with Terence Trent d'Arby, and everyone was practicing their chops in the production world. The Float Up CP album was valid, it was good, but somehow that was it. Everyone needed to go and do their own thing. I don't remember us splitting up, but there was an overspill into another overspill.
What does CP stand for?
I have no idea, other than something that exists within the depths of Gareth Sager's psyche, and I never asked. Curly pubes?