"De La Soul is from the soul," the legendary rap trio once famously stated, but they're honoring the heart on Valentine's Day by offering up their entire catalog for free download on their website. The gift is also in honor of 3 Feet High and Rising, their bona fide classic debut album that came out 25 years ago, nearly to the day. And there's a third reason for their generosity, as Rolling Stone points out: copyright law.
"Its been too long where our fans haven't had access to everything," Posdnuos told the magazine, citing the uncleared samples that haunt his group's catalog to this day. He blamed the decades-long delays on the mercurial recording industry. "It's been a trying journey. We've been blessed to be in the Library of Congress, but we can't even have our music on iTunes. We've been working very hard to get that solved."
The free downloads will be available for 25 hours, from Friday, February 14, 11 a.m. EST, to noon on Saturday.
To date, De La Soul have released seven studio albums, with their sophomore set De La Soul Is Dead arriving in 1991, Buhloone Mindstate coming in 1993, and Stakes Is High in 1996, then Art Official Intelligence: Mosaic Thump (2000), AOI: Bionix (2001), and The Grind Date (2004). There's also been a live album, a couple of EPs and some compilations. And they now hope to release the new LP, You're Welcome, before the summer.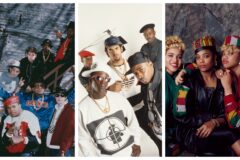 Also in the works: the six-track Preemium Soul on the Rocks EP, which will find production duty split down the middle by DJ Premier and Pete Rock, and a trip to Detroit to record over an unreleased beat from their late, great collaborator J Dilla.