Dance Tracks of the Week: El Guincho Joins John Talabot's Hivern Label as Tranc.es
Plus Klaxons, AWE, Mark E, 4Hero's Dego, and Maxmillion Dunbar
Tranc.es, Tranc.es 4&5 (Hivern Disc)
From John Talabot's Hivern Disc label comes a new act named Tranc.es, making not trance but choppy, cut-and-paste house music out of scratchy recordings of African music laid over equally scratchy machine beats. The label is keeping mum as to the artist's identity, but plug tranc.es into your browser, and you're directed to a 25-minute DJ mix from the Barcelona musician El Guincho that's in a very similar spirit; "Tranc.es 5″ turns up about 15 minutes in, in fact, so that's that mystery solved. It makes sense; the Tranc.es material, a porous web of chants and kalimba and rolling drums, shares the psychedelic, fourth-world spirit of El Guincho's recordings, if not their supersaturated pop overtones. (El Guincho's recent Hailu Mergia remix comes closer to the stripped-down, off-balance ethos of the Tranc.es tracks.) The vinyl-only EP comes out February 10; if that mix is any indication, expect more where that came from.
Klaxons, "There Is No Other Time" (Akashic)
Admit it: You'd probably forgotten all about Klaxons, even though it's only been four years since they tried to reinvent themselves, following the "new rave" hype around their debut album, as some kind of prog-rock-Britpop hybrid. Maybe they actually wanted us to forget about that, seeing as Surfing the Void isn't even available on Spotify or iTunes. Well, they've gone and reinvented themselves yet again, and this time, they're not swimming against the zeitgeist: They've recruited hotshot U.K. house producers Gorgon City (labelmates of Rudimental, collaborators with MNEK, etc.), and the results sound, well, very U.K.-house-in-2014 — and, at the same time, very Kitsuné-in-2008. It's bright, bouncy, sing-songy, catchier than you would like to admit, at least while it's playing, and ultimately (and mercifully!) forgettable. (Hear it here, then go back to forgetting about them.)
Mark E, "Bog Dance" (Spectral Sound)
Mark E will return with his second album for Ghostly's Spectral Sound imprint this April; the first single is available now as an instant download for those who preorder the album. He has said that the title, Product of Industry, references the industrial heritage (and post-industrial economic crisis) of the West Midlands, where he grew up, and it's certainly possible to read "Bog Dance" as a kind of tribute to the wonders of mechanization — the song's clean lines and monumental scale feel as connected to Margaret Bourke-White as they do to Detroit techno. What might be most striking is how much force he manages without resorting to almost any drums, save a stolid kick; the synthesizers do all the heavy lifting, regally self-reliant. Perhaps he should've called it "Royals."
AWE, "Crystals" (Terrorythm)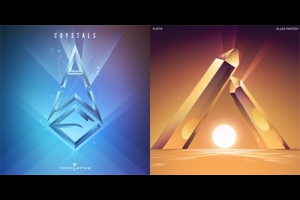 You've gotta wonder how Rustie feels about AWE's "Crystals"; not only is the song obviously inspired by Rustie's own fluorescent brand of maximalism, but both the cover art and the title trail his aesthetic so closely that you almost wonder if AWE is trolling him. Once you get past that distraction, it's not a bad tune; its sense of grandeur is reminiscent of Sinjin Hawke's wide-screen fantasies, and the drums move with a bouncy, balancing-on-the-balls-of-your-feet motion that feels relatively fresh. Next time, he just needs different cover art — or, alternately, he could really go full airbrush and pay homage to these guys.
Cousin Cockroach, "This Ain't Tom N' Jerry" (Berceuse Heroique)
With the '90s revival shifting into high gear, it seems like the only style that hasn't gotten dusted off is broken beat, which seems strange, given its structural influence on what flies today under the banner of "bass music." Maybe that's changing, though: London's Berceuse Heroique label has reissued this 2002 cut from Cousin Cockroach, a.k.a. Dego, of 4 Hero. Broken beat could, admittedly, get a little noodly, but this is anything but, stripped down to nothing but swollen bass buzz, offbeat snares, and dubbed-out laser zaps — at least until its final third, slathered in Rhodes that spurts like liquid from a cold-press juicer. It's a far cry from the label's usual techno-noise, but its intensity is a natural fit for Berceuse Heroique's short-fuse aesthetic. The original 12-inch isn't terribly rare, but this has apparently been remastered (from the original DAT!); more importantly, the A side finds Maxmillion Dunbar giving the tune an appropriately broken going-over, enlivening the groove with a hint of garage swing, and stringing it up with keys and vocal samples that bob like paper lanterns.