ALBUM OF THE MONTH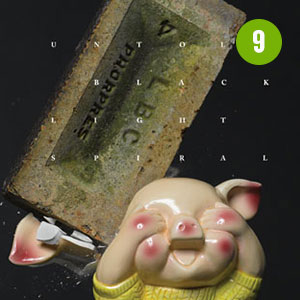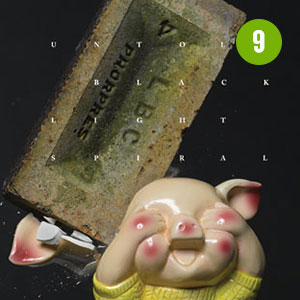 Untold, Black Light Spiral (Hemlock)
Each of the promo MP3s for Untold's Black Light Spiral came tagged as "PRECISE MASTER," which feels appropriate, given the exactitude he brings to his music. The British producer works with surgical precision, both in the sense of teasing out the coiled innards of his machinery and in the military connotations of the phrase, e.g. "surgical strikes," raining down death from above with extreme prejudice. To underscore that point, he even begins this record with five minutes of nothing but howling air sirens, for crying out loud.
But quite unlike bass music's harder/meaner/faster crew, this dubstep defector merely implies violence instead of actively meting it out, with overdriven drumbeats and basso rumble building to a climax that never comes. There is no album this year with a better handle on how to create and maintain tension, how to draw out a squiggle of white noise until you think your heart might explode from your chest; with a style that suggests Pan Sonic spun into steel wool, he's even more withholding than Actress, in his own turned-up-to-11 way. Even the heaviest beats are so blown out that they come to feel like pure texture; samples of dub reggae, normally deployed to suggest human warmth, are looped until they come to seem not just nonsensical but deranged, like a crazy person huddled in the corner jibbering to himself. Cutting out everything except for the longest, slowest, most agonizing crescendos in the world, it's as if he'd taken a conventional dubstep drop, slowed it to 800 percent, routed it through the Large European Acoustic Facility ("a sound system so loud that… it would kill you," according to Synthtopia), and called it a day. The apocalypse never sounded so appealing.
OTHER RECORDS OF NOTE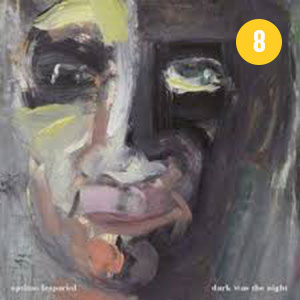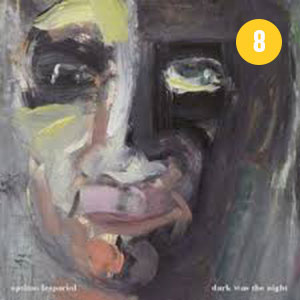 Optimo, Dark Was the Night (Endless Flight)
Before dying of malarial fever in 1945, Blind Willie Johnson spent his final days sleeping on a bundle of wet newspapers in the burned-out wreckage of his former home. Twenty-eight years later, his "Dark Was the Night, Cold Was the Ground" began its long journey across the cosmos, one of 27 samples of music included on the Voyager Golden Record. Those two events provide the conceptual frame for Optimo's Dark Was the Night, a mix CD mapping the distance between the abject and the infinite. The Scottish duo's mixes have always been dazzling feats of fusion, and this one is no different, connecting the dots between Nurse With Wound's Thereminimalist exotica; Kode 9 and Spaceape's inside-out dubstep; clammy coldwave from Jeff and Jane Hudson; and steely, monotonic techno from artists like Recondite, Silent Servant, and Inigo Kennedy. Their blends, smooth as a pendulum's motion, are frequently surprising and always seductive; unless you're listening intently, you may notice nothing more than that the temperature of the room has dropped or risen by a degree or two — at least, until the closing one-two punch, in which the Freeze's flute-laced new wave gives way to Angel Corpus Christi's synth-pop lullaby "Dream Baby Dream" while mission-control radio transmissions and a snippet of Johnson's blues collide in the ether.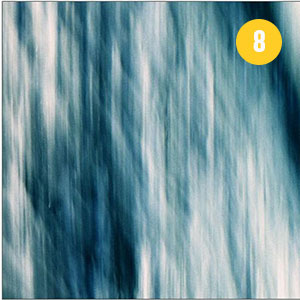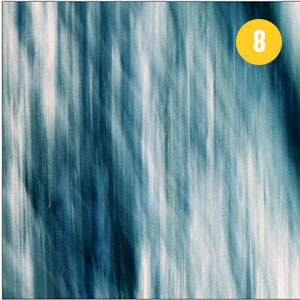 Donato Dozzy & Nuel, The Aquaplano Sessions (Spectrum Spools)
If you're wondering why they used to call this substrain of techno "headfuck," just consult the first track here, in which you can practically feel your synapses cramp up just trying to tease out the downbeat from a tangle of polyrhythmic shakers and hi-hats. Recording back in 2008 and 2009, Rome's Donato Dozzy and Nuel (not to be confused with Neel, Dozzy's partner in the duo Voices from the Lake) carved out these eight cavernous tracks as a pair of white-label 12-inches. While most European club music was thumping away to the sound of plink-plonk mnml, these two boarded up their computer windows and took refuge in a maze of circuitry, sculpting long, linear fantasias out of drum machines and held-down synthesizer keys. The majority are mid-tempo jams that go corkscrewing through your chest like that beam of energy in Donnie Darko, but there are also slow-motion dub-techno experiments and beatless cuts in the finest '90s ambient tradition; file under EMBM (Electronic Mind/Body Music), and fire up the isolation tank.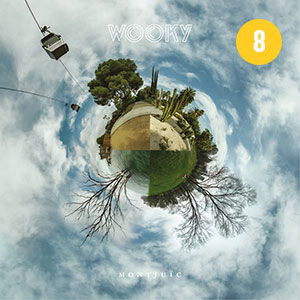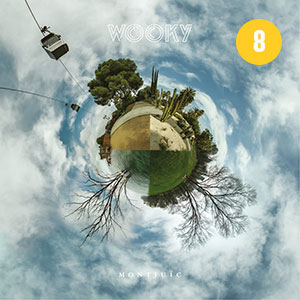 Wooky, Montjuïc (spar.RK)
Could Barcelona be said to have its own sound? That's the question asked by a documentary currently in the works, BCN ¿Sello Discográfico?. A few years ago, the answer would probably have been a resounding "No," but that's changing, as you can hear in the work of artists like Wooky (not to be confused with the U.K. garage producer Wookie). He's part of a new generation of local producers that have found their bearings via small clubs and central hangouts like the Discos Paradiso record store, and who have turned their back on internationalized, featureless tech house, long a staple of the local scene, in favor of something more idiosyncratic.
In Wooky's case, that means glistening arpeggios and insanely detailed rhythms and incongruous slap bass, which together conjure visions of '90s IDM at its emotive prime — Mu-Ziq and Autechre and especially Sun Electric, but rendered with a plainspoken quality that's mercifully free of IDM's finickier tendencies. Outwardly, it actually doesn't sound very much like the music of his citymates, save perhaps his labelmate bRUNA, who applies similar melodies and timbres to electro-disco rhythms. But the fact that he doesn't sound like anyone else making music right now might be the most Barcelona-like thing about him.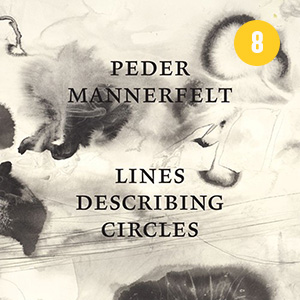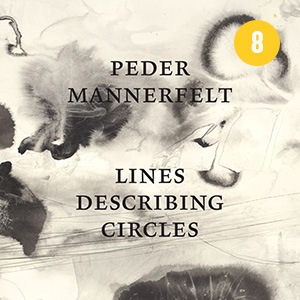 Peder Mannerfelt, Lines Describing Circles (Digitalis)
Peder Mannerfelt has produced for Fever Ray, Blonde Redhead, and Glasser, but not even the darkest moments of those records — not even Fever Ray's — will prepare you for the air of desolation that permeates his new solo album. Neither will the techno he has produced as the Subliminal Kid, which typically balances its shadowy atmospheres with an invigorating sense of swing. There are pulses here, but hardly any drums to speak of, just short-circuit grimaces and frosty sighs; where there is rhythm, it tends to tangle up in unusual phrase lengths, putting a knock-kneed kink in its 4/4 step. The beatless "Nihilist 87" hovers intently in the space between two angry sine waves, an uneasy standoff serenaded by what might be a U-Haul backing up; I swear I was about to use the word "barren" to describe "Evening Redness in the West" even before a computer-processed voice began repeating it ad nauseum, like some terrifying dashboard warning to a pilot about to touch down on a forbidden planet. (Further words — "Horizon," "Filth," "Mesa," "Bowie Knife," "Blood" — then get folded into the digital mantra, suggesting that Mannerfelt may be gunning to score the next Cormac McCarthy film adaptation.) Even at its quietest and most abstracted, it's absolutely gripping listening, with a grim, weary melancholy that's palpable in spite of its stubborn anti-humanism; if the NSA's spybots should ever become sentient, you imagine this is how they might feel.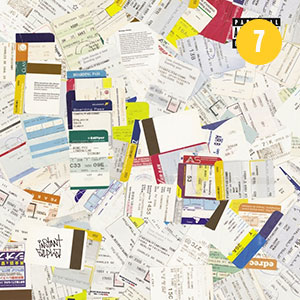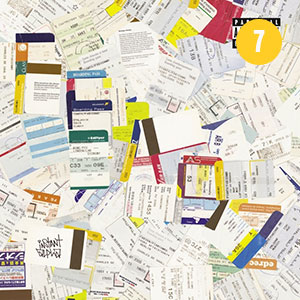 Feadz, Instant Alpha (Ed Banger)
Never thought I'd say this about an Ed Banger record, but Feadz' Instant Alpha might be one of the most nuanced dance releases of 2014 so far. It's diverse, too, flitting through spindly electro, vintage Rephlex vibes, Miami bass, footwork, breakbeat hardcore, and 2-step, without ever breaking a sweat. Even when he adopts the lunging rhythms of trap, which is often, he balances its tough-guy swagger with colorful, soft-focus twinkle. It's a party record, but not in a way that beats you over the head with forced euphoria; just tipsy and giddy and spilling drinks all over the place because, hey, it's an open bar, and whose house is this anyway?
"Wettex" sounds like Steve Reich remixed for a Jersey club, and on "Marly," he shows off his hip-hop roots with deft scratching over trunk-rattling 808s. In very loose terms, you could say that the closing "It's Enough" is to '80s freestyle as Lenky's late '90s productions were to traditional dancehall reggae, the beats turned rubbery and then brittle, and broken to pieces. "Electric Empire," meanwhile, features a singer named Kito (who sounds unnervingly like Uffie) reeling off a checklist of iconic dance-music labels (Strictly Rhythm, Bpitch, M-Plant, Playhouse, Metalheadz, Planet E, Rush Hour, Tresor, Sicko Cell, Clone, Rhythm & Sound) that goes way beyond the usual suspects — sort of a "Losing My Edge" flipped into a rave-history PSA. Musically speaking, it's the album's weakest track, but give it points for thoroughness.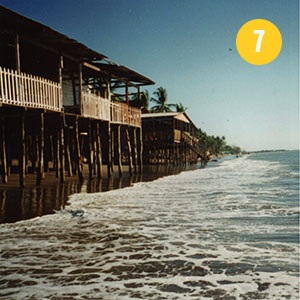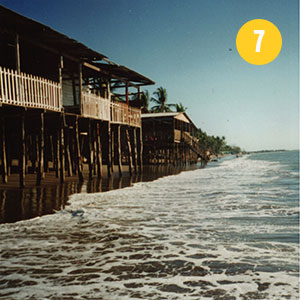 Low Jack, Garifuna Variations (L.I.E.S.)
The history of Central America's Garifuna is a turbulent one. The descendants of escaped West African slaves who intermarried with native Carib and Arawak people, they found themselves caught between the French and British empires' competing colonial aims, and suffered as such people often do: war, exile, ethnic cleansing. So perhaps it's fitting that the Parisian musician Low Jack's investigation of their music is so violently roiled. Commissioned for a performance at Paris' Quai Branley Museum and later recreated for L.I.E.S. in Low Jack's studio, Garifuna Variations finds him reworking recordings of traditional Garifuna music into dense, distorted miniatures on the cusp between techno and noise, with drums piled up into top-heavy heaps of delay and vocals looped and stretched until they sound like the more lysergic moments of Mark Leckey's Fiorucci Made Me Hardcore. It's "ethnic music" as Walter Benjamin's angel of history might see it: a catastrophic pile of debris, growing skyward.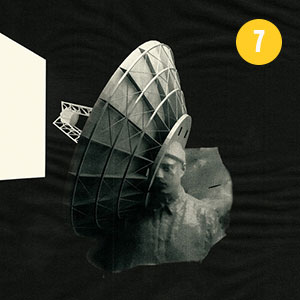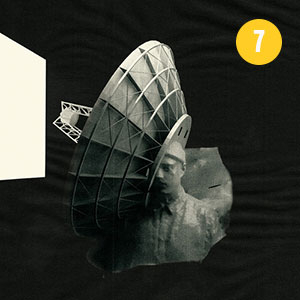 French Fries, Kepler (ClekClekBoom)
Night Slugs vibes abound on the debut album from ClekClekBoom co-founder French Fries (Valentino Cazani). The kaleidoscopic arpeggios, bomb-blast 808 kicks, and gleaming synth leads will be familiar from artists like Jam City and Girl Unit, but that's not really a problem; French Fries' broken techno rhythms and busted-up futurist affect still sound plenty fresh, and the album's variety is enough to confirm that Cazani is following his own twisted muse. Some of the record's most visceral tracks double as flashbacks to the clammy, queasy minimalism of the early '90s. The phased muttering of "Change the Past" echoes DBX's "Losing Control," and the tweaky minor-key chimes of "K62" recall Mika Vainio's Philus recordings; at the other end of the spectrum, the glassy "Reality System" glows with a warmth reminiscent of early Apollo label releases, and the album is bookended with a pair of beatless ambient sketches that look to Emeralds and Jan Hammer for inspiration.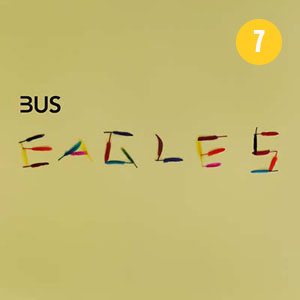 Bus, Eagles (Shitkatapult)
Bus (Daniel Meteo and Sun Electric's Thom Thiel, both of Berlin) released their first two albums on Pole's ~scape label; nine years since their last record, the imprint's long gone, but they're still tinkering away at a similar set of ideas, applying eyedroppers full of dub and hip-hop and krautrock to microscope slides and then cranking up the focus until everything is startlingly vivid and gelatinous. It's playful and often quiet, rendering Caribbean rhythms with broomsticks and sloshing buckets, and leaving enough empty space to emphasize the fizzy filigree of their electronically generated waveforms.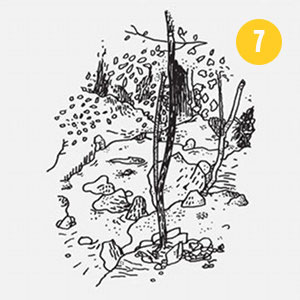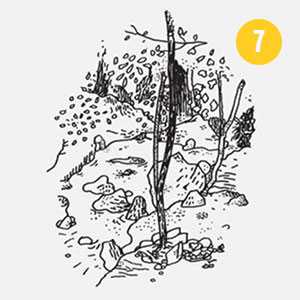 STL, At Disconnected Moments (Smallville)
Time stands still in Stephan Laubner's music. For one thing, his swirling dub techno and shuffling beat studies might have been recorded at any point in the past 20 years; more than that, though, his use of repetition has a way of making rhythm feel like a snapshot of motion, an eddy rather than a stream. After at least a dozen albums for his own label, this is Laubner's first full-length for Smallville; it includes his 2009 singles "Silent State" and "Neurotransmitting Clouds on the Secret Freeway," but the rest of the material is new. Two of the new cuts are beatless ambient sketches, and there's nothing as captivating as "Silent State" — long an underground hit of sorts despite the fact that there's almost nothing to it, just a rose-tinted void framed by metal scrape — but there doesn't really need to be. Laubner's glowing pulses simply throb reassuringly away, like cosmic background radiation.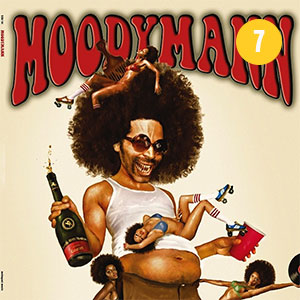 Moodymann, Moodymann (KDJ)
Has Moodymann gone mass-market? Fans have complained in recent years about the limited pressings of his vinyl-only releases, which routinely lead to sky-high prices on the secondary market, and they've griped about the apparently tossed-off nature of records like last year's ABCD, billed as an album but just seven tracks and 24 minutes long. Well, get this: The CD and download versions of his latest opus run to 27 tracks long! Granted, 10 of those are just a minute or less (sometimes far less: "Yet Unknown" is nothing more than a nine-second sample from a news broadcast), and 11 more don't even break the four-minute mark. On the plus side, we're treated to some of the best songs from his recent, out-of-print releases, including the slow-burning "Desire"; an updated version of Lana Del Rey remake "Born 2 Die," and the sultry "Freeki Muthafucka," probably Moodymann's biggest hit of the past five years. We also get a 12-minute Blaxploitation romp ("Sloppy Cosmic"), a dreamy neo-soul jam ("Ulooklykicecreaminthesummertyme"), and a lilting reprise of "IGUessuneverbeenlonely," a techno-pop miniature featuring Junior Boys' Jeremy Greenspan; stitched together with sketches, needle-drops, and fragments of his own back catalog, the whole thing flows like a freeform radio show, breezy and off-the-cuff.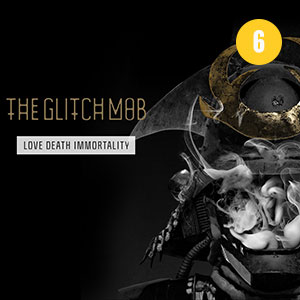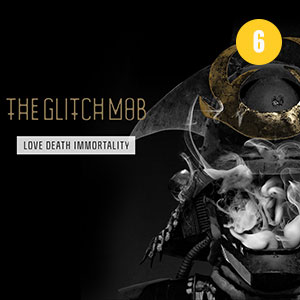 The Glitch Mob, Love Death Immortality (Glass Air)
EDM and hard rock may be strange bedfellows, but they've also gotten familiar enough that they probably don't even fight over the blanket any more. After all, the stabbing chords of Avicii, Swedish House Mafia, et al have more in common with Van Halen's "Jump" than classic house music, and Justice have been marshaling Marshall stacks for extra arena-rock cred for years now. (And then there's Excision and Downlink's Destroid, basically dubstep's answer to Gwar, but without the wink at their own ridiculousness.) The Glitch Mob take the EDM/rock fusion further than anyone, kitting out dubstep rhythms in clanging ride cymbals and amping up the midrange until it shrieks like a chainsaw-wielding banshee. Are there roto-toms? Oh, there are roto-toms. Their melodies, meanwhile, are heavily modeled on Daft Punk's "Robot Rock," but plated in Teflon. It's all monumentally scaled and monumentally gleaming; it doesn't take much to guess that the band's live shows this summer will feature more pyrotechnic and fiber-optic eye candy than a Michael Bay flick.