"This new record is very, very good," says Zahra Tangorra, 30, of Beyoncé's surprise "visual" album. "As a piece of music that will stand the test of time, it's pretty dope." Tangorra is executive chef and owner of Brucie, the Italian eatery in Brooklyn whose Valentine's Day menu made headlines, and filled tables, with its Beyoncé-inspired dishes.
"I expected that people would think it was fun and we would probably fill out, but I did not at all think that it would be such an incredible outpouring of support," she says. Within days, all reservations for the restaurant's four seatings were completely booked.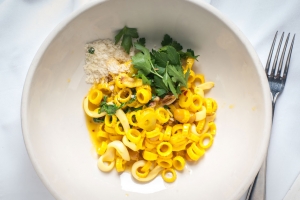 The capacity crowd on Valentine's night was a mixture of young couples kissing or on the verge of breaking up, new parents with babies on their laps and strollers parked outside, curious Beyoncé fans, and, well, music journalists. SPIN snagged a seat in the bistro's backyard tent, which had been decorated with red candles and twinkling pink and white lights, carnations stuffed into Mason jars crowning each table. Beyoncé and Jay Z deep cuts provided the mood music.
For our appetizer, we sampled the "Blue Ivy" (crispy blue potatoes with creamy blue cheese, trout roe, and watercress) and the beautifully layered "Pink Is the Flavor" (scallop, monkfish torchon, grapefruit, beet, and breakfast radish). The homey "Halo" pasta dish tossed buttery angel hair with truffle and burnt angel food cake breadcrumbs, while the "I Am Pasta Fierce" (jalapeño pappardelle, puttanesca, gold leaf) packed a tangy kick.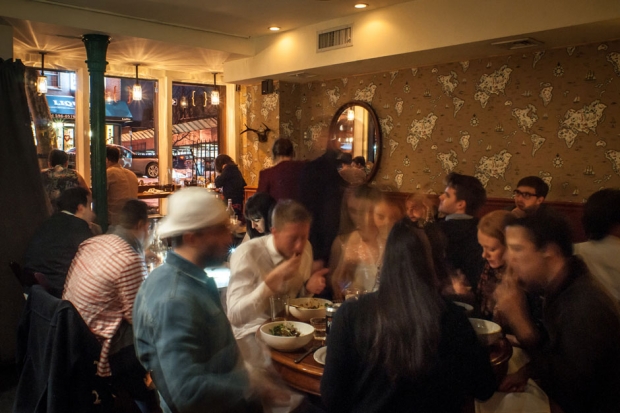 The main course's names trumped the actual dishes. Chickpeas offset spicy anelli pasta and calamari in "Put a Ring on It," and, as flavorful as it was, there's no topping a pun like "Breastiny's Child." The tender veal braciole with pickled fig, sopresatta, and garlic-infused goat yogurt was a warm iteration of grandma-worthy comfort food.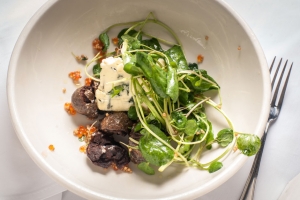 Dessert introduced a "Solange a Troi" of gelato (tangerine, rosewater and poppy seed, and blood orange chip) and, of course, the "I Don't Think You're Ready for This Jelly … Doughnut," but not even almond butter creme and earl grey jelly could redeem the pastry's toothsome texture.
Not ***flawless in its execution, Brucie sealed the deal for at least two of its Valentine's Day patrons: the Jay Z fanatic who dropped his Magnum on the way to the bathroom and his starstruck date, oblivious to the surfbort that awaited her.