Shoegaze giants Slowdive are planning a full-scale reunion. After announcing on January 28 that they're getting back together to play this year's Primavera Sound music festival in Barcelona, Spain, the English dream-weavers have confirmed yet another performance. Days before their May 29 appearance at Primavera, Slowdive will perform at London's the Village Underground on May 19. The upcoming gig will be the band's first in 20 years, almost exactly to the day — the last time Slowdive took the stage was on May 21, 1994, at Lee's Place in Toronto, as the group's website points out.
"I'm super excited," chief songwriter Neil Halstead said in a recent interview with the Quietus. "We had our first rehearsal last week, which was fun. We were surprisingly good. Quite a few of the songs came back quickly." He shared more details on the warm-up sessions, saying, "In the first rehearsal, the first song we tried was 'Slowdive,' the first song on the first EP… It was one of the more straightforward ones, and we had a real goose bumps moment. We all just looked at each other. It was quite creepy."
The singer-guitarist — who also leads folky five-piece Mojave 3 with Slowdive partner Rachel Goswell — also hinted that new Slowdive album may be on the way. "The initial impetus was the idea of doing some new music," Halstead said. "It seemed easier to do that because it's not so public. But then we thought it would be good if we could raise a bit of money to make the record, and doing a couple of gigs would enable us to do that. And that's the way it shaped up — while we're rehearsing we can see if we've got another record in us."
He also added that he's "not interested in any critical reappraisal. I meet a lot of kids who got into the records after we split up and they say, 'I'd love to have got the chance to see Slowdive play live.' So for them, this is a nice opportunity and I hope they come out and enjoy it." After forming in 1989, Slowdive released three albums before calling it quits in 1995: 1991's Just for a Day, 1993's Souvlaki, and 1995's Pygmalion.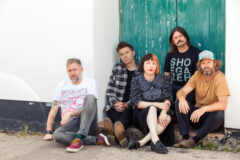 In a note posted on Slowdive's website, the band writes that they reconvened in late 2013 to "see if anyone other than journalists were still REALLY interested." Now that it's clear there's still a demand for their brand of swoony, spacey dream-pop, the five-piece are planning to announce more shows in the coming weeks. Stay tuned for updates, which will be revealed on the band's Twitter, Facebook, and Instagram accounts.
Tickets for the May 19 show go on sale on Friday, January 31. Click here for more details, and fall for "Alison" all over again by pressing play below:
//www.youtube.com/embed/dDg8ZFSkJOY?rel=0