Veteran comedian and late-breaking podcast superstar Marc Maron released his latest special, Thinky Pain, via Netflix in October. The 90-minute show — which gets the CD and DVD treatment this week — finds him in his usual deep-diving, storytelling form, perched atop a barstool and waxing hilarious on topics ranging from a Chinese-food binge to a particularly notable Bill Hicks meltdown to dealing with "morning zoo" radio nonsense to making loved ones cry.
He also tells the story of his first Captain Beefheart-related purchase, and the befuddlement that led him there. Maron's been dwelling on music a lot lately, interviewing artists like Father John Misty, Josh Homme, Booker T. Jones, Maynard James Keenan, Jack White, and many more on his WTF With Marc Maron podcast, and regularly tweeting about his latest vinyl finds. Here, we ask for the stories behind some of those tweets.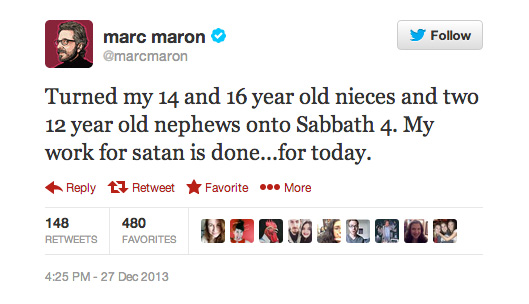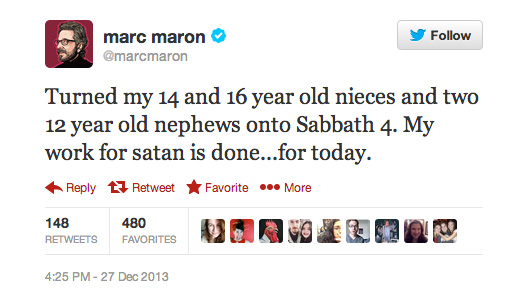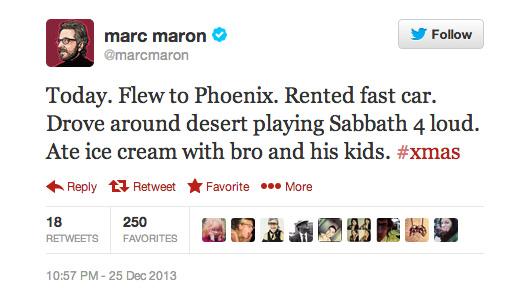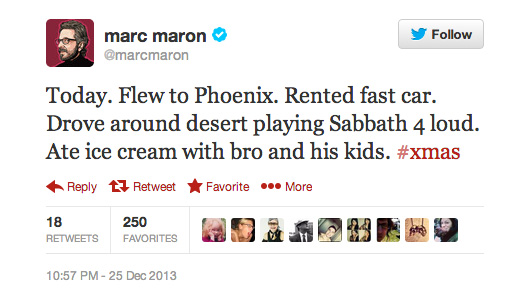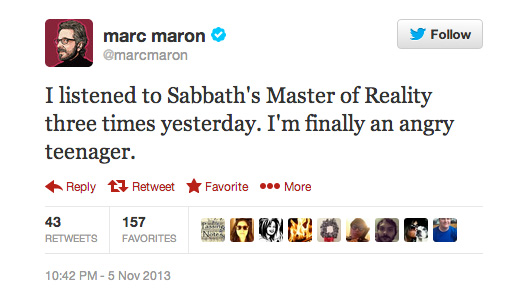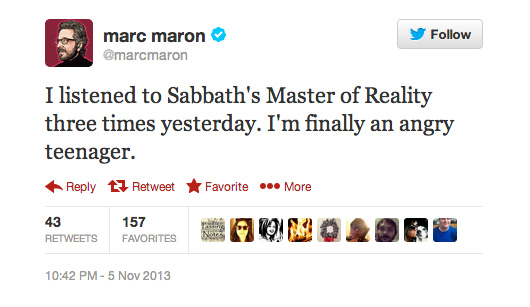 I was never a metal kid. I [recently] got the first four or five Black Sabbath records on vinyl. Metal is resonating with me. I interviewed Josh Homme, then I re-listened to the Kyuss records. Lot of stuff going on with that. I've tried to only put a few things on my iPhone so I listen to them thoroughly. I've got Paranoid, Master of Reality, Sabbath 4, then a few other things.
I rented this Mustang in Phoenix to visit my bro, and I was just driving around fast listening to Sabbath 4. He's got three kids, and his wife has four kids, so at different points I have one of these kids in the car, and I seemed to go out of my way to put Sabbath on. One of the girls is playing guitar now, and playing Sabbath riffs for a kid who's never heard them before, she was like, "Ohhhh, wow!" It was just seeing their faces. They might have gone their whole life without it! I went my whole life without listening to Sabbath 4 until about a year ago, and it's one of the greatest rock records ever! To dump that in their heads at ages 14, 16, and 12, you know, we'll see if it takes. You don't know. But I definitely put it in there, you know, as a gift. Hopefully there'll be a little bit of edge to them.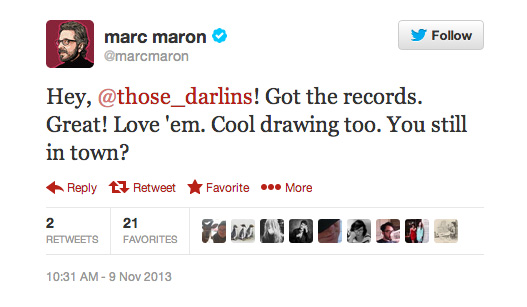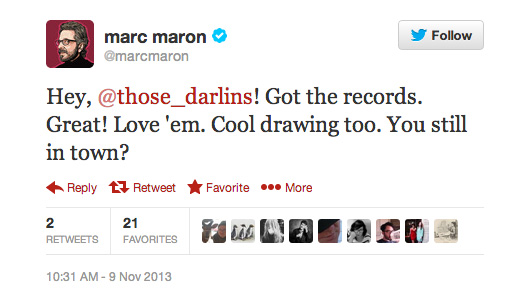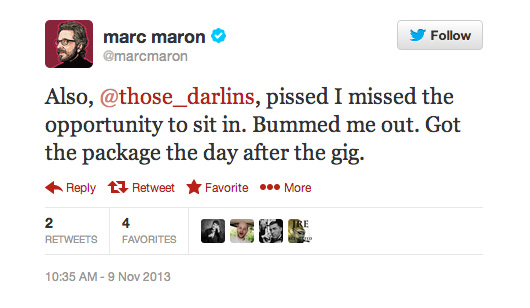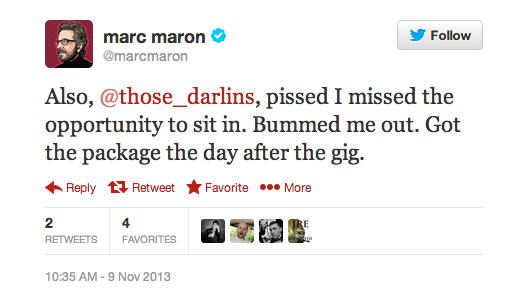 Yeah, I didn't know they wanted me to play a song with them while they were in town. That's kind of a bummer. I like their records. They're fans of mine, and they were gonna give me some records at a comedy show that I had to cancel because I was sick. But yeah, they wanted me to play with them, a cover of something. That would've been fun.
I played guitar on a song [in 2013], that was a first. It was YACHT. They asked me to play lead on a tune they did, "Party at the NSA." It was a fun, dance, protest song. I filled the blues, kind of rock, raw, lead for them. They wedged it in there, and it sounded pretty cool. I'm pretty limited. I'm not a bad guitar player, but I'm not that versatile. What I can do, I do okay. I can hold up all right. I enjoy playing.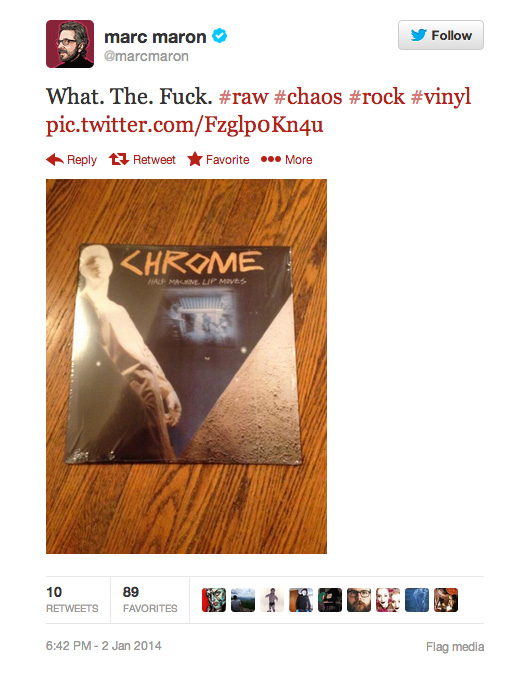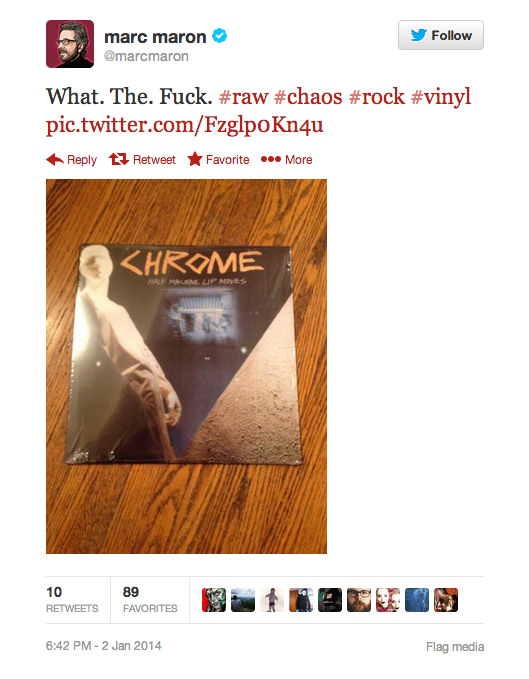 I started buying things on vinyl because of how fun it is, and I know that I'm not the only one doing that, but I seem to be wanting to celebrate this publicly a lot. But once you get the records you were fascinated with growing up, there's this whole other level of vinyl nerd-dom that starts to happen, depending on what record stores you go to. There's this whole world of vinyl that was not mainstream at all, and that was released at some other point and time and usually in fairly small numbers, and then they get reissued. So these were holy grails for collectors with the original records, then some smaller labels started reissuing them, and then they're available again.
So there's this world of music that I don't really know much about because I was brought up in a fairly mainstream environment. My notion of avant-garde music is pretty broad, but there's all these smaller-release records from different times that are coming out. [Chrome] is one of them. What happened with that record was that I went up to Permanent Records on Colorado here in Los Angeles…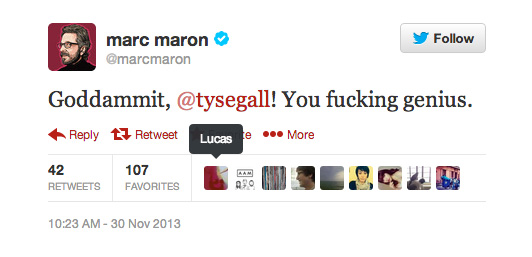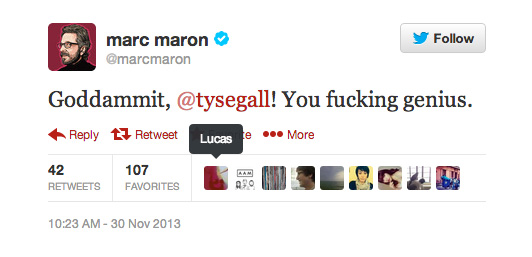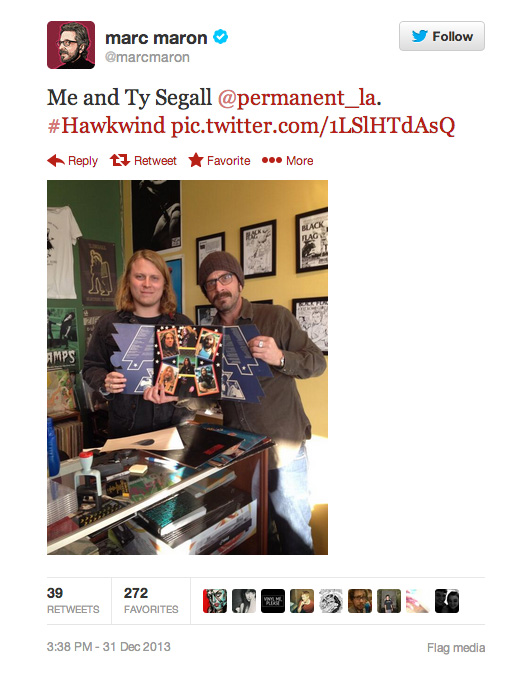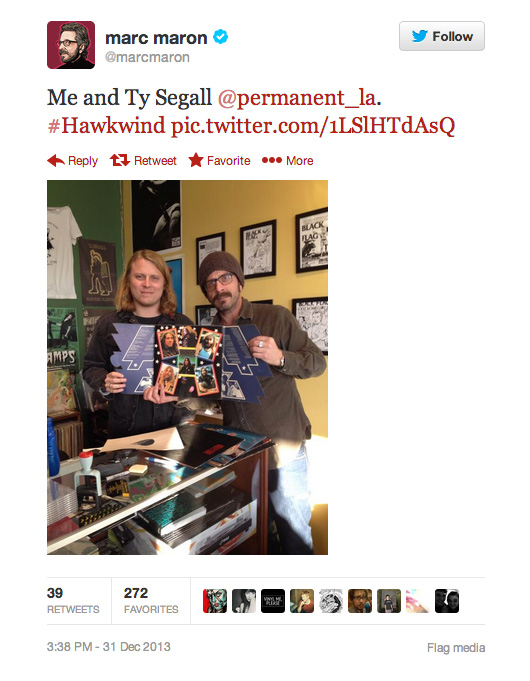 …and, once a week or so, Ty Segall, who is great… he's a Bay Area guy, but he lives down here now, and he hangs out at that record store. He kinda works there. I go in, and I've never met him before, and I'm a big fan, and we get to talking. All of a sudden, he's playing records for me, telling me records I needed. I ended up buying [Chrome], two original Hawkwind records, the Pink Fairies, a Pentagram reissue.
I didn't know nothing about Hawkwind. I really don't know anything about Chrome. But there's a whole world of psychedelic hard rock that I seem to be entering. I had gotten some of Ty's records and didn't know I had them, then Lance at Permanent Records played [Segall side project] Fuzz for me. I was like, "What the hell is that?" I started to get into the world, him and Mikal Cronin, as well. Then my friend Tom Scharpling suggested Slaughterhouse [by the Ty Segall Band]. I became sort of fascinated with it, and I listened to a lot of Ty Segall.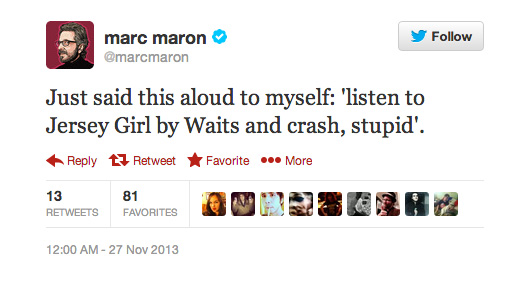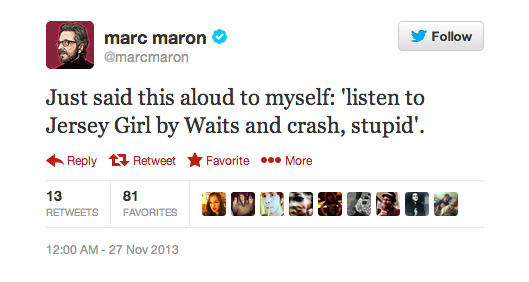 That album, Tom Waits' Heart Attack and Vine, is where the sounds started to break apart. That was the beginning of the shift from those earlier, more melodic piano and orchestration records. That song is so beautiful. I think I've had that record since high school. It was just one of those nights where I was wandering around here, anxious, by myself, and realized that's what I needed to do.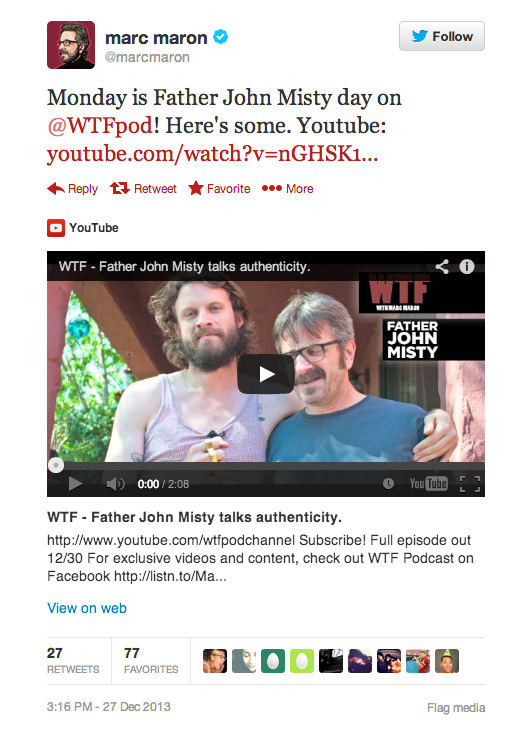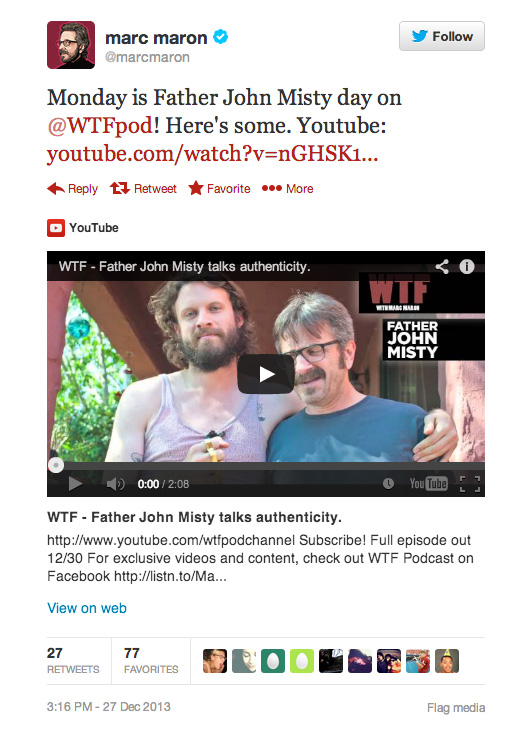 Some guy kept pestering me on Twitter about Father John Misty. I had no idea who the hell that guy was. I didn't know who the Fleet Foxes were. But one guy kept telling me to interview him. Then I performed at the Sub Pop Jubilee anniversary. I went up to Seattle to the show, and it was me and Eugene Mirman and Kurt Braunohler, [Jon] Glaser, and there was also a concert. He was on it. I was wandering around. J Mascis was there, Mudhoney, I think King Tuff was there, a lot of these Sub Pop artists. And Father John was there, and I wandered over to get a sense of what he did.
I kinda dug it. You know, '70s-ish, Burrito Brothers business. I thought he was an interesting performer, too. When I got home, I listened to the record a lot, had Sub Pop send me some Fleet Foxes. And then I was like, "Let's talk to this guy." I'm still not locked in with the Fleet Foxes, but I like his record.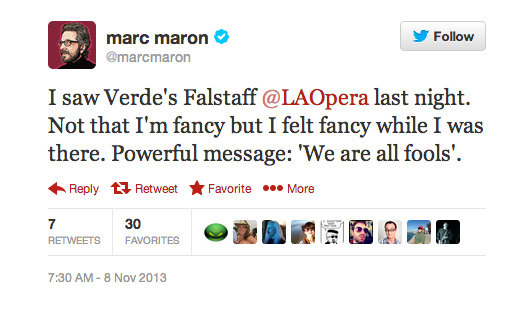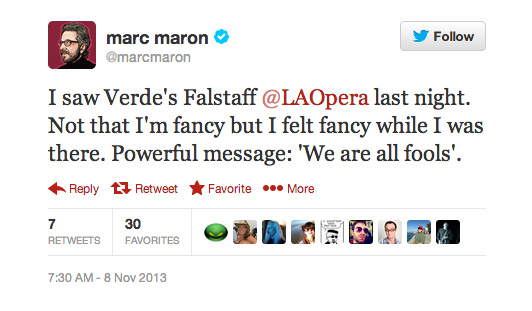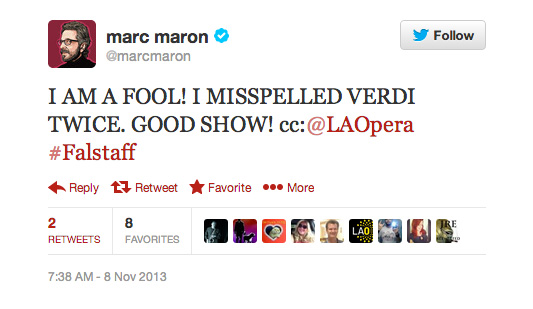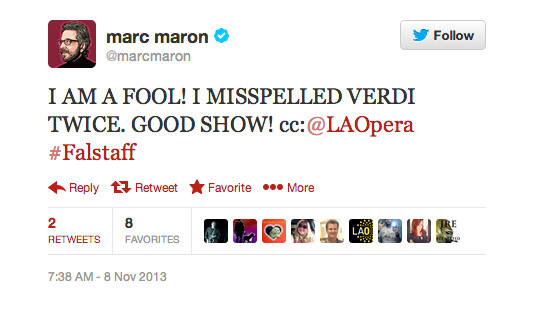 I've never gone to the opera. I have a friend down there who's a seamstress for the opera, and she invited me. This was a shorter opera, the story of Falstaff, the clown, the buffoon. What I thought was the best thing about it was that this was, at some point, a form of popular entertainment. I was sort of taking it in, not knowing anything about orchestral music. I was really expecting a huge wall of sound to come out of this orchestra pit. The thing that was interesting about it is that we get sort of spoiled with speakers and digital music in terms of how much we can blow our minds out with amplification. And here, you had this orchestra in a large, acoustically designed room, and it was a big sound, but it was not a wall of sound. There was an intimacy to the whole thing, even with the huge orchestra there and these people onstage singing.
The thing that resonated with me the most was how organic the whole thing was. There was still a human element to it that you wouldn't see with people with plugged-in instruments and amplification. I don't know what you would call it, but it's like watching people dance or seeing theater. There's a relationship with the instruments and the people that's a little raw. It seems pure.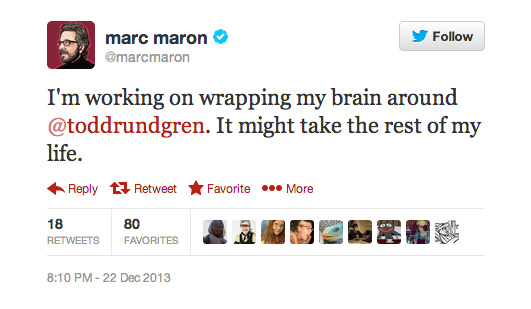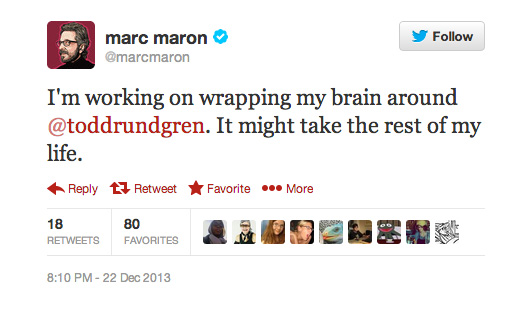 Yeah… Yeah…. [Long pause.] I never know where to put him. He's one of those guys with a huge catalogue, and he's doing some producing. I know one or two hits, but I don't know anything about him. I think the thing that provoked my interest was that I interviewed Hunt Sales in Austin, who was the drummer on Lust for Life, for some Iggy stuff, some Bowie stuff. He's also Soupy Sales' son. Him and his brother Tony were a pretty powerful rhythm section at one time. They were also in the Tin Machine. But Hunt is a character, and a pretty amazing rock drummer. I mean, that's him on "Lust for Life." That's pretty, um, who doesn't know that?
But Hunt told me he started out playing with Todd Rundgren. He was, like, 17 years old, and Rundgren had recruited him in New York for Runt [the 1970 debut album by Rundgren's trio with Hunt and Tony Sales]. I didn't know anything about that, so I went and tracked down those first two [Runt] records. I knew he was this huge dude. But I got those first two and dug it, and I was getting into Harry Nilsson at the time, too. Then I picked up another record, and I couldn't get into it. Then I realized he had a bunch of other records. That's gonna be a long process. I wrapped my mind around Harry Nilsson, but with Todd, I don't know, we'll see how it goes.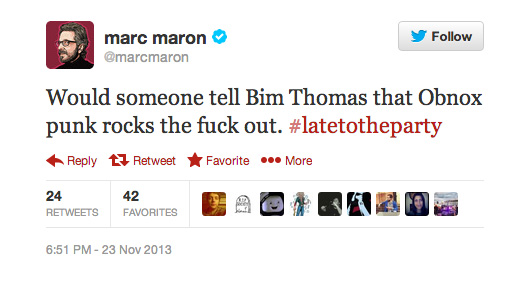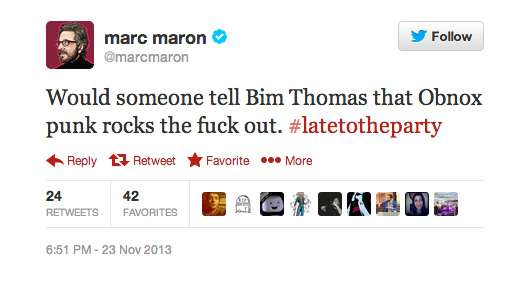 I mean, "late to the party" is relative to — like, I get insecure. Any time I tweet anything, no matter how fucking esoteric it is, there's always some idiot going, "Yeah, 10 years ago!" It's so condescending to do that because music, out of everything in the world, really doesn't need a time frame. So I just got [an Obnox record], and I put it on, and I was like, "Wow, this guy is the real deal." He's this powerhouse of a drummer, and I had never heard of him. It's got a lot of range. It feels like he means it.
It's like [Patrick] Stickles from Titus Andronicus. That guy seems to mean it. He's working out some stuff. Someone sent me Titus. I didn't know who the hell they were. I was listening to their first two records a lot. I had no idea who they were. You get to a certain age, and if you're not careful, you fall out of the loop completely. I still imagine I'm pretty much out of the loop, but I'm finding a lot of new music that certain people already knew and are surprised I hadn't listened to. I like Stickles. I like Titus Andronicus a lot.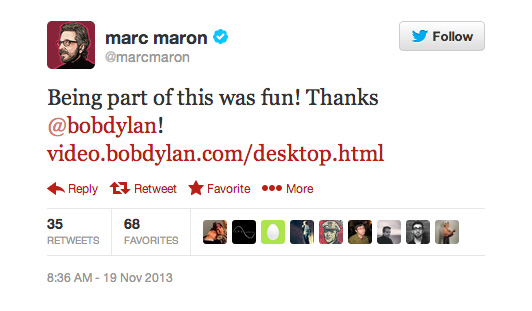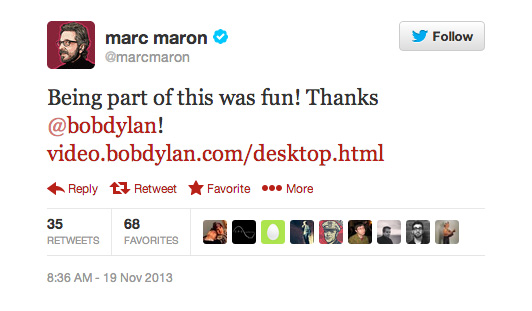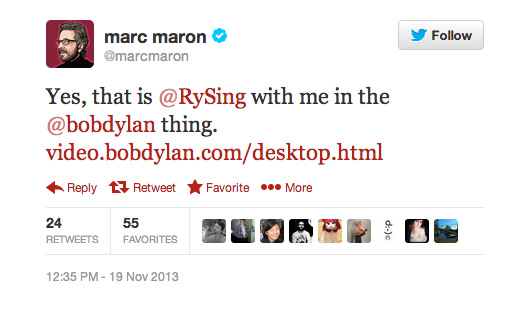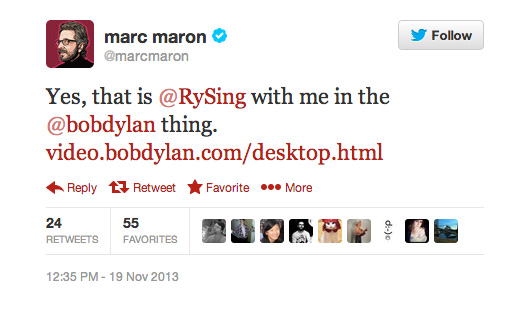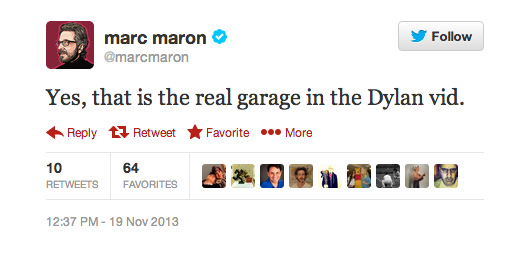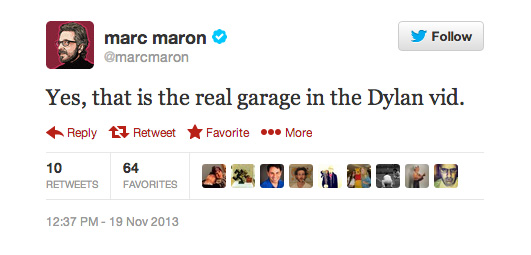 It was weird. I got a call from my management office that we were doing this "Like a Rolling Stone" thing for BobDylan.com. I didn't have any real information on it. I'm usually pretty overwhelmed most of the time. Even this interview that we're doing, it surprised me today. I tend not to look at my calendar much. I wait for my manager to send me something the night before letting me know what I have to do the next day. In my mind, I'm like, "BobDylan.com? What is… who's gonna… what is that?"
A couple days before, I had to memorize the song. I didn't really understand the context or the conceit of the whole thing. I literally had no idea the day before. I needed someone to interview, which is why Ryan [Singer] is in it. So he comes over, and the shooter comes over, and even he wasn't clear! Whoever created the thing, the director, wanted to involve me, I guess. After I did it, when it went viral and stuff, I realized it was the 50th anniversary of "Like a Rolling Stone" and the only existing music video for that song. I had no idea. I had no idea! All of a sudden it was huge, and now I'm sorta part of rock history somehow.