Mac DeMarco recently let slip that his next album would be called Salad Days and that it would be out in April. (He also teased the LP with a joke song about craving "a little bit of pussy," but that's beside the point.) Now, the oddball, often nude crooner has officially announced the details of his new record.
The follow-up to 2012's 2 will arrive on April 1 via Captured Tracks and it'll come with a total of 11 songs, including the "Salad Days" title track, "Treat Her Better," and "Let Her Go," three tunes DeMarco played during a New Year's Eve radio session for Canada's CKUA. The April Fool's Day LP will also feature "Passing Out Pieces," the album's wobbly first single. "Can't claim to care / Never been reluctant to share," the 23-year-old DeMarco sings, sounding a bit weary for his age. "Passing out pieces of me / Don't you know nothing comes free?"
Stream "Passing Out Pieces" below, and watch a VHS-style promo video for Salad Days above. The record is currently available for pre-order on iTunes, and a track list can be found near the bottom of this post, followed by a lengthy tour schedule that will keep DeMarco on the road into June.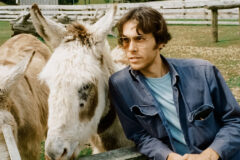 Mac DeMarco, Salad Days track list:
1. "Salad Days"
2. "Blue Boy"
3. "Brother"
4. "Let Her Go"
5. "Goodbye Weekend"
6. "Let My Baby Stay"
7. "Passing Out Pieces"
8. "Treat Her Better"
9. "Chamber of Reflection"
10. "Go Easy"
11. "Johnny's Odyssey"
12. "Go Easy (Demo)" *
13. "Passing Out Pieces (Demo)" *
* = iTunes-only bonus tracks
Mac DeMarco tour dates:
January 29 – Los Angeles, California @ Echo
March 14 – Santiago, Chile @ Ex Oz
March 15 – Buenos Aires, Argentina @ Vorterix
March 23 – Santa Ana, CA @ Burgerama III
March 31 – Cleveland, OH @ Beachland Ballroom *#
April 1 – Oberlin, OH @ Oberlin College
April 2 – Chicago, IL @ Empty Bottle (early and late shows) *#
April 3 – Detroit, MI @ Magic Stick *#
April 4 – Wakefield, QC @ Blacksheep *#
April 5 – Sherbrooke, QC @ Boquébière *#
April 6 – Montreal, QC @ Societe des Arts Technologiques *#
April 7 – Cambridge, MA @ Middle East (Downstairs) *#
April 9 – New York, NY @ Webster Hall #
April 10 – Durham, NC @ Duke Coffeehouse *
April 11 – Atlanta, GA @ The Goat Farm *
April 12 – Baton Rouge, LA – Mud and Water *
April 13 – Austin, TX @ Mohawk (Outside Stage) *
April 14 – Fort Worth, TX @ Lola's Saloon *
April 15 – Oxford, MS @ Proud Larry's *^
April 16 – Nashville, TN – Exit/In *
April 17 – Asheville, NC @ The Grey Eagle *
April 18 – Philadelphia, PA @ Underground Arts *
April 25 – New Orleans, LA @ Tulane University
April 26 – Yonkers, NY @ Sarah Lawrence College
May 15 – Amsterdam, Netherlands @ Melkweg
May 16 – Paris, France @ Trabendo
May 17 – Nantes, France @ Stereolux
May 18 – Brussels, Belgium @ Nuits Botanique at Botanical Cultural Center
May 19 – Brighton, England @ The Old Market
May 20 – Glasgow, Scotland @ Mono
May 21 – Manchester, England @ Sound Control
May 22 – London, England @ Koko
May 23 – Cologne, Germany @ Electronic Beats @ E Werks
May 24 – Berlin, Germany @ Bi Nuu
June 20-21 – Toronto, ON @ NXNE
* = with Juan Wauters
# = with Amen Dunes
^ = with Dent May