Les Claypool follows in the American roots music tradition with Four Foot Shack, the upcoming debut album from his newest project, Duo de Twang. Due February 4 via ATO Records, the 15-track LP features backwoods covers of songs by the Bee Gees, Alice in Chains, and Claypool's main band, Primus, all done with a simple guitar-and-bass arrangement (and filled out with the occasional banjo and mini-tambourine).
Claypool and his Duo de Twang partner, longtime friend Bryan Kehoe, recently shared one track from the full-length — a hillbilly rendition of Primus' "Jerry Was a Race Car Driver," heard on Rolling Stone — and now they've let another Shack cut loose. Below you'll find an oddball bluegrass version of Alice in Chains' 1991 classic "Man in the Box." Speaking to SPIN, Claypool simply said, "This one is a tribute to my buddy Jerry Cantrell."
Scroll down further for Duo de Twang's tour dates and the track list to Four Foot Shack, and pre-order the album through iTunes or Club Bastardo.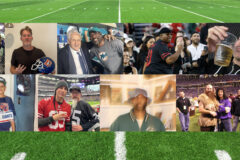 Les Claypool's Duo de Twang tour dates:
February 27 – New York, NY @ The Heath at McKittrick Hotel
February 28 – Woodstock, NY @ Bearsville Theater
March 1 – Cambridge, MA @ The Sinclair
March 3 – Charlottesville, VA @ Jefferson Theater
March 4 – Millvale, PA @ Mr. Smalls Theatre
March 6 – Kent, OH @ The Kent Stage
March 7 – Detroit, MI @ Majestic Theatre
March 8 – Indianapolis, IN @ The Vogue
Four Foot Shack track list:
1. "Four Foot Shack" (Les Claypool's Duo de Twang)
2. "Wynona's Big Brown Beaver" (Primus)
3. "Amos Moses" (Jerry Reed)
4. "Red State Girl" (Les Claypool)
5. "The Bridge Came Tumblin' Down" (Stompin' Tom Connors)
6. "Boonville Stomp" (Les Claypool)
7. "Stayin' Alive" (Bee Gees)
8. "Rumble of the Diesel" (Les Claypool)
9. "Pipe Line" (The Chantays)
10. "Buzzards of Greenhill" (Les Claypool's Fearless Flying Frog Brigade)
11. "Hendershot" (Les Claypool's Fearless Flying Frog Brigade)
12. "Man in the Box" (Alice in Chains)
13. "D's Diner" (Les Claypool's Fearless Flying Frog Brigade)
14. "Battle of New Orleans" (Johnny Horton)
15. "Jerry Was a Race Car Driver" (Primus)