Jenny Lewis' next solo album will see the light sometime this spring. In a recent interview with Rolling Stone, the ex-Rilo Kiley frontwoman confirmed that the follow-up to 2008's Acid Tongue is in the process of being mixed and will be released in the near future.
"I'm mixing next week and this is all I'll say, until it's mixed I don't really want to talk about it, but it took a village," Lewis said.
The 38-year-old singer-songwriter didn't share many other details on her long-in-the-works, third solo effort, which was supposedly "80 percent" done this time last year. When asked about what kinds of themes fueled the upcoming LP's creation, Lewis joked that insomnia served up some inspiration.
"I was awake for a while," Lewis said, detailing her songwriting process. "I'm superstitious, until I start mixing, I feel like when I start it then I will be able to actually speak of it. But I'm done recording, and I'm just mixing in L.A."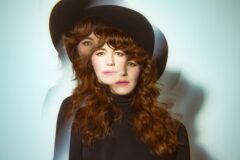 Despite being nearly finished with the project, the Postal Service affiliate said she's not sure if her recent contribution to HBO's Girls — the wounded folk ballad "Completely Not Me" — will appear on the full-length. "It depends on how the rest of the songs turn out, and see if it fits," she said. "It exists in its own right."
Lewis also has a pair of festival performances looming on the horizon. Later this year, she'll appear at New York's Governors Ball Music Festival and Atlanta's Shaky Knees Music Festival.