Girls' two-part season premiere included at least a couple of points of interest for music fans, and one of them is now streaming for free online.
Jenny Lewis' "Completely Not Me," a bruised folk ballad that played over the HBO show's closing credits last night, is a collaboration with Vampire Weekend's Rostam Batmanglij. Offsetting ramshackle acoustic guitar with a Phil Spector miniature's worth of heavy-footed percussion and vocal harmonies, it's a welcome, aching return for the former Rilo Kiley singer, who spent much of last year on the road with the Postal Service. The dissociative wistfulness it captures is in keeping with Girls third-season tagline, "Happily whatever after," but there's a sense of hard-won wisdom to it, too.
Sonic Youth co-founder Kim Gordon, who released an album last September with Body/Head, also guest-starred in the episode, as previously reported. She has a collection of essays titled Is It My Body? due out this month via Sternberg Press.
The second Girls soundtrack collection, titled Girls Volume 2: All Adventurous Women Do…, is slated for February 11, and will also feature new songs from Beck and Lily Allen (who just shared a new track of her own, "Air Balloon").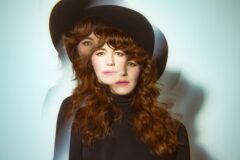 Listen to "Completely Not Me" below; it'll come as a free download with preorders of the Girls soundtrack via iTunes. Watch Gordon on Girls a little after the seven-minute and 14-minute marks of the first episode, streaming free on YouTube; watch the Gordon-free second episode here.