Follow SPIN's adventures on the high seas as we selflessly embed ourselves at Holy Ship!!!, the third-annual electronic music cruise thrown by the curatorial wizards at HARD. We embarked from the Port of Miami on Thursday, January 9, and return on Sunday, January 11. In between, we stop at two private islands for genuine Bahamian beach parties, plus see the likes of Skrillex, Diplo, Pharrell Williams, Duck Sauce, and Disclosure perform from within the hull of a mega-ship hauling ass through international waters. There are 4,000 revelers, a never-ending buffet, and the music goes until 6 a.m. It's a pirate's life for us.
Check out the five best things we saw on Thursday, and our Friday round-up as well. Now, on to Saturday:
1) Ryan Hemsworth
It's 10:30 a.m. — the music stopped only four hours ago — and we're on a ferryboat headed to a new private island in search of three necessities: coffee, the beach, and Ryan Hemsworth. Never mind that none of those things fits with the other two — even when playing from within a Jimmy Buffet wet dream, the Canadian producer gently dominates his environment. Turquoise waters lap at the shore, and he hits back with purple waves of compressed sound. Blown-out soul combats the blaring sun, while bass blooms and flowery notes dot the path in between. His selections weave in and out of one another like a radio dial caught between tunings: a grimy Danny Brown song here, an edit of Kanye ranting about Michael Jordan there, TLC classic "Creep" blended with a darkly distorted rap beat, a track from Norwegian downtempo trap star Cashmere Cat. Unsurprisingly, the crowd favorite is Jagged Edge and Nelly's 2001 hit "Where the Party At," but the tanning masses still get dosed with a ton of progressive strangeness from the dude who wore a button-up to the beach.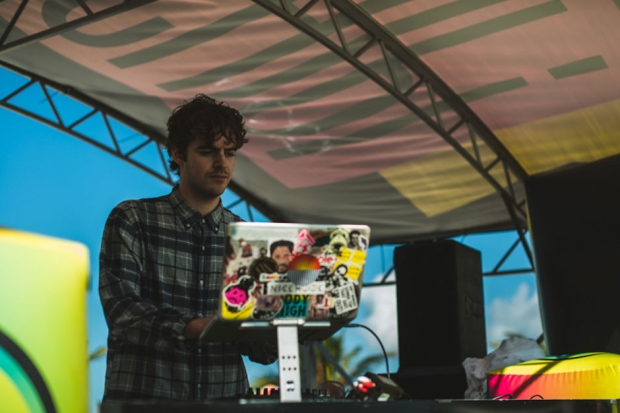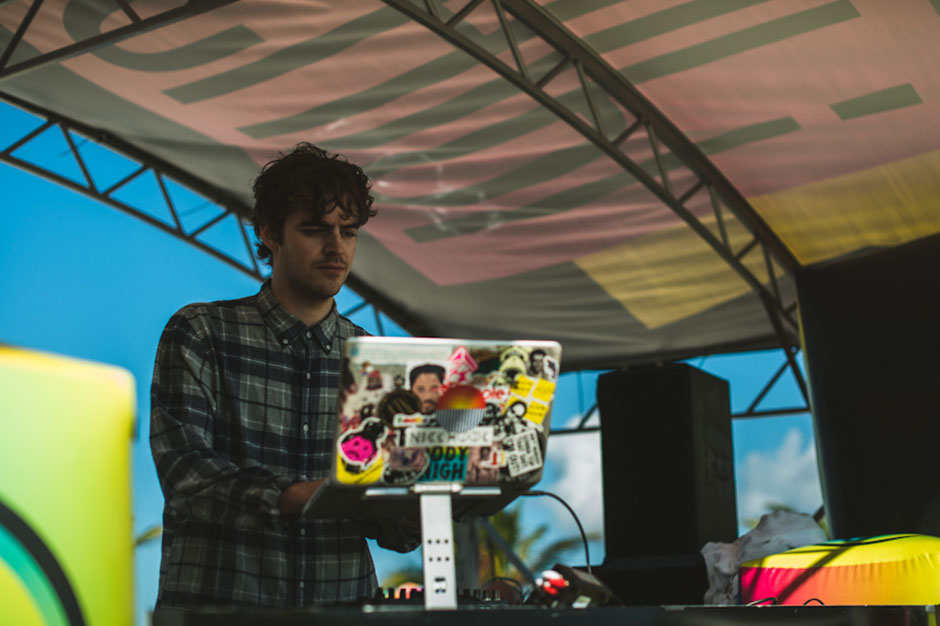 2) Pharrell Williams
For nearly three hours, it seems like the phoenix will remain a legend. Pharrell Williams is very late to the beach party, and no one seems to be minding much. For the crowd, his absence means more time with Skrillex, Diplo, Dillon Francis, and A-Trak (while a perpetually grinning Tïesto lurks in the background). But the "Get Lucky" star's helicopter (really) at last arrives, and Skateboard P hits the stage around 4 p.m. What follows is enhanced karaoke, essentially — a DJ plays other people's hits that Pharrell had a hand in, and he sings the hooks that he's known for over a recording of his own voice. 2 Chainz' "Feds Watching." Mystikal's "Shake Ya Ass." Snoop's "Drop It Like It's Hot." For the Doggfather's "Beautiful," he pulls ladies up from the crowd and serenades them with, "You're my favorite girl." He signs autographs during "Lose Yourself to Dance." That night on the Pool Deck, he does his other Daft Punk hit twice after blowing the proverbial roof off with "Blurred Lines." It's weird, but Williams' voice is impeccable in person.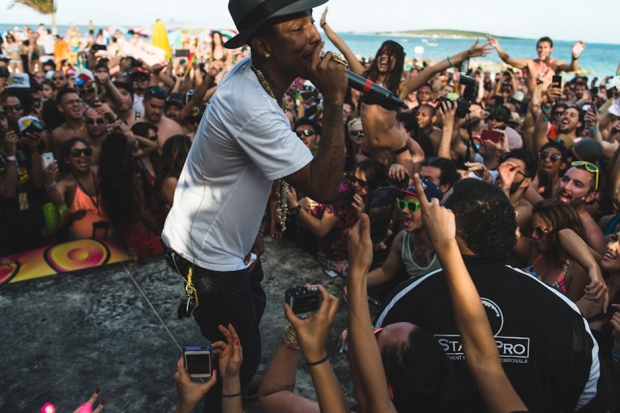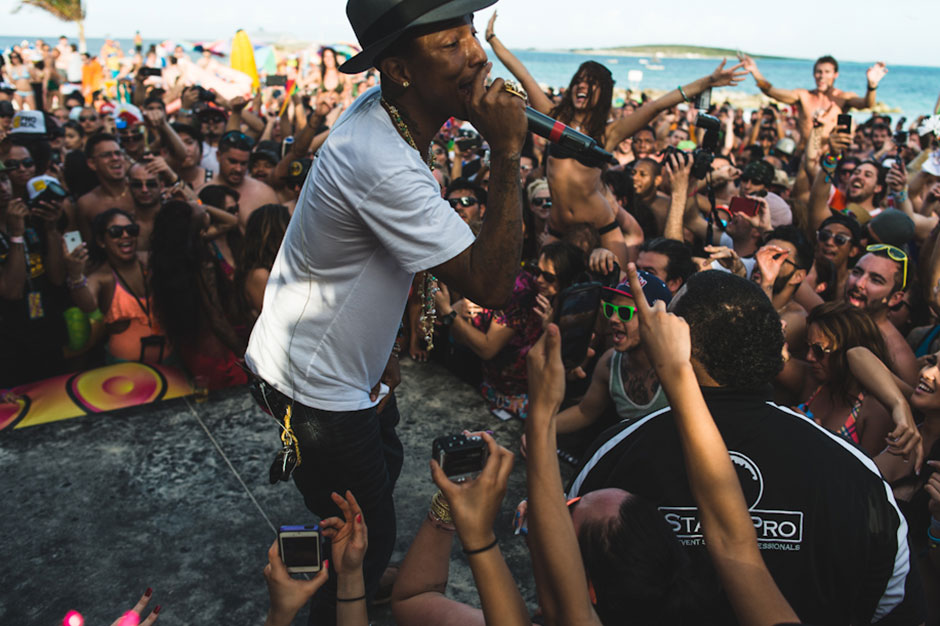 3) Shlohmo
"My name's Shlohmo, if you don't know who I am. I'm not supposed to be here." The Wedidit producer kicks off the final night's festivities wearing a white robe and hat bearing the cruise line's mark, and a boxy, bright orange life preserver to complete the look. Big fat rain drops begin to fall on the Pool Deck patrons as he unspools his gorgeously gooped remix of Jeremih's "Fuck U All the Time." He works the reverbed trill of his vest's neon safety whistle into the mix — a thrum and throb of voices pitched-down into puddles of bedroom goop, warm washes of ambient fuzz, and pileups of drums. LOL Boys' excellent "Changes" makes a cameo, but the highlights of the set are consistently Shlohmo's own abstracted R&B songs, like "Later" from the Laid Out EP. That, or his molasses-dipped edit of Xtina's "Genie in a Bottle."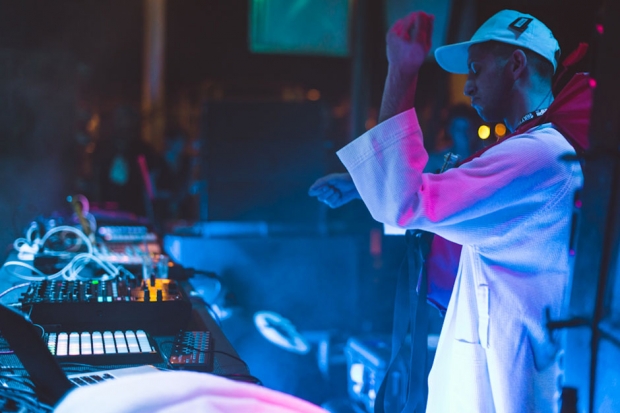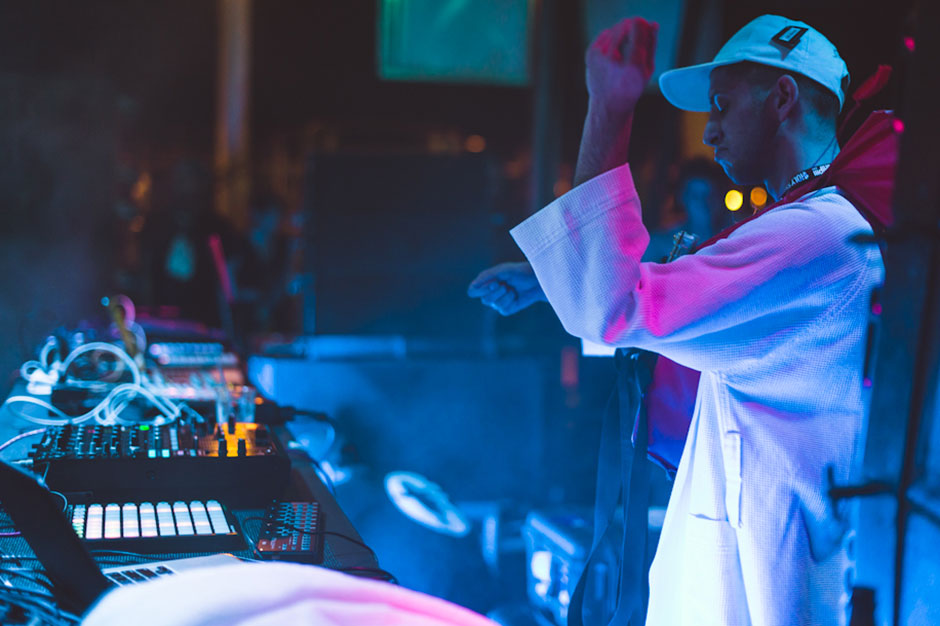 4) Baauer B2B RL Grime
This is the trap set to see: the man who brought you "Harlem Shake," and one of Wedidit's bass-sploitation banger-makers (the guy who flipped "Mercy" on its roof). Baauer and RL Grime start huge and finish huge, filling every last millisecond of the in-between with more utter hugeness. There's the chopped-up Sleigh Bells skronk, the freaked redo of Bad Gal RiRi's "Pour It Up" clashing with M.I.A.'s "Bad Girls," and no fewer than three Yeezus songs made somehow even wilder than they were to begin with. Horns, sirens, hi-hats, low end … anything to evoke a constant state of total screw-face (the oversized bottle of Grey Goose between them should help too). Credit where credit's due: Baauer's remix of Disclosure's "You & Me" and Grime's "Because of U" were the biggest skull-crushers of the bunch.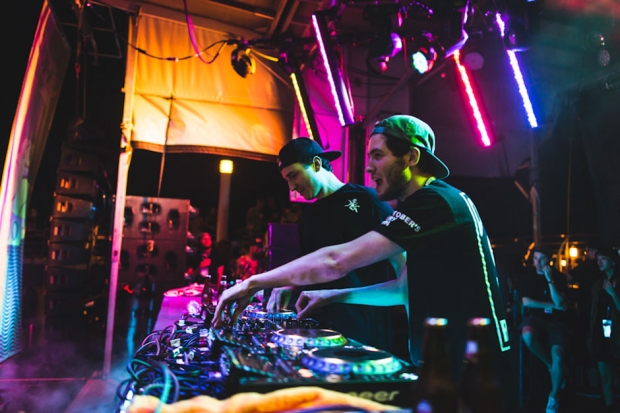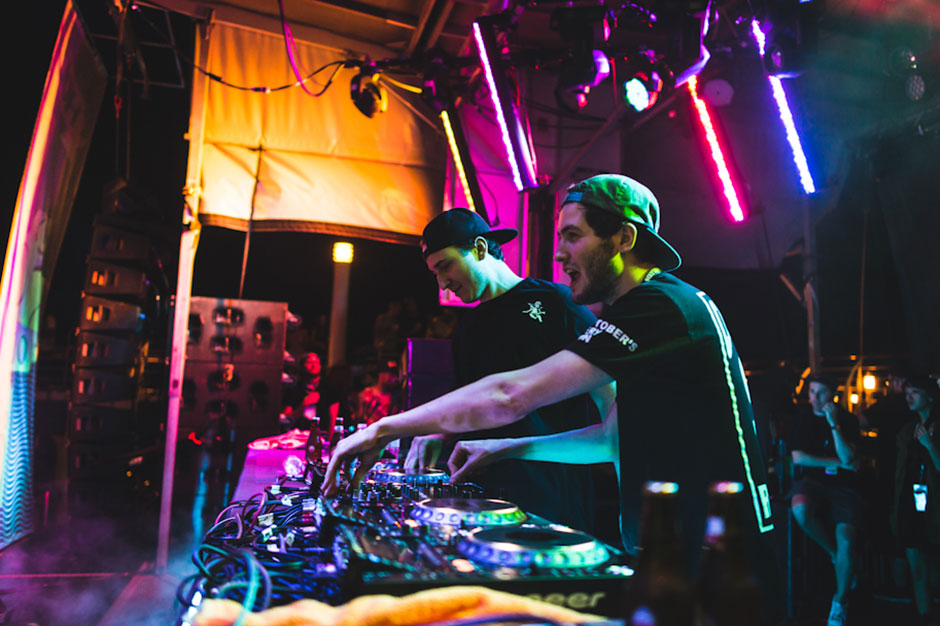 5) Skream Sexy Sax Man
It's 4 a.m., and we head to the Galaxy Disco to catch Skream, but the ship's smallest venue is at capacity — for the next 30 minutes the dubstep-turned-disco practitioner is the only performer still going. Or so we think. Discouraged, we begin to walk back to the elevator and hear the sweet sounds of "Careless Whisper" emanating from a floor below. Could it be? Indeed, for the good of the boat, our Day Two pal GRiZ has taken up the mantle of Sexy Sax Man and is blowing brass in the hallway while Skrillex leads the small crowd in chanting the Detroit player's name. He takes a rest and someone shouts, "To the buffet!" and we march into the center of the mess hall. GRiZ repeats the act while fans bang silverware on plates for percussion. He gives a final "Holy Ship!!!" holler, and the festival comes to an end, right there in front of our very eyes.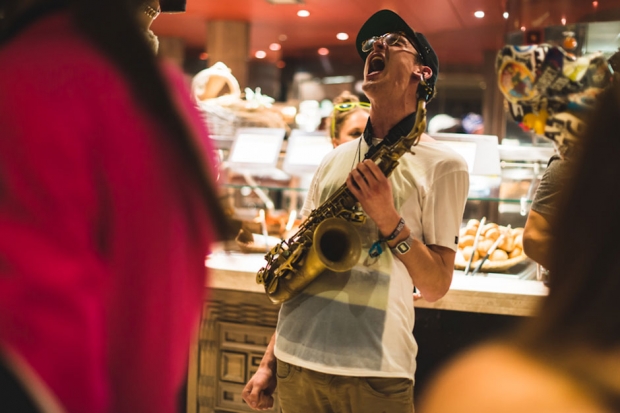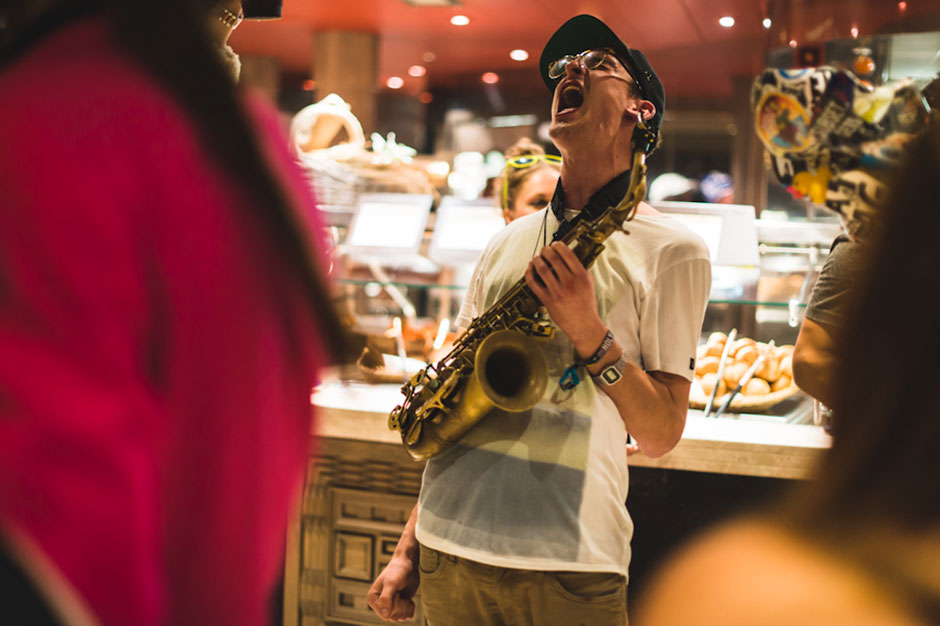 And goodnight.