Follow SPIN's adventures on the high seas as we selflessly embed ourselves at Holy Ship!!!, the third annual electronic music cruise thrown by the curatorial wizards at HARD. We embarked from the Port of Miami on Thursday, January 9, and return on Sunday, January 11. In between we stop at two private islands for genuine Bahamian beach parties, plus see the likes of Skrillex, Diplo, Pharrell Williams, Duck Sauce, and Disclosure perform from within the hull of a mega-ship hauling ass through international waters. There are 4,000 revelers, a never-ending buffet, and the music goes until 6 a.m. It's a pirate's life for us.
1) DIY door décor
Before the ship leaves port, there are matters of serious business to attend to: security check-in, the mandatory oceanic safety class, and perhaps most solemn of all, the ceremonial decorating of the cabin doors. If you've lived in dorms, it's a lot like that, but with more trippy rainbows and crudely drawn penises. Also, Holy Ship!!! guests have one thing your standard EDM festivallers do not: their very own rave cave. A trip through the halls reveals a multitude of personal expression affixed to entryways: the lyrics to Lorde's "Royals" scrawled in black Sharpie on white paper; note-cards, a pen, and tape, so as to inspire passersby to contribute (hence the dicks, accompanied by room numbers, of course); a tie-dye-style poster bedazzled with the letters of the inhabitants' names, plus puffy seashell stickers; and neon masking tape spelling, "FUCKIN' RAGE." But best in show goes to Andy and Chris for illustrating the weekend's inevitable arc using pix of Britney Spears ranging from coquettish (Thursday) to carefree (Friday) to "rageface" (Saturday) to pouty (Sunday).'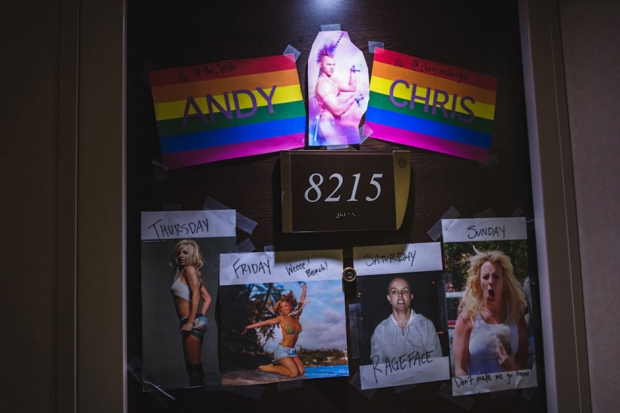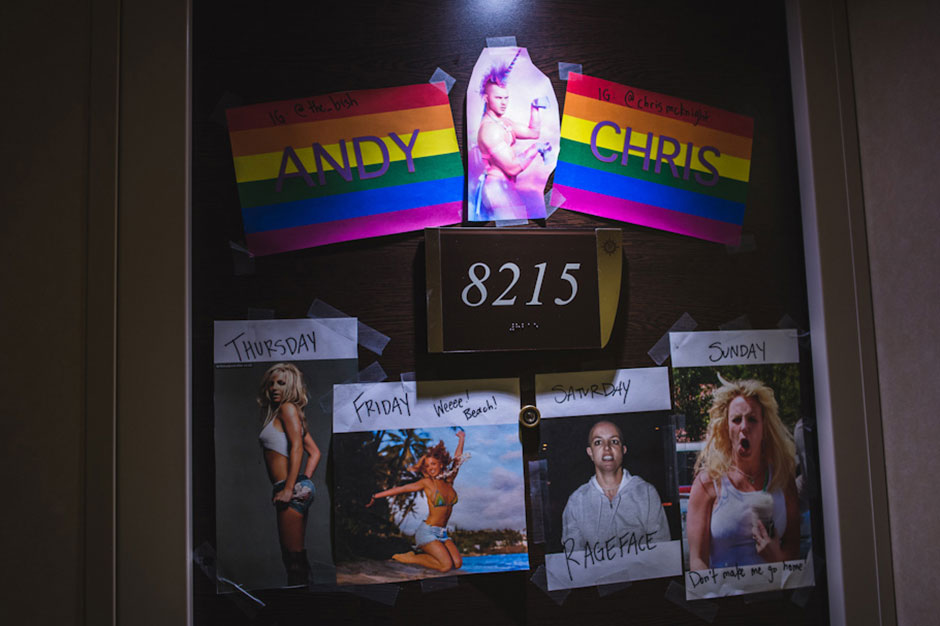 2) Diplo
As the cruise's first performer, it's Diplo's job to aurally propel the ship from its mooring, like a nautical Orpheus raising an anchor instead of the sun. Naturally, he comes out to "Sail Away," and we do too, emerging from a series of quiet hallways onto the outdoor Pool Deck in the middle of the boat as if we're in a rockumentary going from the compressed sound of Something Happening to suddenly being amidst The Shit. People are crowding the bars, clamoring for booze. Or they're lining the stairs where the banisters are bouncing: It's 7 p.m., and they're already drunk and in costume. There's footage of Titanic (the end of Titanic) playing on the screen above Diplo while our host delivers an all-trap revue with breaks for Major Lazer's multi-culti ragga-bombs: "Versace," "Tom Ford," "Watch Out for This (Bumaye)," "Type of Way," "Turn Down for What," "Bubble Butt." A fan in a tiny bikini finds her way onstage, flashes the DJ, and does a bunch of bush-league stripper moves for most of the set; he asks her name, requests a round of applause, and then calls out paid dancer (his emphasis) Lafayette, who establishes dominance in a glorious bout of athletic upside-down twerk. There's a watermelon slice crowd-surfing.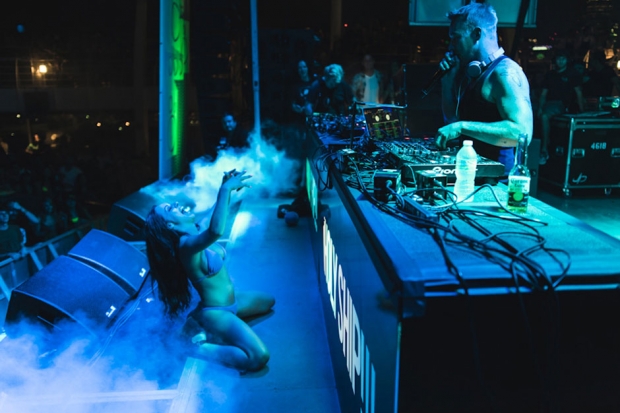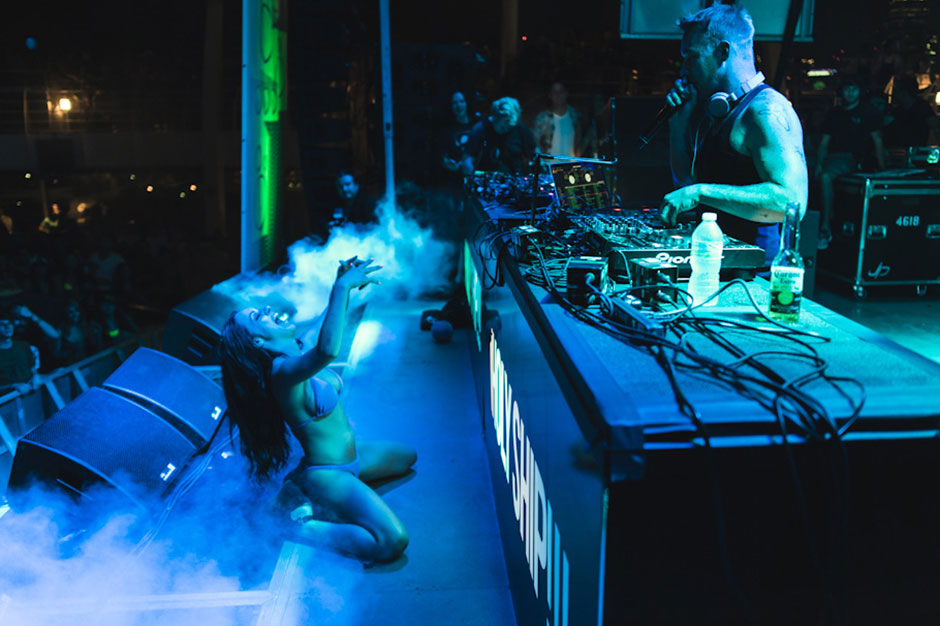 3) Skrillex
There comes a time when the ocean wind is whipping through your hair, and the stage lights are sending incredible colors into the pitch dark, and you're surrounded by the happiest people you've ever met, and Skrillex is playing that awesome "Oh my gosh!" song with the wub-wub-wubs and the skzzz-skzzz-skzzz, and it's at that exact moment that you realize just how ridiculous and wonderful it is to be a human, of all possible things, and that you've arrived at the best place on earth. And the reason this can only really — like, really really — happen while Skrillex is performing is because Skrillex feels it, too. He feels it more than you do. Look at him up there: He's climbing onto the DJ table and leaping into the salted air. He's skanking to Damian Marley's pitched-up voice. He's grabbing the microphone and rapping along with Missy Elliott's "Work It" (the part that sounds like "yerp-yippa-yerpin-yep-yep"). He's screaming screechy words of encouragement to his fans. He's wearing a Duck Sauce duckbill. He's executing an excellent air-guitar solo. His butt-crack is showing, and he DGAF because he's. so. damn. excited. to be here.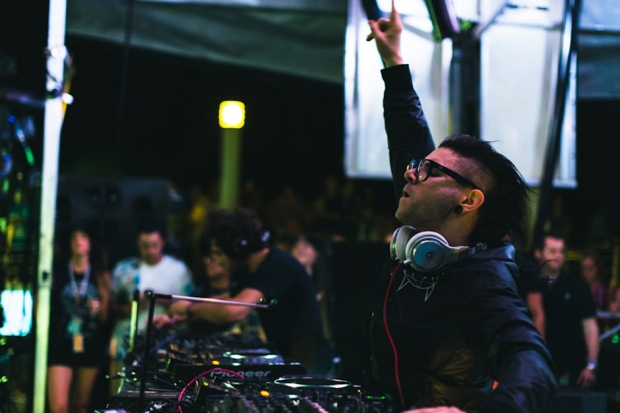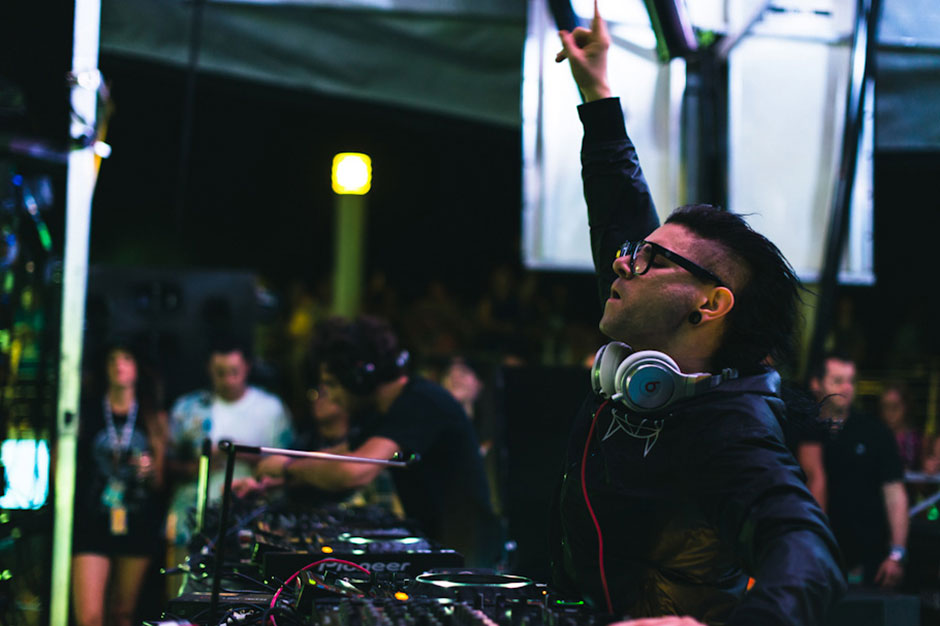 4) Flume
At Holy Ship!!!, the below-deck Black & White Lounge is traditionally packed with great music, but light on crowds. This is the domain of the boutique labels and tight-knit collectives who push electronic music's sound forward — the bleeding edge, like the Body High and Wedidit crews, who curated Thursday's lineup. But they had an ace in Flume. While excellent bookending sets from Samo Sound Boy and Jerome LOL were grossly under-attended, the Australian producer packed the dimly lit lounge with ease. He rolled out of Samo's mix with a funky shuffle and some face-shaking bass, jazzy cymbal play, and burping synthesizers. Though he began by dwelling in the shadows of house, he soon took us to the trap, cutting up a marching tattoo with dog barks, hi-hats, and soulful vocals. Then he found the drop. The man showcased an impeccable ear for sonic textures and crowd manipulation, smashing rachety dubstep wobble into melismatic chipmunk squeals, and Sleigh Bells into blurting faux-tubas that hit like stomping dinosaur feet dipped in brass. In front of us, a skinny guy is teaching a chick he just met a peace-love-happiness handshake. Behind, a thick woman is freaking her dude from an all-fours position. This must be the intersection of something.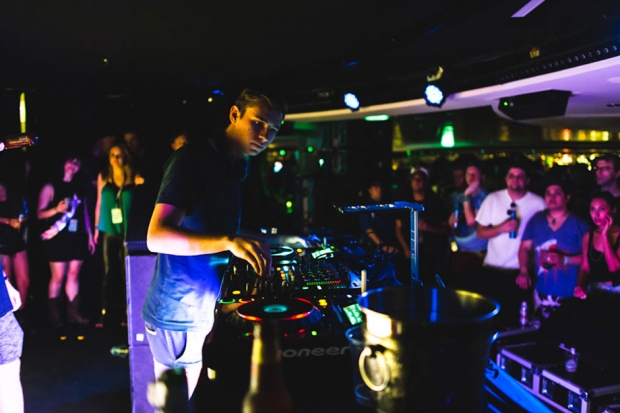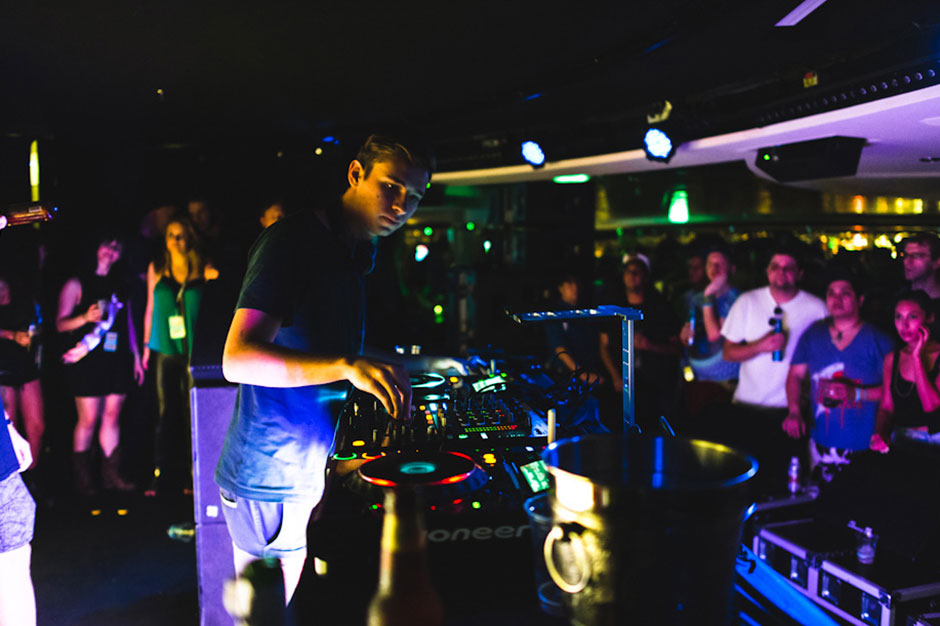 5) Tiësto
"I am shocked," said one shirtless party warrior. "No fucking way," said a dude with his sunglasses on at night inside of the dark Pantheon Theater. "Tieeeesssstoooooo!" screamed a young lady with deranged glee. The Dutch mega-DJ is revealed to be the surprise secret guest, and what a surprise he is — the living symbol of what HARD events have never been. He comes out swinging, playing down-and-dirty house, but soon transitions to his PLUR bread-and-butter: song after song of #epic posivibes choruses followed by a grinning melodic build, resolving in a completely buckwild drop. It's rave craftsmanship at its worst/best, which explains why every DJ on the ship is onstage with him. Skrillex and Just Blaze are pumping their heart hands in the air. Destructo is pinwheeling a towel above his head. Flume friend Emoh is drumming on someone's head. Zedd is commandeering the mic to shout, "When I say 'T.S.,' you say 'toe'!" (that chant failed, btw). And Diplo's instructing us to drop to our knees, then leap up on the count of three. Is this tribute? Mockery? Something in between? Regardless, if the second-highest-paid man in EDM didn't know whose turf he was on, he knows now. The set culminates in an all-star conga line circling Tiesto's table.