Follow SPIN's adventures on the high seas as we selflessly embed ourselves at Holy Ship!!!, the third annual electronic music cruise thrown by the curatorial wizards at HARD. We embarked from the Port of Miami on Thursday, January 9, and return on Sunday, January 11. In between, we stop at two private islands for genuine Bahamian beach parties, plus see the likes of Skrillex, Diplo, Pharrell Williams, Duck Sauce, and Disclosure perform from within the hull of a mega-ship hauling ass through international waters. There are 4,000 revelers, a never-ending buffet, and the music goes until 6 a.m. It's a pirate's life for us.
Check out the five best things we saw on Thursday. And now, on to Friday:
1) Gina Turner's Yoga
Of the myriad ways one could choose to deal with Friday morning's party hangover — the most popular being "rage further" —a small group gets it oh-so-right. Rise, shine, hit the buffet for some bacon and eggs, and then ferry out to today's private island for a solid set of sun salutations. Our instructor is New York DJ Gina Turner (now we know why her husband Luke is so Laidback), who by the way is a certified Viny?sa teacher. She opens with a call to calmness: "Really try to find your inner peace, because there's a lot of noise going on." Right, that'd be Armand van Helden doing ripping up the waterfront with electro-house wilding while beach-goers arrive by the literal boatload. But still: "Picture the inside of your body. It's no longer, like, blood and guts. Envision blue skies," she says. While most participants (including those wearing pasties) take the ritual seriously, one dude in a cap and shades can't help but hump the sky lasciviously during bridge pose. Broga aside, it's effective, and also turns out to be the warm-up for the workout later, when the very pregnant house jockey hits the Black & White Lounge 12 hours later with an athletic set. Listen closely and you can vibe the om.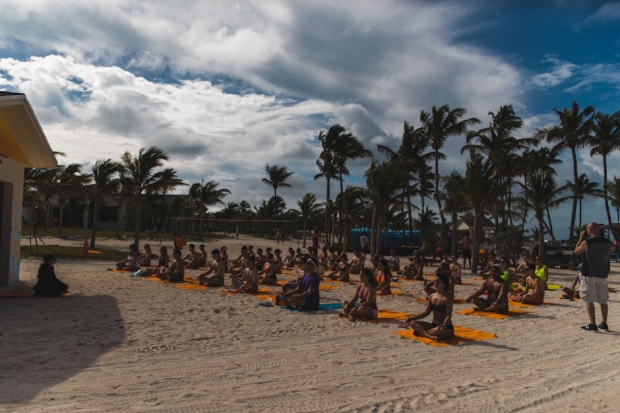 2) Disclosure
Even on a beach, on a private island in the Bahamas, with absolutely perfect weather and a rapturous bathing-suited crowd, Disclosure don't look like they're having any fun. It's not because they aren' t— it's because the Lawrence brothers are dedicated to their craft, which in this case is a DJ set that opens with a salvo of synthetic horns quickly cut to pieces and sent bouncing to the pulse of the Brits' grimy futuristic house music. They soon tease "When a Fire Starts to Burn," but don't bother looking up to collect their accolades. Instead, they mouth the beats as they build them up, heads down and eyes to knobs. But their booth is close enough to the sand to be in arm's reach (etc.), and between remixed takes on "F Is for You," "You & Me," White Noise," and "Latch," their focus is broken twice. The first time, a fan pushes a pair of beaded PLUR bracelets up to them — Guy accepts begrudgingly, while the younger Howard seems tickled. The second time, a devotee steps onto the riser, turns around, and proceeds to twerk in their honor. After much fervent encouragement from her friends, the elder Lawrence capitulates and gives the booty a smack.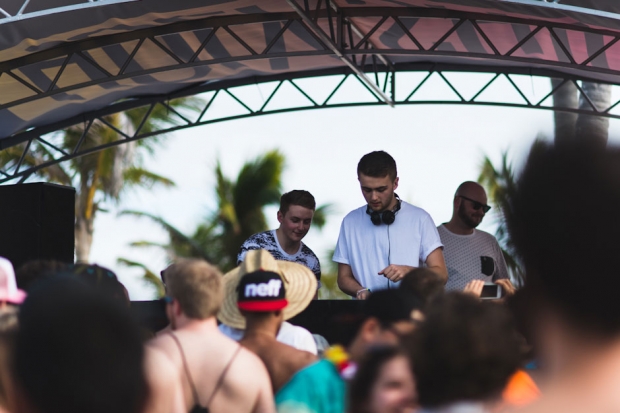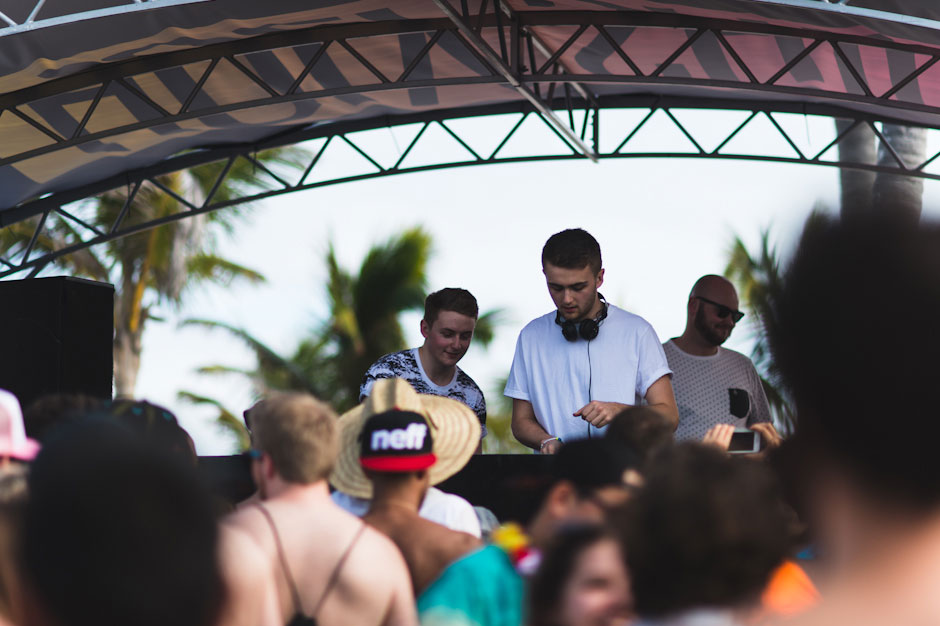 3) Chromeo
Turns out a Chromeo DJ set is nothing to be scoffed at. Because while there's no keytar in sight for the Montreal funktronic freaks' nighttime set on the MSC Divina's ample Pool Deck, Dave 1 is manning an ever-evolving live mix while P-Thugg works keys and the talk box, cooing out the chrome-dipped hits we've come to love despite our better judgment. "When the Night Falls," "Hot Mess," and "Bonafied Lovin" all make recontextualized cameos, finding fresh purchase atop quaking bass and remnants of songs that aren't theirs. "Sexy Socialite" makes a welcome appearance, too, before Dave calls his little brother A-Trak up to execute an incredible scratch solo that leaves the crowd reeling and the crew panicking as the set goes into overtime. Dillon Francis, who's billed to follow, looks a little nervous.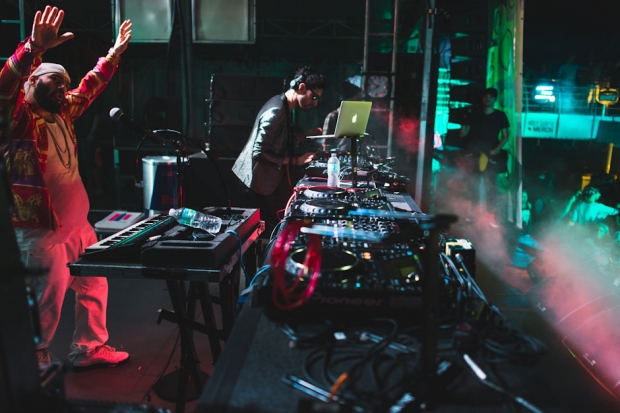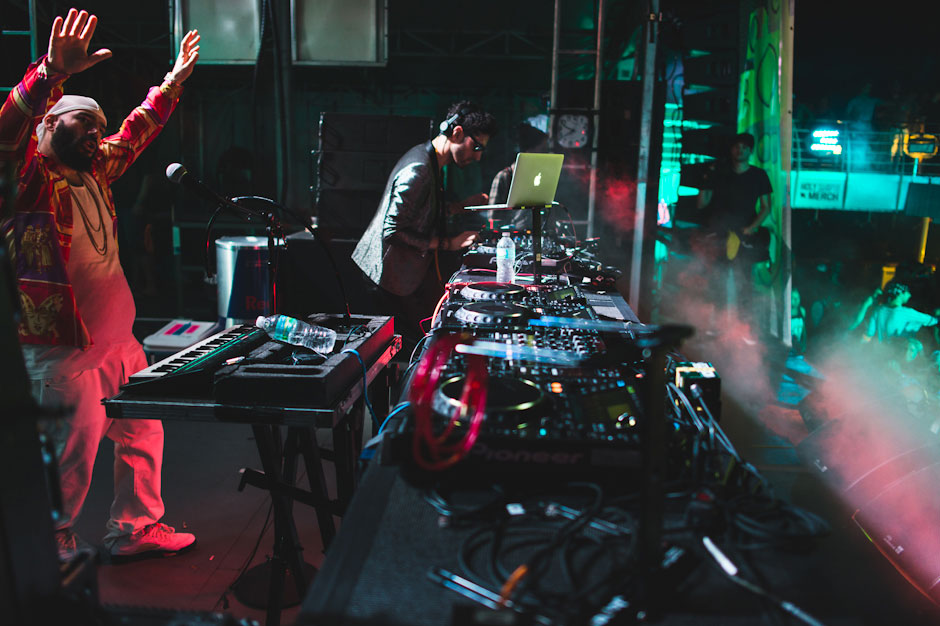 4) Dillon Francis
Of course, he shouldn't be. There's a guy clutching a two-foot high cardboard cutout of Francis' face in the front row, and a chick next to him holding a sign that reads, "Dillon should marry me! We like the same things!" Only a few feet over: a large work of Photoshop prowess depicting the moombahton pioneer as Leonardo DiCaprio gripping Kate Winslet on the bow of the Titanic. In truth, he might be the most beloved figure on the boat: Even Tïesto is here to partake in the aural feast that is a D.F. set. It's #hitsonly as he hops up onto the table and twiddles his knobs before opening his arms to his adoring public: "My name is Dillon Francis and I'm here to make you fucking dance." The man accomplished that goal by throwing notions of genre to the briny wind, blending "Nuthin' but a 'G' Thang" into DMX's "Ruff Ryders' Anthem" into TLC's "No Scrubs" while Flosstradamus' J2K handled overdubs. When Major Lazer dancer Lafayette was inspired to bust a move up front, he repaid her kindness by working "Bubble Butt" into the mix. The dude is a gentleman.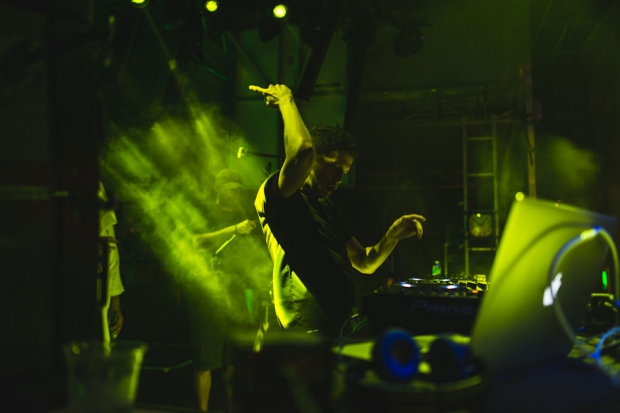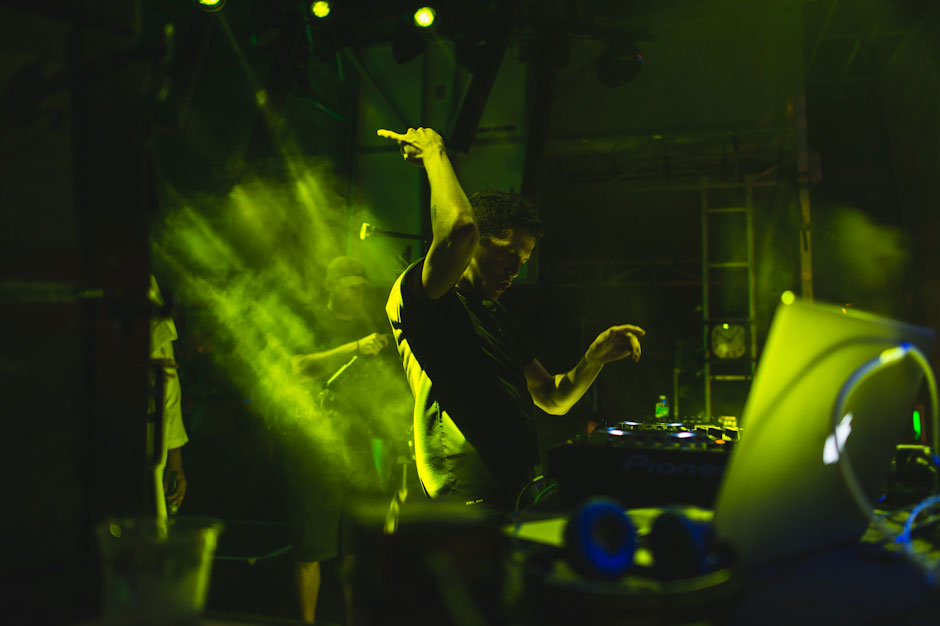 5) GRiZ
Deeper into the night, we stumble into the Pantheon Theater and discover a man playing live saxophone to his own wild remix of Stevie Wonder's "Superstitious." This is GRiZ, a 23-year-old from Detroit who refreshingly inhabits a place located firmly outside of the cool-kids spectrum. But in case there's any question: "I came to get the funk down!" he shouts before mashing up Morricone-esque film music with Tupac samples and dubstep American style. He also plays with genuine dub, funky glitch, big beat, classic rock, and backpack rap (hear that lo-bit SP-1200 fuzz), but the highlights of his set are the sax breaks, whether wedged into the middle of that exhilarating bass-weighted mix or following an on-the-nose drop of Parliament's "Give Up the Funk" or War's "Low Rider." Oh, and he led a call-and-response to the Isleys' "Shout."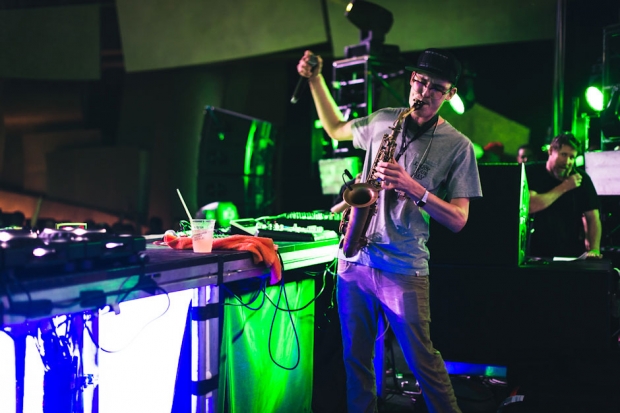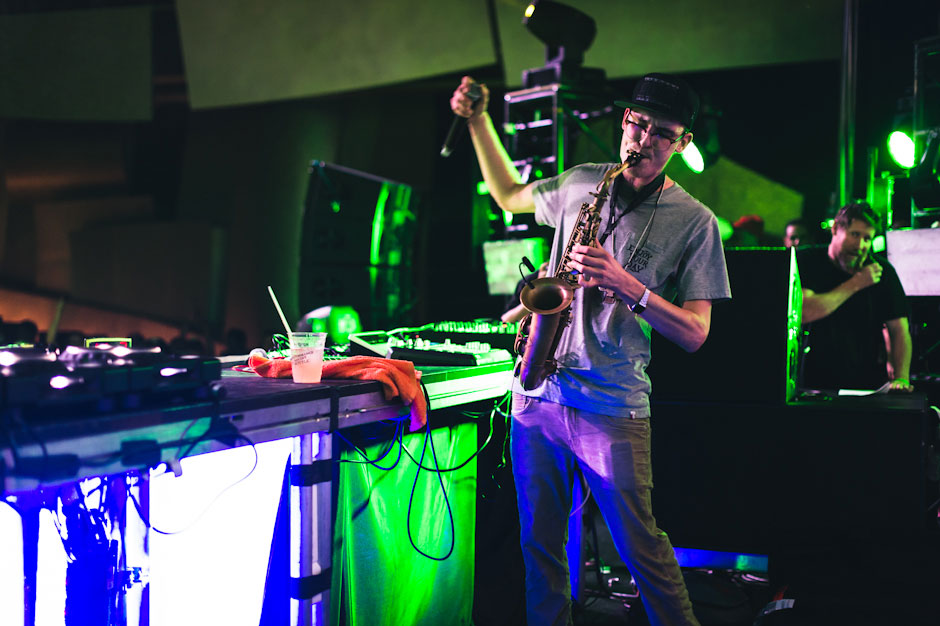 Oh, and did we mention it's pirate night? Yeah. It's pirate night.