It's far too easy to be snarky about Grammy week, the time when the music industry celebrates itself in extravagant and expensive fashion: a week of stunting, self-promotion and self-congratulation, a reassertion of the biz's old guard reasserting its power and supremacy. The show is both more staid and more credible than the MTV Video Music Awards, but for all the criticisms leveled at it, the show has modernized itself significantly over the past couple of decades: Big wins for artists such as Arcade Fire, the Roots, Danger Mouse, the White Stripes and Frank Ocean would have been nearly unimaginable 20 or even 10 years ago.
Similarly, the lineup of shows around Grammy weekend are no Coachella, but there's plenty of great music to be found. This year, the Saturday before the Grammys featured not just the annual Clive Davis party at the Beverly Hilton — officially called the "Pre-Grammy Gala" since it was officially integrated into the Grammy fold a few years back — and a 13-artist showcase at Lure in Hollywood presented by the Universal Music Group.
A ticket to the Clive party is arguably the most coveted in the music business. It's not just for the bragging rights and the mind-blowing number of celebrities in the house — Saturday's ranged from Joni Mitchell to Kenny G, from Rihanna to Robbie Robertson, from Joan Collins to Neil Diamond, from Stevie Wonder to Bill Maher, from Jane Fonda to Sammy Hagar, from Taylor Swift to Larry King — but for the star-making performances that have taken place over the years, from legends including Whitney Houston and Alicia Keys. A very long night — Saturday's clocked in at nearly four hours, not including the 90-minute preliminary cocktail gathering — the Davis party hosted voluminous speechifying (a generous estimate of the talking vs. music ratio would be approximately 60/40). But although he's hardly known for brevity when he's on the mic, hey, it's his party.
The stellar performances make the slog worthwhile, though, and while Saturday's show wasn't one for the ages in the estimation of anyone SPIN spoke with, here are the high- and lowlights:
HIGH
Lionel Richie brought the house down. As the Pre-Grammy Gala's second performer, he delivered unexpectedly rousing versions of his Commodores-era hit "Easy" and "All Night Long," and kicked the show into a high gear that it unfortunately never regained.
Clad in a fizzy pink overcoat and a silky short dress, Miley Cyrus took the stage somewhere during the third hour, and showed off the full power of her pipes on "Get It Right," a cover of Dolly Parton's "Jolene" and, of course, "Wrecking Ball." But the audience's weariness — and the fact that she was apparently on her best behavior, with no headline-worthy antics on display — meant she didn't get the reaction she deserved. She sure woke up the photographers, though.
Pharrell followed Miley and gave it his all, mashing "Frontin'" into "Happy" before being joined by Jennifer Hudson and T.I. for Hudson's "I Can't Describe," and then — in a performance so inevitable it could have been spotted by a weather satellite — Robin Thicke for a perfunctory but professional go at "Blurred Lines."
Great Big World's Ian Axel sat down at the piano and talked about how honored he was to be performing and how crazy it was that a few months ago he was playing small clubs in New York. He then hit one note and said the piano was out of tune and he wouldn't play with it sounding like that. It was a diva moment but he was right, and after technicians quickly solved the problem he slayed "Say Something."
In a four-or-so-minute speech, Interscope/Beats by Dre svengali Jimmy Iovine delivered his usual balance of flagrant self-promotion and self-mockery, honoring Davis by recalling how, in 1976, he thought his ship had come in when he was asked to produce the next album by then-platinum, now-punchline rockers Foghat, only to be fired after two weeks — and how soon afterward, Davis' support of Patti Smith's choice of Iovine as the producer of her Easter album not only provided him with his first Top 10 hit, "he believed in me when I didn't believe in myself."
Lorde had the seemingly unenviable task of following "Blurred Lines" but delivered "Royals" and "Team" with class, grace, and a presence punctuated by her twitchy, oddly predator-like moves. Taylor Swift was practically headbanging through the entire performance. Smart money says Lorde cements her status as the planet's least fazed 17-year-old superstar Sunday night.
Seeing Lorde smile — yes, SMILE! — when Davis paid homage to Smokey Robinson onstage.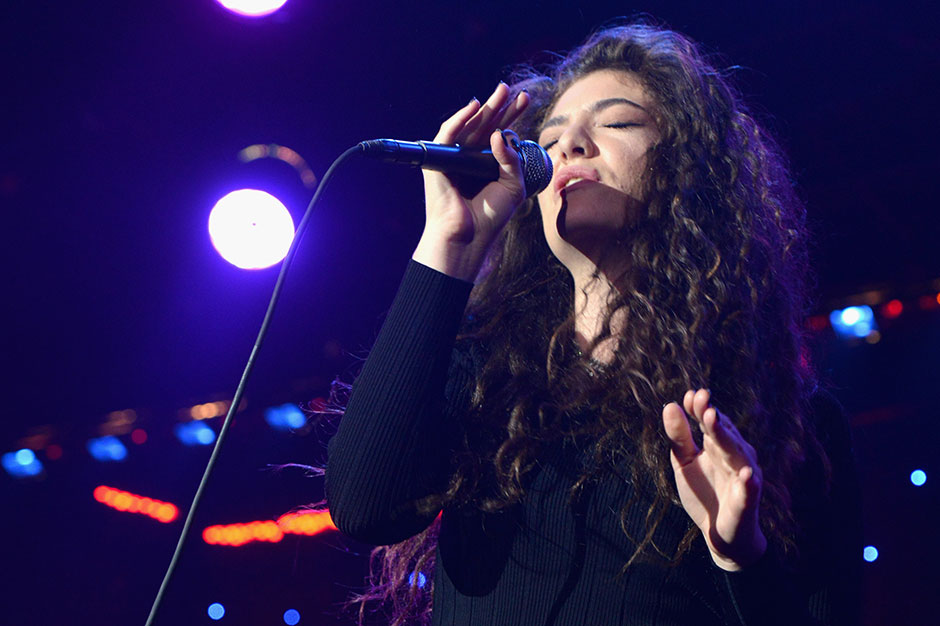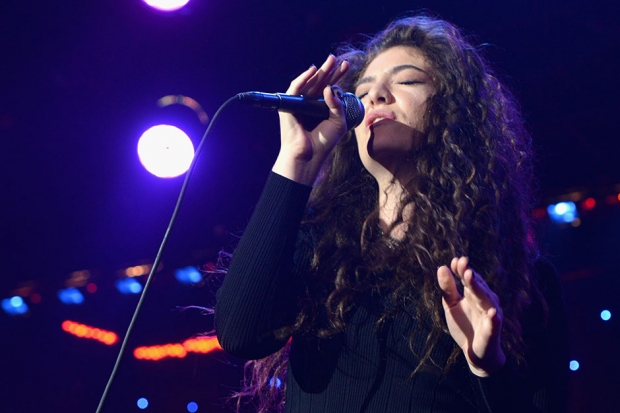 Seeing Metallica's Robert Trujillo head for the men's room approximately 30 seconds before the band was feted from the stage by Davis.
Fantasia, the American Idol winner-turned-Broadway star, delivered what might have been the evening's strongest vocal performance will a rafters-topping version of "Stormy Weather."
LOW
Imagine Dragons opened the show with two acoustic numbers.
Macklemore and Ryan Lewis got the house moving, and this weekend is largely about hits, but by now those two songs — you know which ones — define the word oversaturation.
Even a shot in the arm from the Foo Fighters on "Fortunate Son" couldn't salvage John Fogerty's overlong greatest-hits set, which hit bottom with a flaccid "Proud Mary" that featured an out-of-place Jennifer Hudson. He also gave an odd onstage shout-out to a perplexed Taylor Swift: "I think you'll probably win that thing tomorrow."
R. Kelly's brand-new tribute song to Nelson Mandela is a thinly veiled rewrite of his own "The World's Greatest" — key changes, choir, and all — and an equally thinly veiled attempt to distract from the fact that the world is once again talking about his child-pornography charges.
The Universal Music Group event, held Saturday afternoon at the swank Lure in Hollywood, collected a baker's dozen of the music group's established or relatively established acts — Robin Thicke, Lorde, Zedd, Juanes, Ariana Grande, Neon Trees, Kacey Musgraves, and Jake Bugg — along with newer, less-established acts Aloe Blacc, Banks, Tessanne Chin, Tye Tribbett, and Jhene Aiko. The audience consisted of media and Universal executives — in short, just about the most nerve-racking audience for an artist, except for the Clive Davis party — and the acts tore through one-to-two-song sets over the course of approximately two hours. Although there were a few technical hiccups and awkward pauses, the afternoon came off impressively well, and moved along at a bracing clip. The highlights:
Lorde eased through "Royals" and "Team" with all the poise and hauteur she's rapidly becoming known for. She had a brief mic problem when she first took the stage and was completely unflustered by it. "I think we're holding [up], this mic isn't right. I hope you're all alright," she said to an audience filled with the very top executives of her label.
Kacey Musgraves, who knocked out "Keep It to Yourself" accompanied by two band members and then went solo for an awesome new song called "Biscuits." She introduced it in a kind of aw-shucks-I'll-give-this-new-song-a-try way, saying that she can be "a bit of dumbass" sometimes, and that if she were to offer anyone advice, it's in the song. The chorus goes: "Mend your own fences / Own your own crazy / Mind your own biscuits / And life will be gravy."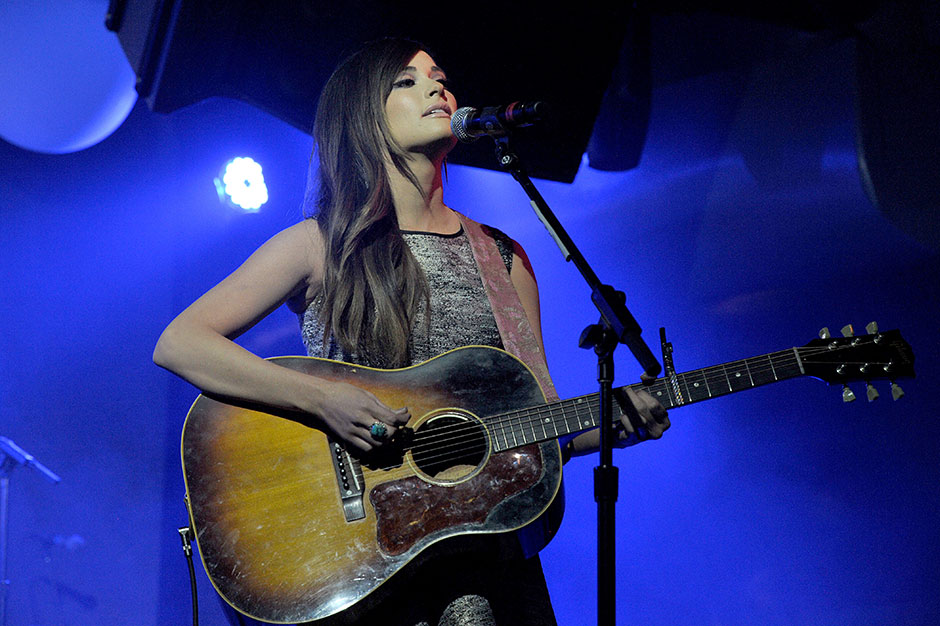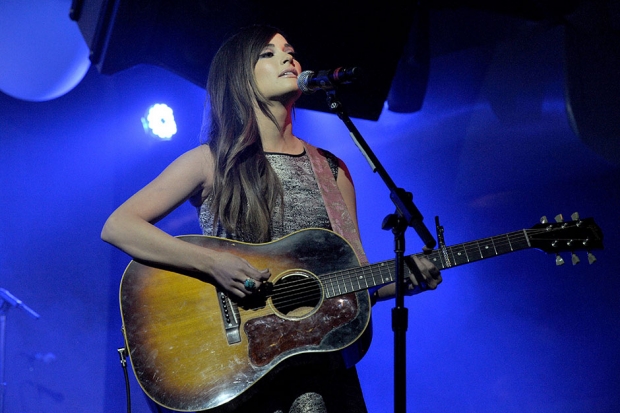 Zedd playing an acoustic — yes, acoustic — version of "Find You," with strong vocals from Miriam Bryant and Matthew Koma.
British troubadour Jake Bugg delivering a fine three-song set that showcased his unexpectedly powerful (if quite nasal) voice. More fascinating, though, was hearing him play Judas Priest's "Victim of Changes" during soundcheck. Didn't see that one coming!
L.A.-spawned singer Banks, who showed a striking combination of insecurity, aggression, and flower-child weirdness on her electronic "Change" and "Waiting Game."
Finally, Tye Tribbett got only one song but showed a promising commercial take on gospel, with a full band, an eight-member chorus and a rousing double-time reprise at the end.