The 56th Annual Grammy Awards are Sunday, January 26, and there's a whole lot to sort through in advance of the big show. So if you've got some basic questions, or some really specific ones, let SPIN be your sound sherpa on this particular spirit quest.
When and where does the show actually happen?
The Grammys will broadcast live from the Staples Center in Los Angeles on CBS on Sunday at 8 p.m. EST. The pre-telecast ceremony, which takes place at the Nokia Theatre and is hosted by Cyndi Lauper, starts at 4 p.m. EST and can be seen here, but coverage begins at noon.
Where can I find amazing, hilarious, up-to-the-minute coverage of "Music's Biggest Night?"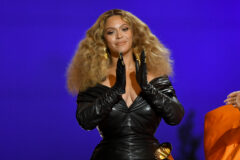 Right here at SPIN! We'll be covering the news and the winners as they happen. Our live-tweet starts at 8 p.m. EST. Follow us @spinmagazine.
Who's hosting the awards show?
LL Cool J (yes, for the third time in a row). Perhaps he'll be accidentally funny?
Who's performing?
Nine Inch Nails, Queens of the Stone Age, Dave Grohl, and special guest Lindsey Buckingham will give a special closing performance. And there's that persistent rumor about Beyoncé and Madonna will team up for something. But the most recent official additions were Paul McCartney and Ringo Starr, Jay Z with Beyoncé (who may or may not perform her risqué breakfast jam "Drunk in Love"), Taylor Swift, Kacey Musgraves, John Legend, Macklemore & Ryan Lewis, Keith Urban, and Sara Bareilles (with Carole King).
They follow previously announced performers Daft Punk (with Nile Rodgers, Pharrell Williams, Stevie Wonder, and several Random Access Memories session players), Kendrick Lamar (with Imagine Dragons), Lorde, Metallica (with pianist Lang Lang), Katy Perry, Pink (with fun.'s Nate Ruess), Robin Thicke (with Chicago), and multiple country legends (Merle Haggard, Kris Kristofferson, and Willie Nelson, with current nominee Blake Shelton). Also, Gary Clark Jr.
Who got the most nominations?
Jay Z leads with a total of nine nods — most notably Best Rap Album (Magna Carta Holy Grail), Best Rap Performance ("Tom Ford"), Best Rap Song (the Justin Timberlake-featuring, Nirvana-quoting "Holy Grail"), and Best Music Video (for his star-studded "Picasso Baby: A Performance Art Film" and JT's "Suit & Tie" visual, directed by David Fincher).
Timberlake, Kendrick Lamar, Macklemore & Ryan Lewis, and Pharrell Williams all tied for the second-highest number, netting seven apiece. Kendrick will challenge Jay for Best Rap Album with his modern classic good kid, m.A.A.d city, and he'll also have to beat out Drake's Nothing Was the Same, Macklemore & Ryan Lewis' The Heist, and SPIN's pick for Best Album of 2013, Kanye West's Yeezus.
Seriously, Jay Z?
Seriously. Jay Z.
Who's up for Album of the Year?
Kendrick has a shot at taking home this trophy, too, but the Compton MC will have to win out over Macklemore (The Heist, again), Taylor Swift (Red), Sara Bareilles (The Blessed Unrest), and Daft Punk (Random Access Memories).
Wait, why is Taylor Swift on that list?
Because she's awesome, duh. (Remember the goats?) But we know what you meant — Red came out in 2012, so why's it showing up at the Grammys all the way up here in 2014 like an uninvited, um, stepchild with a certain color of hair? Well, the cutoff for eligibility at last year's ceremony was September 30, 2012, and that dazzling crossover platter dropped in October of that year. Hence why Kendrick is also in the category, and Bruno Mars' late-2012 Unorthodox Jukebox is nominated as well.
But that means… Oh no! Can it be?
You're right. Beyoncé's flawless surprise album Beyoncé is not eligble this year. But it's only fair that her competitors have several months to prepare an album-length response to that behemoth.
Well, what about Song and Record of the Year?
In the Song race it's Lorde for her chart-dominating "Royals," Bruno Mars for his Unorthodox Jukebox hit "Locked Out of Heaven," Katy Perry for "Roar," Pink for "Just Give Me a Reason," and Macklemore & Ryan Lewis for "Same Love."
Over on the Record list, we get a pair of repeats — "Royals" and "Locked Out of Heaven" — and also Daft Punk and Pharrell's "Get Lucky," Imagine Dragons' "Radioactive," and Robin Thicke with T.I. and Pharrell for, duh, "Blurred Lines."
Any exciting Best New Artist nominees?
That depends on your definition of "new," but we're still pleased as punch to see Kendrick up for the honor. Like Swift, he too released his most recent landmark album in the waning days of 2012, though he was arguably a bigger presence in 2013. And joining him in that category is post-dubstep O.G. James Blake — hardly a fresh face, but we'd happily see him win over Macklemore, Kasey Musgraves, and Ed Sheeran.
Who the hell are Hiatus Kaiyote and how did they get an R&B nomination?
Wait, you don't know either? The bare facts: They're a self-described "future soul band" from Melbourne, Australia. They have 8,000 Twitter followers and no Wikipedia page, but Q-Tip rapped on a song of theirs called "Nakamarra" so their name appears on a list next to Miguel, Anthony Hamilton, and Tamar Braxton. We're not not convinced that they aren't Al Walser in a new costume though.
Every single @!#$& time I get worked up about one of my favorite artists winning, they lose. Prepare me for disappointment, SPIN bb.
No problem. We spent hours researching The 25 Most Inexplicable Wins in Grammy History.
But it can't all be bad, right?
Take hope! Remember when Bon Iver took SPIN to the 2012's Grammys and won Best New Artist? Or when Frank Ocean won Best Urban Contemporary Album for channel ORANGE. Or what about the other 21 times the Grammys saluted the underground? It's not all Mumfords all the time.
Who picks the winners?
Members of the Recording Academy, which includes professional musicians, vocalists, songwriters, composers, producers, engineers, arrangers, album notes writers, technicians, art directors, and etc.
Who almost got blackballed by the people who pick?
That would be Macklemore & Ryan Lewis. Say what you want about those guys, the tall one with the haircut makes with the hippity-hoppity. Dude's been rapping since he was 14 years old, but the Grammys general committee had to overrule the rap committee, who wanted to exile him and his production pal to the pop categories on grounds, essentially, that they're bigger than hip-hop.
Who's getting Lifetime Acheivement Awards?
Awesomely, the Beatles, Kraftwerk, the Isley Brothers, and Kris Kristofferson. Who could argue with that? Also: Zydeco virtuoso Clifton Chenier, Mexican singer Armando Manzanero, and violinist Maud Powell. More on that here.
Who's presenting awards?
Marc Anthony, Black Sabbath, Zac Brown, Gloria Estefan, Anna Faris, Jamie Foxx, Ariana Grande, Neil Patrick Harris, Olivia Harrison, Anna Kendrick, Alicia Keys, Juanes, Cyndi Lauper, Jared Leto, Bruno Mars, Martina McBride, Miguel, Yoko Ono, Smokey Robinson, Ryan Seacrest, and Steven Tyler, to name a few.
Where can I see the entire nominations list?
Right here. Bet wisely.