Outside of Chatsworth, Ontario, Doug Paisley stops for gas and directions. "Excuse me," the 37-year-old singer-songwriter says, to a windburned woman in a white ski jacket, reflective shades, and neon lipstick. "Do you know where Grey Road 16 is?" It's to the left, about a half kilometer down the rural highway we're already on, she tells him, just before disappearing on the back of a snowmobile with her arms wrapped tightly around the large man at its handlebars. Paisley clambers back into his blue Honda Odyssey and rubs his hands together briskly. "I've actually never gone this far out before. I want to see what it's going to feel like to make this drive on a Monday morning."
For the past seven years, Paisley has been traveling in this general direction as often as once a week, usually stopping about an hour northwest of his hometown of Toronto, to decamp at a close friend's cabin, where he likes to write in solitude for a few days at a time, free of "psychic interference." But it's the first Friday of the year and, before we meet some friends for a night at the country retreat of Leslie Feist, a frequent collaborator, he wants to visit, unannounced, a "shack" he's been thinking of buying himself, nestled another hour out, somewhere amid a grid of snow-choked farmland. "I'm always looking online," he says. "I found it about six months ago, just kept lowering the price in my searches and the dots kept disappearing until there were no dots. Except one."
On February 2, mere days after the scheduled release of his new full-length, Strong Feelings, Paisley and his girlfriend, Netami, are expecting the arrival of their first child. A former carpenter, he's been scrambling to renovate and re-insulate the ground floor of their home in Toronto's West End, working as quickly as he can to finish before the baby's due date. At the moment, there is no tour scheduled, nor is there any way of knowing what effect the birth — a flood of anxiety, upheaval, and most importantly, great joy — will have on his work. Because at this particular moment, a decade in and a dozen idioms handy, Paisley has very quietly and unassumingly become one of the world's foremost purveyors of very sad, very subtle songs.
We find Grey Road 16, hang a left. There is nothing but blue up above, white everywhere else. The snow that drapes the hills and spruce all around us is as thick and smooth as meringue, touched only by wind. "It's not a leaning pile of logs," he swears as we go. "It's actually a house, but the hydro's been cut off for five years, and judging from the photos I've seen, it's clearly abandoned." He takes a series of turns down concession roads and side roads, past red-brick schoolhouses, crenellated church towers, and a lonesome livestock market. Upon crossing a small river blanketed in mist, he recognizes the house behind a stand of old walnut trees lining the face of the property. "I like this," he says as he parks the van. "It's definitely not as crooked as I thought it was going to be."
We walk circles around the house, peer through its frosted windows, cut paths across the rabbit and mouse tracks that perforate the snow in clean lines. Paisley is pleased with the condition of the house itself, and impressed by the hand-hewn beams inside the falling, pinewood barn in the back. "This would make a great studio," he says of the barn as we trudge inside and out. "I'd love that. Just so much work." We venture over to the river and back, try to get a sense of the property's other six acres, a scene he likens to something out of a Steinbeck novel. And before we go, he quietly surveys the house's stone foundation one last time, shooting a short video with his phone. "I think that's asbestos tile," he says of its walls. "Just like Big Pink, only white."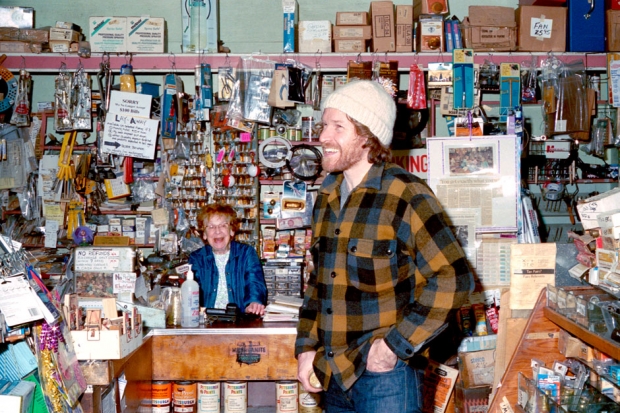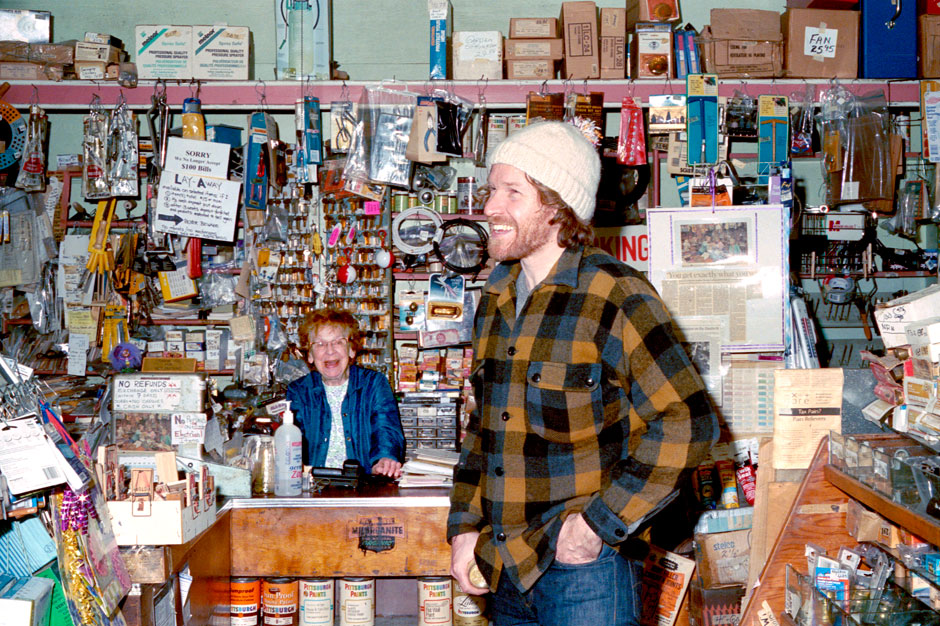 Paisley's first love was the love song. The son of a family physician and a government worker, he took first to the Beatles, specifically their more romantic fare. "The mushiness of it hit a chord with me," he says. "I was a pre-teen and just starting to know what it was like to fall in love with someone, in a puppy way, to know all those pangs and all those feelings." As an 11-year-old, he began spending afternoons in a local record store, fawning over vinyl and stealing glances at the woman behind the counter. "I was young enough that I wouldn't really be able to see a woman and say, "Wow, that's a babe,'" he remembers. "But the woman who ran this store, Black Swan Records, on the second floor of this shitty little building near my house: I just remember going in there and being totally in love with this person. Not in any tangible way — I'd just ask her what I should listen to."
His musical appetite grew. His dad, a country music fan who'd have the family sing along with Kenny Rogers in the car, introduced his son to Bob Dylan's work, in an effort to wean him off the McCartney- and Lennon-penned lyrical "fluff" he loved. His best friend, Tomaz, a fellow Dylan fanatic with whom he'd spend his teens making sport of sneaking into concerts all over Toronto, introduced him to reggae, the music he would perform first, as a 15-year-old apprentice in a band of local Caribbean musicians in their forties and fifties. Their French Guyanese frontman and politically minded leader, Ras Kawintseb, who would later emigrate (or emancipate, in the rasta parlance) to Ethiopia, embraced young Paisley and asked him to play rhythm guitar. "No leads or singing," he remembers. "Just that really disciplined, in-the-pocket playing, at an after-hours club one night a week. It was a very Mr. Miyagi-like challenge for a young electric-guitar wanker, to be told, 'No, you don't play any licks. I know you can, but I don't need you to.'"
As a student at Trent University, 90 minutes northeast of Toronto, he turned his ear to bluegrass, which he'd spend his nights playing with a local batco operator 30 years his senior, a guy who'd answered an ad Paisley posted at a local record store. But bluegrass, like reggae before it, presented an unusual dilemma: He felt he could only engage with it on strictly musical and emotional terms.
"There is a real matter of authenticity with it," he says, of bluegrass. "You can try to add a song to the canon now, in 2014, but there's always this predominant, authentic body of work. The same holds true of country music: I didn't feel as though I had any license to contribute or add my voice to that. I already felt like an impostor, or like I was encroaching on something that had no bearing on where I was from or how I grew up. But I was so satisfied by the playing, it was an extension of loving to listen to that music. I had no thought of writing a song."
He took inspiration from George Jones, a country music legend who, on the strength of his voice, could "dress like a Floridian retiree that sang about the suburbs, and still have so much credibility." On his own and alongside longtime collaborator Chuck Erlichman, Paisley began performing bluegrass covers and country covers, in Toronto and elsewhere. The two posted recordings on MySpace under a few different names, nothing serious, "just fucking around." They paid tribute to the Stanley Brothers, experimented with conceptual pop as Russian Literature, played weekly gigs as Live Country Music. But after buying a Mini-Disc player downtown, Paisley had begun to record ideas and riffs on his own, to explore. And slowly, his songs found a home amid covers of Hank Williams and Don Williams classics during Live Country Music shows. Soon he was performing entire sets of his own material, awash in light projections provided by his girlfriend at the time, the artist Shery Boyle. They called themselves Dark Hand and Lamplight, even toured a spell with Will Oldham. In 2007, he released an album all his own, recorded in the hallway of a friend's house in Toronto.
"I remember when I got the mixes [of his first album], there were a few tracks that I was certain were covers," says Mike Quinn, who has released all of Paisley's work on his Queens-based label, No Quarter. "Not because they sounded like songs I knew, but because they didn't sound like the type of song people typically write these days. There's a timelessness to his work — that word gets thrown around to describe music from time to time, but I think it's really true in Doug's case."
Before signing him, Quinn had been struck first by a song called "City Lights," an "amazing, sad tune" that Paisley would go on to re-record for 2012's Golden Embers EP. "City Lights" had been passed along by a series of excited musicians, as part of a seven-song demo, from Oldham to Chavez frontman (and Rick Rubin ringer) Matt Sweeney, to former Endless Boogie bassist Mark Ohe, to, eventually, Quinn. Not quite folk or country, it encapsulated, early on, Paisley's ability to cast the familiar in a new, penetrating light. "There's a stillness and peace to what he does, a sanity and directness," says Sweeney. "But it's also devastating. It's like you're hearing something that was really obvious, that you just didn't catch. Like something's being revealed to you, even though it's always been standing right in front of you."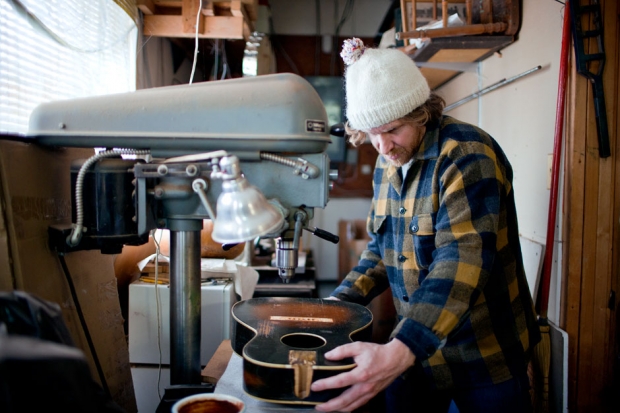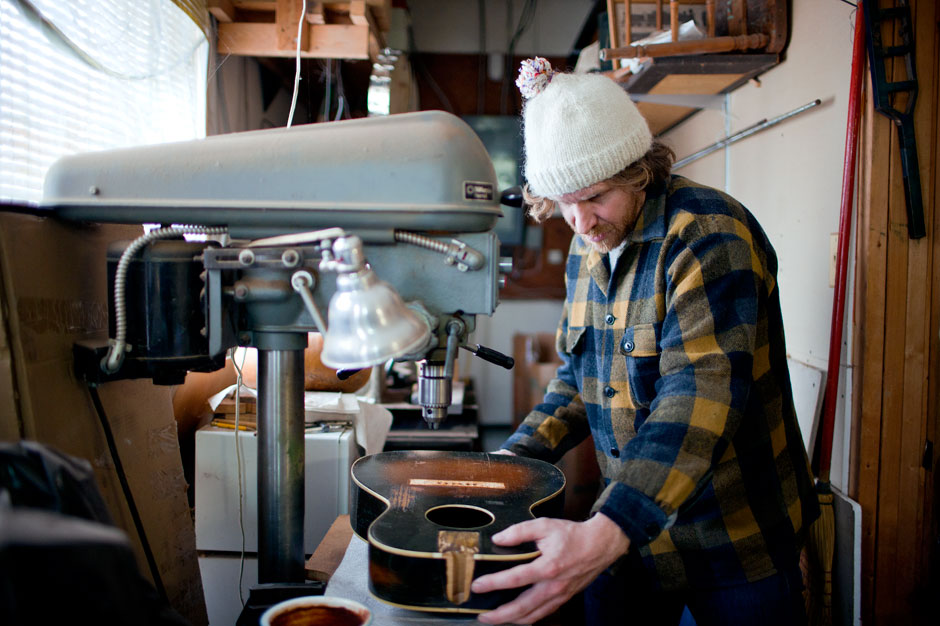 In 2010, Paisley released Constant Companion, a flawless sophomore collection that, while reminiscent of early-'70s classics by James Taylor and Townes Van Zandt, signaled the arrival of a strangely distinct, emotionally brilliant songwriter. With an assist from superproducer Daniel Lanois, a friend of Tomaz's, Paisley was able to wrangle the incandescent services of Band keyboardist Garth Hudson, a fan. Feist, then just an acquaintance but still a Canadian institution in her own right, contributed a stunning vocal take to a stunning duet. It all came together in an attic, over the course of two days. Critics were lavish in their praise, fellow songwriters followed suit. Paisley, who continues to tour the States alone in his car, became the frequent recipient of support requests from relative heavyweights like Iron & Wine, Glen Hansard, Neko Case, and Bon Iver's Justin Vernon, for whom Paisley opened at Radio City in 2012, with a single acoustic guitar. The songs continue to resonate. "He has a beautiful way," says Feist, "of balancing his perspective between the horizon and the heart."
On "Come Here My Love," the album's crushing, six-minute closer, Paisley's narrator pursues a reluctant love interest through the light and the shade, the holler and the dell. He pleads with her to sleep beside him, if anywhere. "Everyone is wounded," he admits. "Everyone wears scars / Come take off your brave face, show me who you are." It's a revelation laid bare inside a simple, understated arrangement of piano and guitar, a declaration of vulnerability so stark and plain-spoken it registers as anything but maudlin.
"I remember my dad telling me, when I was a kid, 'You have an emotional reaction to music,'" Paisley says. "I didn't really understand that, because I assumed that everyone did. But recently, I've had this idea that, if what he said is true, then the inverse should hold true as well: You have an emotional reaction to music, therefore you have a musical reaction to your emotions. It's the language of your emotions. A lot of guys are that way. Maybe that's the only reason why I really can spend so much time with music, and maybe it's the only place where I can get into that stuff, being an uptight, Anglo-Saxon Protestant descending from thousands of years of hard-nosed Scots who just don't think about those things."
But that reaction, incisive as it can be, has often led to complications in his own, very stable personal life. As a rule, he says, he tries to adhere to advice he once heard a nameless, blockbuster novelist dispense: Never write about your last relationship or divorce, always go back two or three. Because that's where you'll find perspective.
"I got in trouble with my girlfriend in a past relationship, like three albums ago, saying that I was writing a break-up album while we were still together," he tells me, as we're driving away from the shack. "I was oblivious."
How did you respond? I ask him.
"I said, 'It's not. We're together.'"
I ask him if Netami had also expressed the same concerns.
"Oh yeah," he said. "It's not good."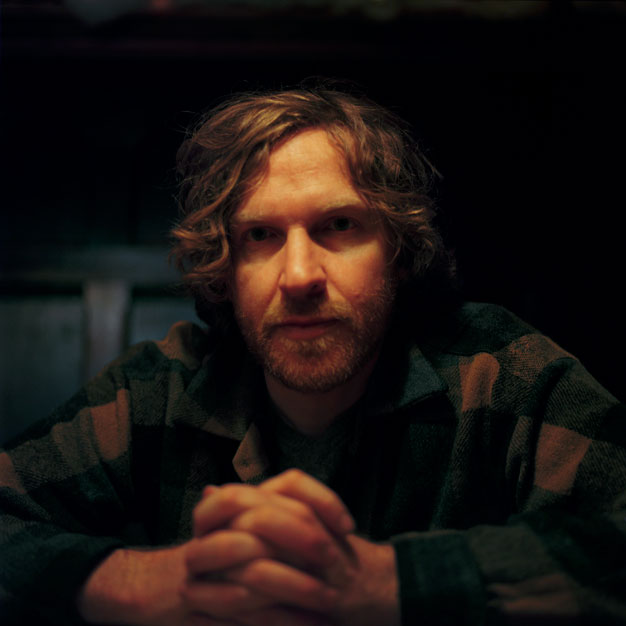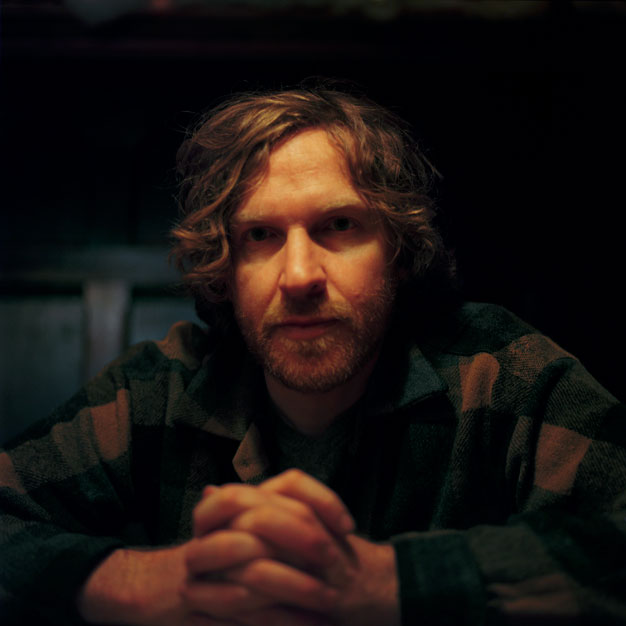 At dusk, the van bucks as we roll into the long driveway that leads to Feist's home. Her longtime sound engineer, Brenndan McGuire, another Ontario native, has been parked here for the past two years, looking after the house, living in an Airstream trailer he bought in California and began refurbishing by hand with reclaimed material from the surrounding area. Inside, Netami is curled up next to a struggling fire, reading a book propped up on her pregnant belly.
"How was it?" she asks. "Do you have any photos?"
He takes a seat beside her on the couch, presses play on the video he shot of the house and the surrounding scenery. "Oh, how pretty," she says. "It's really close to the road." She giggles, mimics the sound our boots made as they broke through the crust of ice on the snow in the yard. "Wait," she says, pausing the video. "Is that asbestos siding?"
They grow quiet as her belly undulates for a moment. "I've been playing the baby some Glenn Gould and some choir music," Paisley says. "I take the headphones and place them like diodes on her belly. I'm playing guitar around the house all the time, too, so the baby is always hearing our voices, always hearing guitar. It's hard to know what it's achieving."
We bury beers in the snow outside, and Paisley throws a fleet of lamb chops on the grill. Tomaz, here with his girlfriend, Ella, is helping Netami prepare dinner in the kitchen, stopping intermittently to cue up another record on his iPod in the living room. Both floors of the house are filled with cables and instruments — organs and synthesizers, drums, guitars, and an upright piano — many of which Tomaz and Paisley play together for short stretches just for laughs. After dinner, the fire is re-built and everyone huddles around it. Conversations swerve from Dylan's Christian period to Toronto mayor Rob Ford to Annie Leibovitz's portraiture, a volume of which we're sharing when Tomaz swaps the James Taylor album we'd been listening to with something else.
"Who is this?" Ella asks.
"It's John Prine."
"Doug," she says. "Tomaz was playing me a John Prine song the other day, and I thought it was you."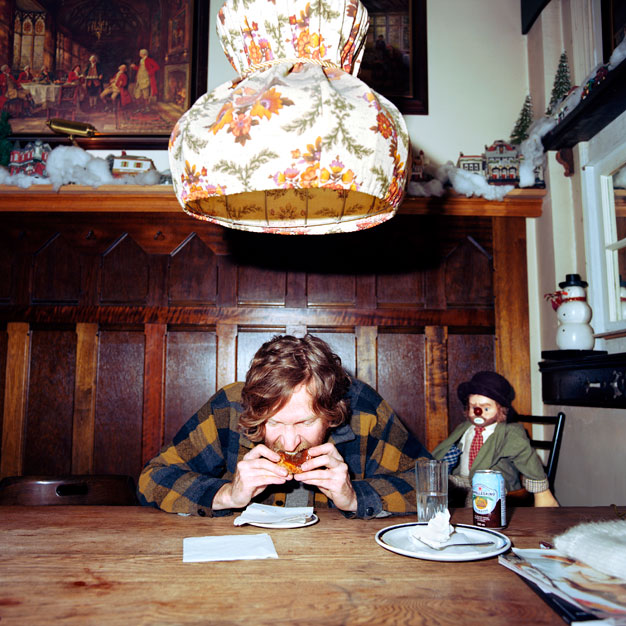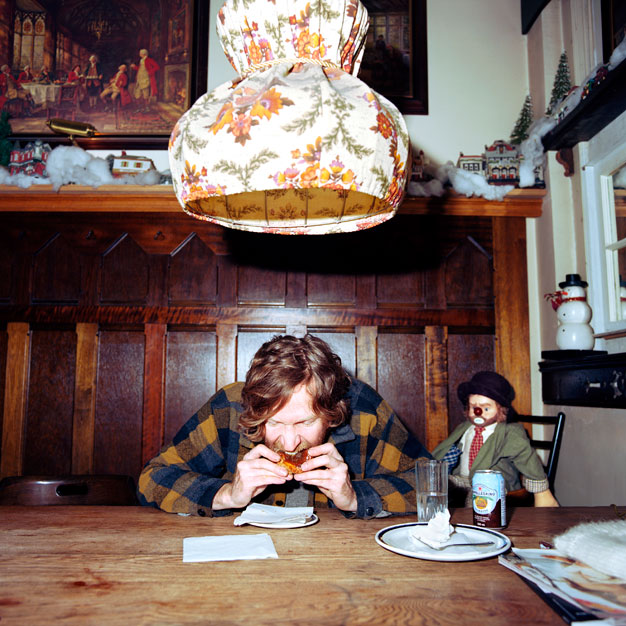 One year ago, Paisley began work on Strong Feelings. He wrote most of it alone in his friends' cabin, and most of it, as has been the case since he began, was recorded live, in one or two takes — just like Dylan would have. But following the unexpected success of Constant Companion, Paisley was confronted with something he'd never enjoyed before: expectations. Constant Companion had reached an audience. As a result, he became acutely self-aware and intensely self-conscious, second-guessed himself, and hungered for feedback from friends. He workshopped his tunes to new lengths, says he was "in the smoke," where he couldn't see "the forest or the trees." "I sometimes feel like the older recordings are of me and this recording is by me," he explains. "It's like the difference between making a baby and making a sculpture of a baby. You make a baby, it's obviously got a lot of you in it, but it comes into the world fully formed."
But for the first time, Constant Companion's relatively modest success afforded him the opportunity to record in a proper studio. Paisley coordinated an initial, overnight recording session a few hours north at the Ottawa Center of the Performing Arts, so that Garth Hudson, "a nocturnal character," could play his parts on Glenn Gould's Steinway. Months later, they'd finish up with a second session in Toronto, where Paisley would continue to tinker at the mixing desk with longtime engineer Stew Crookes, whom he repaid by trading hours in carpentry work on his new home. Cairo Gang guitarist (and Oldham bandmate) Emmett Kelly contributed tangy six-string leads, and renowned Toronto songbird Mary Margaret O'Hara contributed vocals where Feist (or labelmate Jennifer Castle) might have before. Not quite folk or country, the album is arguably his most diverse, full of heartache, heartbreak, and the full spectrum of feeling its title suggests.
There is a crunchy, Crazy Horse-like tribute to the Canadian Prairie and a powerful, slightly playful ode to the song's ability to communicate the things we often struggle to. Paisley's voice, long an instrument to be admired, has never sounded finer or more emotive — like his heroes, he sings with a stiff upper lip. "You know you've hit the bottom," he croons on "It's Not Too Late (To Say Goodbye)," the album's best. "And your lungs are filled with cries… kept inside." It sounds and feels like a freshly written break-up song, but he swears it's not.
"Someone asked me to explain [the album's] title, and I didn't really have a good reason," he says. "But in talking about it, I realized that this is about things as powerful as love, but maybe more complicated. It's about a lot of things that people feel and the places relationships go. It's something else. I wanted to know: Can I write as strongly, or with as much feeling about, something other than being in love or losing love?"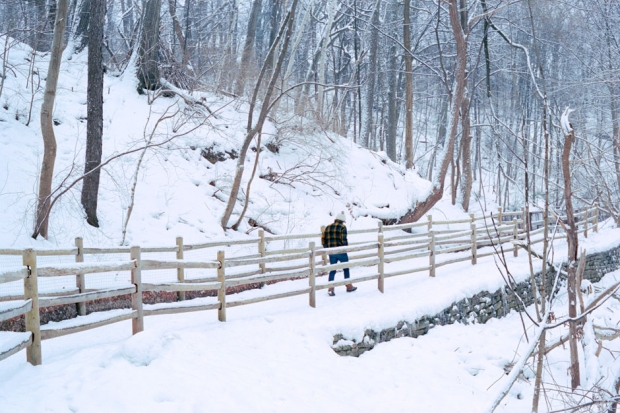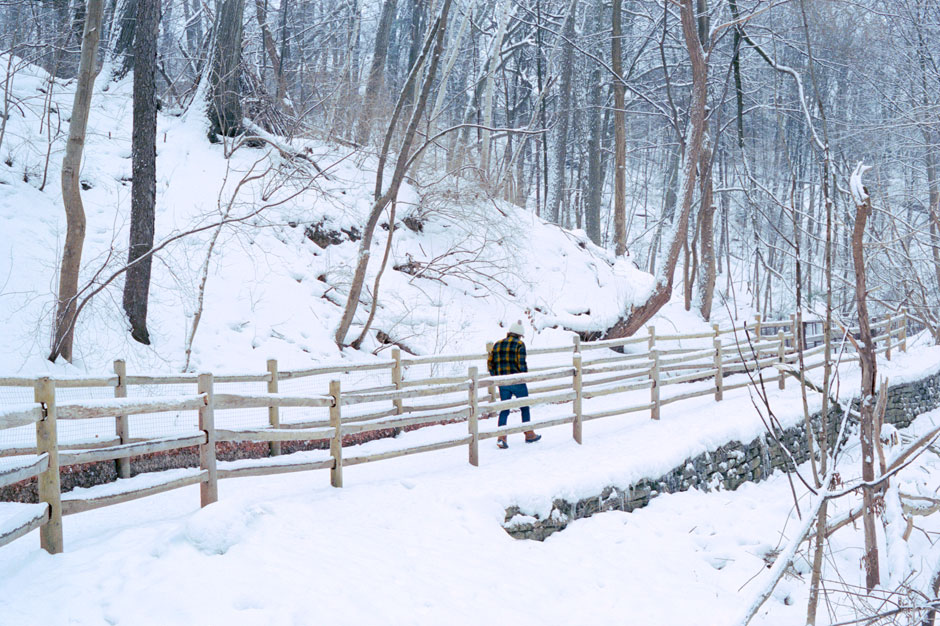 In the morning, we milled around for an hour, gathering around a window at one point to watch deer push frozen apples around in the front yard. Before leaving for Toronto, we decided we'd make two stops along the way, the first for a walk through the woods near the town of Mono, the second at a "rock'n'roll diner" in Orangeville for some breakfast.
"It's nothing to get too excited about," Paisley said of Angel's, which, in addition to a collection of Elvis portraits on the walls and a sandwich named after Patsy Cline, has a signed photo of Michael Cera resting atop its deli counter. "They can usually cook an egg all the way through and the potato puffs are thawed by the time they arrive at the table. But they do have a pretty good jukebox, with a couple of Band tunes."
Our walk was just 30 minutes, along the edge of a maple-covered cliff face and a frozen pond at its feet. Ella took photos with an old Pentax SLR, Netami took her time, and shards of ice would often shower down on us like glass each time the wind blew through the trees.
"This is how not to be oppressed by winter," Paisley said to us with a laugh as we hiked. "By being oppressed by winter."
As we passed a side trail, Paisley remembered the last time he was here, a few months earlier in the fall. He and and a friend had come across a fallen hiker, a woman who'd badly sprained her ankle. Her partner had left her to fetch paramedics and when Paisley found her, the sun was dropping along with the temperature. "We stayed with her for about 20 minutes, a half-hour," Paisley tell us. "And it was so strange: She seemed to grow upset the moment we were beside her. Like, because she finally had someone she could cry to or cry with, she should."