"Can I get any closer?" Damon Albarn sang during the new song "Lonely, Press Play" on Sunday night in Park City, Utah.
No. The answer was "no" — despite the snowy weather and the bustle of Sundance just beyond its walls, the venue called YouTube on Main Street is as warm and intimate as you can get. And at this very special show presented by YouTube and SPIN, the Blur and Gorillaz mastermind was always within arm's reach — often quite literally.
Damon Albarn performing Gorillaz' "El Mañana":
//www.youtube.com/embed/Tr0krEeJg6g?rel=0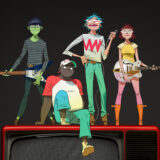 Celebrating the announcement of his first-ever solo album — the folk'n'soul platter Everyday Robots, due April 29 — Albarn arrived with a string quartet in tow, and played stirring acoustic versions of several haunting songs from the LP: the titular gem, the reflective "Hollow Ponds," "Hostiles," and "You and Me." The singer was so close that you could clearly make out the emotion on his face as he sat at the keys, or on a stool strumming a small guitar with only four strings. You could see the small scar under the man's right eye, top off his drink, or count the salt-and-pepper spikes of stubble on his jawline (if you were creepy).
"I have to say this is quite nerve-racking," he said two songs in, looking up at the rapt crowd hovering over him. "Normally I'm quite relaxed." But he certainly sounded at ease up there, and repaid the audience's devotion with a stripped-down take of Gorillaz' "Melancholy Hill" (at the start, he shyly requested his manager bring out the lyrics sheet), and a heart-wrenching rendition of Blur's Parklife highlight "To the End." Oh, and then he gave an encore of another new one, left, had an epiphany, and came running back to play "Happy Birthday to You" to the pianist who'd accompanied him for the set.
Shortly after Albarn wrapped, he came back out into the crowd and shared champagne with his bandmates and anyone else who was around while Neon Indian kicked off a DJ set chock full of electro burble, wild drums, and dark dance.
Check out our photos from Sunday night above. And revisit Saturday night's party with Cults and James Murphy too.
Damon Albarn performing new song "Lonely Press Play":
//www.youtube-nocookie.com/embed/-5bdrITt8tI