We come tonight not to mourn 285 Kent, but to celebrate it… and to absorb the wisdom of Fucked Up frontman Damian Abraham, and to throw firecrackers on the ground, and to dance to the Ying Yang Twins and Usher until seven in the morning.
For those who don't live in the New York area (or on Twitter), here's a quick primer, before we get into whether or not Abraham took his shirt off. (Spoiler alert: He totally did.) 285 Kent was a small warehouse space on the Williamsburg waterfront that should probably never hold more than 400 people at a time, but usually did. For several years, it hosted both an artist collective and all-night dance parties; in early 2011, it officially transitioned into a DIY venue serving the "punks who also like other things" demographic.
As of today, unfortunately, it's shut down, and for the same reason that most DIY venues shut down: lack of money and a changing neighborhood. (Coming soon to Williamsburg: Whole Foods!) In an interview with Billboard, Ric Leichtung, the venue's primary booker and a longtime New York promoter, stressed that the culprit wasn't rising rent prices, but rather the prohibitive cost of getting the venue up to legal codes. And it's worth noting that the end of 285 is, on some level, not that big a deal. Three years is an impressive run for a place like this, and both Leichtung and the venue's founder, Todd Patrick, among other hard-working venue staffers, have lost venues before (mourn you 'til we join you, Market Hotel), and have already started booking 2014 shows at upstart Brooklyn venues like Baby's All Right and Trans Pecos, and will no doubt soon find other hole-in-the-wall joints to outfit with a sound system. (Also, the similarly small-scale space Death by Audio is still chugging along, mere blocks away.)
That said, this still felt like the end of something: an important footnote in the history of '10's indie. After years of "find the next Clap Your Hands Say Yeah" blog-borne fiascos, independent music needed a place where young artists from Grimes to Blood Orange to Deafheaven could find the time and support to work things out before entering the page-views rat race. It was one of many places that helped indie transition from the O.C. era to the Thee Oh Sees era. It was a way station and a breeding ground, and a place where independent music of all stripes reconnected with the do-it-yourself ethos of an earlier generation. It also smelled weird and had terrible bathrooms, and you always worried that you would catch something if you got body-slammed against the wall. So basically, it was glorious.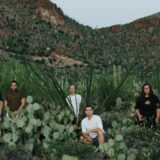 And so Leichtung and Patrick celebrated 285 Kent's with a run of weekend shows that culminated in last night's final stand, featuring the one-two punch of DIIV (one of the most high-profile young indie bands in the area) and Fucked Up (figureheads for indie rock's re-embrace of DIY values.) Sponsored by Pitchfork (and triggering plenty of online backlash that the place was now over-deified), the bill also included Vancouver punk-rockers White Lung alongside Guardian Alien, a group that featured tribal drumming, Animal Collective-like psychedelic bleeps, and a singer-programmer with Princess Leia hair buns. (Stay weird to the end, guys.) Between performances, a DJ played "classics" like Limp Bizkit's "Break Stuff" and Kid Rock's "Bawitdaba" at sternum-rattling levels, an act of either dedicated trolling or an attempt to, egads, mint some new goldie oldies.
DIIV practically dare you to dismiss them. They play a defiantly wispy brand of shoegazing dream-pop, and are by far the worst dressers in all of independent music. (I've seen frontman Zachary Cole wear pajamas onstage; by contrast, the extra-large, extra-billowy black pants and red shirt that engulfed his slight frame last night were an improvement). Plus, there's, you know, how they spell their name. But of all the current groups looking for that sweet spot between Loveless and Disintegration, Cole might have the best melodies ("How Long Have You Known" being one for the ages) and the best tricks up his billowy sleeves, including a bizarrely awesome cover of Bob Dylan's "Like a Rolling Stone" that features multiple feedback-scared guitar solos.
Capping off the performance part of the night (if Twitter is to be believed, the after-show dance party, filled with bawdy rap hits and people throwing firecrackers on the ground, continued on well past dawn), Fucked Up alternated between cuts from 2011's SPIN-beloved David Comes to Life, an appropriately snarling new song, and several ferocious early cuts from the Toronto group's fearsome catalog. Of course, with these guys you come for the terrifying mosh pits and stay for Abraham's world-class stage banter: He had a brief detour where he all but apologized for losing weight (he claims this weight loss was strictly the result of dedicated marijuana usage, which is certainly an unorthodox method), but mainly used his pulpit to thank 285 Kent's organizers for hosting his band, and for their years of hard work on behalf of independent music.
In fact, before ending the night, appropriately enough, with a noisy, deranged cover of "Blitzkrieg Bop" by hometown heroes the Ramones, Abraham updated his usual stump speech about how his band is proof that anybody can be in a band to note that anybody can book a show and anybody can run a venue like this, if they're just willing to put the work in. And as always, the sweating hulk was right. There was nothing special about 285 Kent. Which, of course, is what made it special.