Yo La Tengo launched a four-night residency at Brooklyn's Bell House on Friday, playing a double-header set to a crowd of devotees who, in previous years, would've followed the band to their usual mid-December haunt, legendary Hoboken bar/restaurant/music venue Maxwell's.
But Maxwell's closed the doors to its performance space this past summer, leaving that annual series of Hanukkah shows without a home. And while the New Jersey trio have found a new haven in a sold-out room near the Gowanus Canal, frontman Ira Kaplan insisted that the December 13 gig was simply the first in a string of "boring old Yo La Tengo shows," and not the next installment of the treasured Hanukkah franchise, which ran from 2001 to 2012.
So, rather than the usual eight concerts, there are four, and the standard Hanukkah show openers — a musical act followed by stand-up comedy — were missing. What remained, though, was the intimacy shared between the audience and the indie-rock lifers.
Like Yo La Tengo's final proper performance at Maxwell's, the night consisted of two sets, one semi-acoustic, the other electric. The first showcased YLT's quieter, more contemplative side, with an emphasis on material from this year's Fade: nocturnal stunners "The Point of It," "Two Trains," "Cornelia and Jane," "I'll Be Around," and a hushed version of LP opener "Ohm" fell over the room, along with such older muted standouts as "Madeline" from 2000's …And Then Nothing Turned Itself Inside-Out and bassist James McNew's "Black Flowers," a wordy valentine from 2006's I Am Not Afraid of You and I Will Beat Your Ass.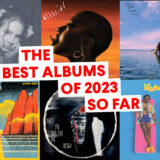 After a brief break, Kaplan strapped on an electric guitar and led a run of extended six-string freakouts. Among the highlights: "Stupid Things" from Fade led to 1997's I Can Hear the Heart Beating as One classics "We're an American Band" and "Stockholm Syndrome"; the keyboard-flushed funk of "If It's True," off 2009's Popular Songs, soon followed; and eventually, YLT returned to "Ohm" for a fuzz-filled reprise, before settling on a 10-minute-plus rendition of Beat Your Ass groove "Pass the Hatchet, I Think I'm Goodkind."
The inevitable encore ended with a folksy rendition of Painful's 1993 swooner "Big Day Coming," sung by drummer/vocalist Georgia Hubley. After the strumming and singing stopped, the band closed with a gracious thank you, good night, and "hope to see you soon."
For a front-row view of the proceedings, check out the photos SPIN snapped.