British television has decided December 15 is a perfect day for a Lou Reed documentary. BBC Four will broadcast Lou Reed Remembered at 9 p.m. U.K. time (4 p.m. EST). As the NME points out, the one-hour special will include contributions from former Velvet Underground members Maureen Tucker and Doug Yule, along with Sonic Youth's Thurston Moore, plus Debbie Harry and Boy George.
The special on Reed, who died October 27 at age 71, also features Berlin guitarist Steve Hunter, author Paul Auster, and photographer Mick Rock. Holly Woodlawn, the former Andy Warhol superstar alluded to in the opening line of Reed's solo hit "Walk on the Wild Side," is set to contribute, too. Conspicuously absent from the program description is Velvet Underground cofounder John Cale.
The BBC says the documentary brings together Reed's friends, fellow musicians, critics, and those inspired by his example, both musically and as a notorious contrarian. They'll talk about how Reed "helped to shape a generation," how he helped create "a truly alternative, independent rock scene," and how he gave New York "its most provocative and potent soundtrack."
The documentary sounds like it will be more reverent than Macaulay Culkin's pizza-themed Velvet Underground cover band. In other VU news, the legendary band's White Light/White Heat turned 45 this year. A triple-disc "Super Deluxe Edition" of the record (SPIN's No. 1 alternative album of the 1960s) is out today (December 10) via Universal.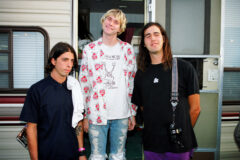 Burger Records and Universal have also jointly released The Velvet Underground — White Light/White Heat Tribute Album. Stream covers by Natural Child, the Memories, Mozes and the Firstborn,Curtis Harding, Mr. Elevator & the Brain Hotel, and Gap Dream.
SPIN's coverage of Lou Reed and his legacy:
Goodbye, Lou Reed: New Yorkers Lovingly Celebrate His Life and Music
Lou Reed, R.I.P.: Hear His Legacy in 15 Tracks
Lou Reed: A Critical Discography
The SPIN Interview: Lou Reed
Lou Reed's New York City: The Velvets' Stomping Grounds, Today
Five Great Rap Songs That Sample Lou Reed or the Velvet Underground
Toesucker Blues: Robert Christgau's Farewell Salute to Lou Reed
Dave Hickey on Lou Reed: 'We Have Lost the Master of the Mundane and the Malicious'
The Little Giant: John Cameron Mitchell Remembers His Neighbor, Lou Reed
The Top 100 Alternative Albums of the 1960s