Tim Kinsella won't stop. He can't. He's played the reluctant star from the moment he first emerged as the mercurial bandleader for Cap'n Jazz, setting the template for Midwestern emo from his mom's suburban Chicago basement circa 1990, and subsequently influencing everyone from Fall Out Boy to P.O.S. That band was legendary and short-lived, and created a kind of mythology around Kinsella as a true artist, especially seeing as his peers and acolytes went on to mainstream and even Top 40 success, while he remained — and remains — underground.
In 1995, he blunted Cap'n Jazz interest by forming the rambling post-rock band Joan of Arc, which enjoyed an initial swell of attention and acclaim that lasted for their first four records, but listed toward confounding, inwardly focused, conceptual studio work starting with 2000's The Gap. Fans and critics alike didn't take kindly to Kinsella's seemingly active disregard for their interest, and disdain for the whole performer-fan contract.
Undaunted, Kinsella founded two more bands in the early aughts, touring and releasing albums with both Owls and Make Believe, and dropping three solo albums amid a half-dozen collaborative projects — his proliferation has been unremitting, and now includes a feature-length movie and two books of fiction. This summer, Polyvinyl issued Testimonium the soundtrack to a performance-art piece — it's Joan of Arc's 15th studio album and 22nd since 1995.
Finally, this month came Tim Kinsella Sings the Songs of Marvin Tate, a joint album with LeRoy Bach (ex-Wilco) and dark folkie Angel Olsen that stands as one of the strangest and most enchanting additions to his sprawling discography. Tate, a Chicago poet and frontman, is a perennial favorite of other local musicians; his lyrics are confrontational, literary, and even sweet — territory Kinsella has long worked himself, but here he's otherwise stripped of his habits, backed by rudimentary piano arrangements and harmonizing with Olsen on odd lullabies, evidencing a previously unheard-of vocal dexterity. Prolificacy aside, he can still surprise us.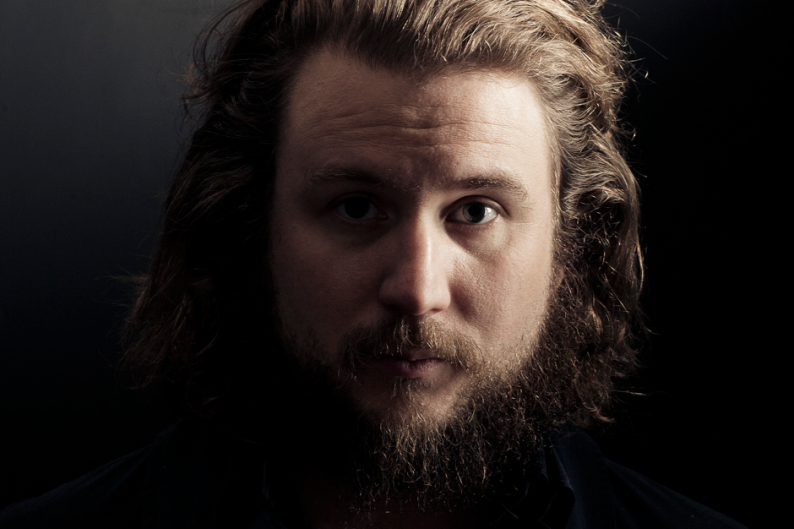 I spoke to Kinsella via Skype last week while he was in Italy, touring with Joan of Arc. Full disclosure: I have been friends with him since 1995, and worked occasionally as Joan of Arc's publicist until 2003. But publicity always meant something different to him.
On Facebook the other day, you posted a request that if any of your friends at home in Chicago hear you talk about going on tour again, to please kick you in the balls. What was that about?
Whenever we get home, I will have been away 175 days this year. I'm doing pretty good if I'm occasionally like, "Please, kick me in the balls if I say I'll do this again." But that day we were in Zagreb. It was a ten-hour drive to get there; we hit a traffic jam after the ten-hour drive. We played to 100 people. We'd never been to Zagreb, so that's cool, but the exhaustion and seeing nothing — from that perspective, Zagreb is exactly the same as Dayton, Ohio, you know? But, I'm actually having an amazing time. Got to walk around Zagreb for an hour in the morning, and it was great.
Tell me about this Marvin Tate record that came out last week.
I've known Marvin for a long time. LeRoy and Marvin started making a record together, then decided they wanted different narrators for each of the songs. Whenever Leroy and I were both around and had nothing going on, we would record for three hours a day, a couple days in a week, and then we wouldn't do anything for a month. It went on like this for a couple of years. He just kept calling me. I was even sort of confused as to what exactly we were doing. Like, did I become the singer of Marvin's records?
Despite being someone else's work, it's a very Tim Kinsella record.
I'm really working outside my comfort zone as much as possible. This and Testimonium — they weren't my own stories, but I had to embody them. It felt like being an actor. It's good to have these sorts of filters to put Joan of Arc through. If Joan of Arc was still according to my own biases, I don't think I'd be motivated to do it.
What is the challenge of doing Joan of Arc 18 years in?
It's crazy, because most bands either get famous or break up.
And you've done neither.
I wish I knew something better to do. [Laughs.] We exist in a very strange, unique way right now. I don't feel there are many bands existing in this way. I find that inspiring — to be in this unique territory.
It's "band as artistic practice" rather than band as a vehicle for achievement.
We're considered the conceptual band, but, really, we're like the band who is invested enough in the process of being a band that we keep doing it.
Early on with Joan of Arc, especially during times when you were getting a lot of attention, you were really flummoxed by what the world expected of you as a band. It was never a game you seemed interested in playing. At least, not by the rules that were presented to you.
This is going to sound stupid, but I'm not proud of any of this stuff. I'm almost embarrassed. I think people think being prolific is a virtue, but I think it's nuts! I don't want to make any of this stuff! It just keeps happening. I love my life, and I love doing it, but it's not like, "Oh, I need this new thing." I don't do anything else with my life. I wake up early every day to get to work on it. People think because I'm prolific that there must be some disregard for things. It's not that. The work takes years — I wrote the first draft of my new book in 2005. Eight years of revising this thing. Testimonium, the Marvin, and the Owls record each took two years.
Do you wish there was a different sort of consideration or attitude towards what you're doing? There's almost a disdain that you're still at it.
I know. Believe me, I know, better than anyone. Most of my friends are my friends despite the fact that I have this compulsive making-things thing. It's weird. I'm on tour, so I'm being interviewed kind of often, and this question never doesn't come up. "Would you rather be more appreciated?" It's not about that to me. I don't know what it's about. I wish every thing I make could come up with somebody else's name on it, so people could just respond to it as itself without some preconceived ideas of it.
Obviously, I've learned to live with it. My new book and the new Owls record both come out in the spring. I don't know what comes after that, and I don't care if there's anything. I would love to have some other life and be like, "Here's a body of work" in 20 years. I would be happy to stop. I just don't know what I'd do with myself then. It's not about making some sort of object for people to ignore, you know? It's not particularly satisfying to be like, "Here's another thing that no one cares about!"
Do you think its has liberated you?
There were peaks and valleys. Every two years, we would sell out a certain room, and the next year it'd be two-thirds full, and the next year there'd be no one there, and the next year it'd be sold out again. It used to be smaller cycles. It's been a couple of years since we were at the bottom of this thing, but we haven't bounced up again yet. But it doesn't freak me out. My band's going to outlive a lot of this stuff. I was liberated by all those vitriolic reviews Pitchfork wrote when I was younger. That doesn't have anything in common with me or what I think I'm doing. My friends and family don't recognize me in the ways that I'm being presented or written about. It made me get over that shit.
What do you think you're good at?
I can draw Garfield. I can edit other people's writing well.
Few bands have survived this long — who do you look to as an inspiration?
I look at a band like the Mekons. I do look at bands and think about their business models now. How do you get away with doing this?
How does it feel to do Joan of Arc at this point? Do you feel adrift?
We started touring August 4, and last night was the smallest show — 25 people in a 700-capacity room in Torino, Italy. It's totally ridiculous. Of course I feel adrift, but none of us were pouting about it, because the night before that, we played in this much smaller city, Perugia, and we played this amazing small theater that was sold out in advance. I can never guess what's going to happen the next day.
What motivates you to keep doing it? What do you keep in mind as you keep doing it?
I don't know. Even the way you keep asking, "Why do you keep doing it?" — I feel like people are embarrassed for me. I want everyone to know I'm OK. It's totally cool. A dud show in Torino, Italy, on a Tuesday doesn't reflect on the quality of what I do. If that's not what it's about, then I can't freak out about it. Because just 24 hours earlier it was amazing. I feel embarrassed when I see band, and all they have to say is they want to be liked. We're not for everybody. It'd be embarrassing to try to be for everybody. We're for ourselves and the people that get it.