Childish Gambino, "Zealots Of Stockholm (Free Information)"
Yeah, yeah, yeah, it's Childish Gambino, whose Because the Internet just received a "Worst New Music" on this very website, but hey, this track capably gloms onto the wordplay-as-psychedelic-Jimi-Hendrix-solo steez of Chance the Rapper, Earl Sweatshirt, Mac Miller and others, all while approximating Yeezus noisemaking and Frank Ocean syrup-singing. There is a moment on this weird-as-hell song where chipmunk-soul seagulls squeal amid doom-and-gloom strings while Gambino conflates TMZ with TMI, abstractly endorses gay marriage, and then imagines himself sitting in a Denny's and getting shot by a maniac with a 3D-print handgun. He also paraphrases Sam Kinison and sounds dead freaking serious about it all. A data dump of a track from a concept album about Internet escapism that seems pretty escapist itself.
//www.youtube.com/embed/G3yuq2Roqo4
E-40, "I'm Pushin'"
So this guy just released The Block Brochure: Welcome To The Soil 4, 5, & 6: That's 45 new songs from the ooh-ing, hiccuping, gulping Northern California legend. The immediate highlight for me — everybody will have their own, and that's what beautiful about getting all this music dropped on our heads at once — is another of those classic E-40 tracks based around some ominous film-noir sample. (See also "Barbarian," from 2010's Revenue Retrievin': Graveyard Shift.) It's kind of like if Kevin from Home Alone took his Angels With Filthy Souls clip-tweaking talents to bedroom beatmaking, you know? Meanwhile, 40 does what 40 does, slowly picking apart his own style: doing a Dracula voice, indulging in a silly-ad-lib-packed bridge ("Swipin'… veggies.. hair!"), and throwing in a playground rhyme about police brutality and the life-or-death gamble of hustling.
//www.youtube.com/embed/qHQRl63a7-s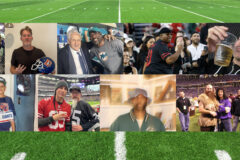 Flying Lotus ft. Thundercat, "Black Skinhead (Remix)"
Kanye West's Yeezus is a tough record to remix. It's just too distracted and grimy: There's always some piece of sonic shrapnel behind the remix-ready part that renders it useless, and the album as a whole never calms down and gets comfortable. What makes producer Matic808's Yeezus: Baltimore Club Edition so successful is how he just embraces the skronk, and ends up with something even more jagged and jittery than the original. But the other remix option is to sit down and jam on those skeletal beats, just as Flying Lotus and Thundercat do here, adding funky Krautrock atmosphere to all that Wax Trax-indebted goth-hop. Here, they grace the in-quotes raging-against-the-machine moves of "Black Skinhead" with a little bit of tenderness, but mostly just stay out of the way.
Giorgio Moroder, "Tony's Theme (Scarface 30th Anniversary Remix)"
How great is the Giorgio Moroder resurrection happening right now? The dude's not only working with Daft Punk and soaking up praise from a dance-music universe he pretty much invented, but also dorking out in the studio (or on his computer or whatever) and posting the results to Soundcloud. Here, he's screwing around with his electro-Wagner Scarface-soundtrack cut "Tony's Theme" (sampled by the Geto Boys and Mobb Deep, and riffed on by Kanye for "Mercy"). At first, he just adds some classic From Here to Eternity-style four-on-the-floor disco throb, but then, oh wait, what's that? A straight-up trap skitter and bloop-wub dubstep breakdown, that's what. If anybody else did this, it would be unforgivable, but given Scarface's "hip-hop classic" pedigree, it's admirable that Moroder didn't take the easy rappity-rap route.
Justin Bieber ft. Chance the Rapper, "Confident"
What with the constant stream of idiocy Justin Bieber doled out in 2013 (peeing in a NY restaurant, wishing Anne Frank had been a "belieber," spitting on one of his fans, dressing like a goober, etc.), it's very easy to ignore the reality that he's really becoming a formidable R&B force. If his transition from twerpy teenybopper to clueless, bro-y douchebag wasn't playing out in public, perhaps our ears could open up to the idea that he's gunning for Justin Timberlake's spot. Consider "Confident," a bottom-heavy, ficky-ficky funk cut that could've been on FutureSex/LoveSounds. Dig all the breathy vamping, though our man's charisma is more Chris Brown-esque than JT-like. And what the hell? Chance the Rapper is on this thing. There's no reason for Bieber to do this, other than he really wanted to do this, right? Get your head in the game, dude: You actually have a shot at going legit.
//www.youtube.com/embed/qnD1hwjR3WU