Beyoncé, "Haunted"
Put this in the same baffling category as other recent hot-mess No Trivia favorites like Eminem's "So Far…" and Childish Gambino's "Zealots of Stockholm (Free Information)." Another really tricky expression of an artist's celebrity, warts and all, "Haunted" begins with a white person mispronouncing Beyoncé's name, which imbues a random, frustrating indignity from her youth into a full-blown, racially loaded origin story. In 2013, would anybody be so clueless as to call her "Bee Awnz" Knowles? She won. And like all winners, she's lost the common-people map a little bit, so there's plenty of Watch the Throne-style, well-meaning one-percenter sympathy here, filled with pats on on the head (to us commoners) and pats on the back (to herself), best exemplified by her decision to repeat that "9 to 5 just to stay alive" line way too many times. Still, the rap section (which gets its own clip, "Ghosts," in the video version) is delivered in the bug-out conversational vein of Kendrick Lamar, and who saw that coming? When do we get a full Beyoncé rap record?
//www.youtube.com/embed/5OztDqr2C0M
E-40, "Don't Shoot the Messenger"
So E-40 is a national treasure. He's arguably the best rapper alive, with a wide-eyed, open-minded auto-didact's frame of reference and a firm sense of how to balance idealism with cynicism, tempered by a folksy absurdity that mashes up Rudy Ray Moore with Chester Himes. On this final track from the sixth volume of his Block Brochure series (yes, you've got three new 40 full-lengths to absorb), our man gets spiritual, bemoaning his humble beginnings with stiff-upper-lip wit ("I don't come from money / I come from fried bologna"), and establishing an interfaith dialogue when he talks about ordering Joyce Meyer and TD Jakes DVDs while pondering what happens after biological death ("Me and my partners be getting together drinking, smoking herb / Talking about reincarnation and coming back as an herb"). A final verse about the selfishness of youth approaches a Tokyo Story level of pathos, and it all ends with a plea for rappers entering middle age to challenge their worldview a little bit.
//www.youtube.com/embed/NZ02L5ZVjD0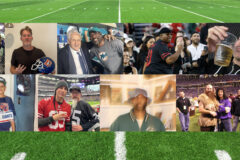 Freddie Gibbs, "Thug 'Til It's Over"
Gary, Indiana's reigning antihero has built his reputation on a head-down, bull-in-a-china-shop flow that knocks everything out of the way and often makes the beat itself negligible. He's a new kind of versatile, rappin'-ass rapper, equally comfortable over Jeezy-style trap or limping Madlib beats or, apparently, linen-shirt-friendly yacht prog. Yes, here, Cookin' Soul sample Makoto Matsushita's "Love Was Really Gone" (off 1981's First Light) and hand it over to Gibbs, who lays down some lines about an addicted uncle who'll steal his jewelry, plus a few more lyrical reminders that the odds are stacked against him, making this the most smoothed-out death wish imaginable: "Father be with me, I'm sick of slanging these boulders / But I can't stop until I'm king of these corners."
//www.youtube.com/embed/yMm711XGJ6s
Lil B, "So Thirsty"
"So Thirsty," produced by does-whatever-he-wants beatmaker Issue (the son of E-40) is the Based God's most conventionally gratifying song since "Wonton Soup." Wubbing and gulping like Bay Area rap should, this Twitter-slang-soaked record lives up to its silly conceit (unlike Chief Keef's half-hearted "Emojis"), subtweeting Drake and others' "R.I.P. Mac Dre" co-opting and tapping into the ratchet-raised clap-clap that's so hot right now ("So Thirsty" arrives in the same week that Justin Bieber hopped on Sage the Gemini's "Gas Pedal"). And given the non-stop, fuck-yer-face nonsense of YG and others, Lil B's in-quotes vision of these fuckin' tracks, done with street sincerity, but also a wink and a nod, gives you the animal-brain rewards of strip-club minimalism without the unpleasant aftertaste. From 05 Fuck Em, a 100-track mixtape that arrived on Christmas Day.
//www.youtube.com/embed/5mdsLPvO4Q0
Rich Homie Quan, "Reloaded"
Wherien the dude behind "Type of Way" does his Auto-Tuned Tevin Campbell sweetheart mumble over an 808s-infused version of Toto's "Africa," which is something of a classic breakbeat for hip-hop's syrup-fog chillout era, if you stop and think about it: It's been sampled by Madlib, Red Cafe, Rhymefest, and Wiz Khalifa; covered by Phonte Coleman and Zo!; and riffed on by Drake for "Hold On, We're Going Home." Here, the 1982 hit soundtracks Quan's steady come-up and hesitant success, along with thoughts about fucking with his Nikes on. I Promise I Will Never Stop Going In is one of the year's best mixtapes, but it came out at the end of November, which is when dorks like me are solidifying our year-end lists, so I'm just getting around to hearing it.
//www.youtube.com/embed/5e_EYyPGjks