"I hate whenever anyone uses the word 'mature' near a sophomore album," says PAWS frontman Phillip Taylor. "It just makes you sound like an absolute douche."
The 23-year-old singer-guitarist is sitting on the floor of a cozy recording studio in upstate New York, where he and his two bandmates — drummer Josh Swinney, 24, and bassist Ryan Drever, 27, who replaced ex-member Matthew Scott — are working on their sophomore full-length, a tighter, more considered follow-up to their debut LP, last year's Cokefloat!
It's early November and the Scottish trio are hibernating in the home of Adam Pierce, the manager for the U.S. division of U.K. label FatCat Records. Located roughly an hour north of Manhattan (if traffic's light), Pierce's house rests on a hill in bucolic Highland Mills, just across from the mountainous Black Rock Forest nature preserve. In the backyard sits a quaint studio that's previously welcomed Animal Collective, Frightened Rabbit, and Pierce's own band, Mice Parade, among others.
Now it's hosting PAWS, who are four days into crafting Youth Culture Forever, their forthcoming second album, due tentatively in spring of 2014.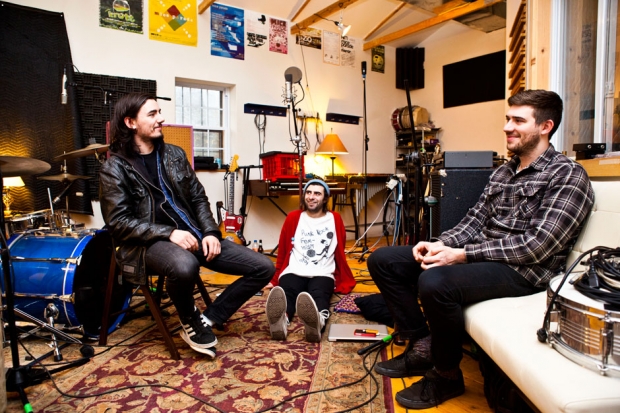 "It's pretty beautiful up here, especially in the fall," Taylor says. "We don't ever want to record somewhere where there's any sort of distraction. Here, it's like you're here to literally work on recording for this amount of time, go to sleep, eat breakfast, come up here, and just work all day. It's a good space to have. You can go for a walk and clear your head and then you can come in here and make some noise."
The noise that PAWS are making on Youth Culture Forever isn't a drastic departure from the snotty slabs of distorto-pop found on Cokefloat!, but fans should expect "a more clarified version" of the band's alt-rock revisionism.
"We write and record the exact same way as before — we've just had more time to think about song structure and dynamics and emphasize them more in the studio," Taylor explains. "Before we just went in and blasted the songs out. But this time it's been nice to think about placements and stuff. And, if anything, try and get away from people describing us as 'lo-fi' or 'fuzzy.' I don't want to sound lo-fi, I want to sound hi-fi."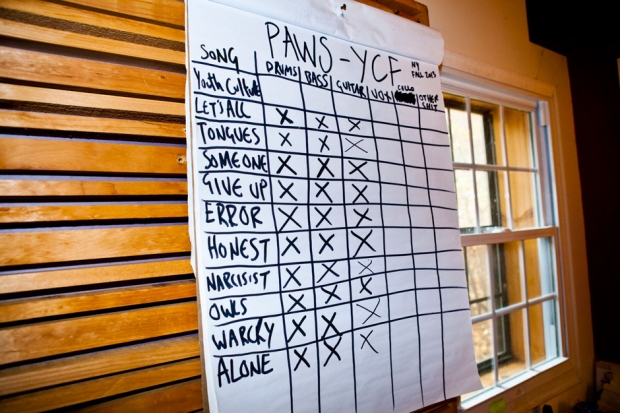 "It's louder than the last record, but it's quieter than the last record," bassist Ryan Drever says, being completely sincere. "It's faster than the last record, but it's slower than the last record. Every song is quite different, but then at the same time it's the same." Then he adds, half-jokingly, "There's no way we can actually explain it to you."
"People are going to think we're making a free-jazz album now," drummer Josh Swinney deadpans.
The album, which the band have since finished recording, will feature a total of 11 tracks and clock in somewhere around 40 minutes, or, as Drever puts it: "It's long enough to be worthwhile, but not long enough to make you want to kill yourself."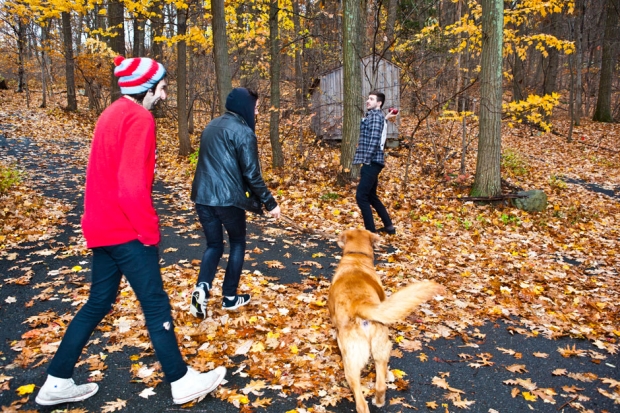 In terms of subject matter, Youth Culture Forever chronicles the sort of post-adolescent angst that sets in when the home you grew up in and friends you grew up with transition to being the place you used to live and the people you used to know.
"A lot of it has to do with where you're from," says Taylor, who was raised in the Scottish Highlands. "You have a disconnection with somewhere you thought you knew so well and all the kinds of relationships you've had with people up until that point. It's about stuff like that: a clichéd break-up, like, bollocks, shit like that."
You know, growing older and more mature.